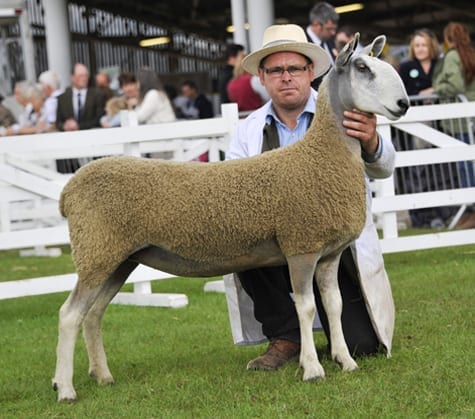 Great Yorkshire Show
12th - 14th July 2016
Harrogate
A McClymont, Kirkstead
The 2016 Great Yorkshire Show was certainly a Great Show for Scott Thomason and family, travelling up from Walney Island for their annual jamboree to the show, building on last year's success, not only taking Champion and Reserve in the female section, but also the Champion male title too in a near whitewash of the red tickets. His Champion was a homebred gimmer shearling which had won her class as a gimmer lamb last year and making her first outing in the show ring this year. She is by the F9 Piel View tup which was Champion last year and was also the male Champion again this year, looking well even with the added year on him. He is by Z1 Hazelwood and out of a Shrewbridge bred ewe.
The Z1 Hazelwood breeding was behind his Reserve Champion too with a really smart powerful lamb, which was born a quad by the £2500 F9 Myfyrian which is shared with the Alwinton flock. Despite being a quad, with two sisters and a tup lamb, destined, hopefully for Carlisle this autumn, it really shone out and was an obvious choice for the judge Alex McClymont from the Kirkstead flock. The Piel View flock only carries 14 pure ewes and is a distraction from driving heavy machinery for Scott and from Claire who runs a riding stable. The quality of their stock is a testament to their dedication to the breed.
The classes were well supported and there were some very strong classes, with exhibitors from all over the North of England.
Aged Ram
| Placing | Class | Exhibitor | Flock Name |
| --- | --- | --- | --- |
| 1st | Aged Ram | S A Thomason | Piel View |
| 2nd | Aged Ram | J & D Stenton | St Ravenscar |
| 3rd | Aged Ram | C M & J Stott & Son | Laund |
Shearling Ram
| Placing | Class | Exhibitor | Flock Name |
| --- | --- | --- | --- |
| 1st | Shearling Ram | R Peart | Mayland |
| 2nd | Shearling Ram | C M & J Stott & Son | Laund |
| 3rd | Shearling Ram | R & D Metcalfe | Hardenclough |
Ram Lamb
| Placing | Class | Exhibitor | Flock Name |
| --- | --- | --- | --- |
| 1st | Ram Lamb | C J Ward | Kimrina |
| 2nd | Ram Lamb | S A Thomason | Piel View |
| 3rd | Ram Lamb | J Graham | Burnbank |
Aged Ewe
| Placing | Class | Exhibitor | Flock Name |
| --- | --- | --- | --- |
| 1st | Aged Ewe | S A Thomason | Piel View |
| 2nd | Aged Ewe | J Graham | Burnbank |
| 3rd | Aged Ewe | J & D Stenton | St Ravenscar |
Shearling Ewe
| Placing | Class | Exhibitor | Flock Name |
| --- | --- | --- | --- |
| 1st | Shearling Ewe | S A Thomason | Piel View |
| 2nd | Shearling Ewe | R Peart | Mayland |
| 3rd | Shearling Ewe | J Graham | Burnbank |
Ewe Lamb
| Placing | Class | Exhibitor | Flock Name |
| --- | --- | --- | --- |
| 1st | Ewe Lamb | S A Thomason | Piel View |
| 2nd | Ewe Lamb | J Graham | Burnbank |
| 3rd | Ewe Lamb | S A Thomason | Piel View |
Group of three
| Placing | Class | Exhibitor | Flock Name |
| --- | --- | --- | --- |
| 1st | Group of three | S A Thomason | Piel View |
| 2nd | Group of three | R Peart | Mayland |
| 3rd | Group of three | J & D Stenton | St Ravenscar |
Bluefaced Champions
| Category | Exhibitor | Type |
| --- | --- | --- |
| Breed Champion, Female Champion & Reserve Interbreed Longwool Champion | S A Thomason | Shearling Ewe |
| Res. Champion & Res. Female | S A Thomason | Ewe Lamb |
| Male Champion | S A Thomason | Aged Ram |
| Res. Male Champion | R Peart | Shearling Ram |
Gallery
Back to Archive