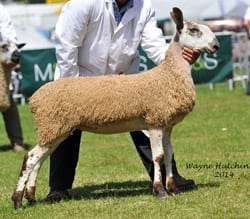 Great Yorkshire Show
8th - 10th July 2014
Harrogate
Mr C Hutchinson, Redhill
On a glorious sunny day at the 2014 Great Yorkshire Show, judge Cecil Hutchinson had the pleasure of judging several of his classes in a heavy downpour! Such timing is to be commended….as well as his irrepressible sense of Yorkshire humour.
The weather didn't dampen the enthusiasm of John Stott and his family at the end of the day, as he took both the Champion and Reserve Champion in the Bluefaced Leicester section. It is the second time he has taken the hotly contested title at the Yorkshire, the previous win coming in the late 60's and he has come close several times since, showing every year, but this time he managed to do the clean sweep.
His Champion was a very smart, sharp gimmer lamb, on its first outing. It was sired by the E1 Tanhouse, a tup shared with the Stenton family of the St Ravenscar flock, and which took the Male Championship too, and was Reserve Champion to its daughter. He is a very powerful modern tup, and has been doing well in both flocks following his purchase as a lamb from Hawes.
The Reserve Male Champion was a shearling tup from J & D Stenton who also completed their own double by taking the Reserve Female Championship too with an aged ewe.
Aged Ram
| Placing | Class | Exhibitor | Flock Name |
| --- | --- | --- | --- |
| 1st | Aged Ram | M/s Stott & Stenton | Laund / St Ravenscar |
| 2nd | Aged Ram | R Peart | Mayland |
| 3rd | Aged Ram | J & D Stenton | St Ravenscar |
Shearling ram
| Placing | Class | Exhibitor | Flock Name |
| --- | --- | --- | --- |
| 1st | Shearling ram | J & D Stenton | St Ravenscar |
| 2nd | Shearling ram | J Stott | Laund |
| 3rd | Shearling ram | R Peart | Mayland |
Ram Lamb
| Placing | Class | Exhibitor | Flock Name |
| --- | --- | --- | --- |
| 1st | Ram Lamb | J & D Stenton | St Ravenscar |
| 2nd | Ram Lamb | J & D Stenton | St Ravenscar |
| 3rd | Ram Lamb | M/s Carter & Copeland | Parcelstown / Baily Mill |
Aged ewe
| Placing | Class | Exhibitor | Flock Name |
| --- | --- | --- | --- |
| 1st | Aged ewe | J & D Stenton | St Ravenscar |
| 2nd | Aged ewe | J & D Stenton | St Ravenscar |
| 3rd | Aged ewe | J Stott | Laund |
Yearling ewe
| Placing | Class | Exhibitor | Flock Name |
| --- | --- | --- | --- |
| 1st | Yearling ewe | J & D Stenton | St Ravenscar |
| 2nd | Yearling ewe | J Stott | Laund |
| 3rd | Yearling ewe | J & D Stenton | St Ravenscar |
Ewe Lamb
| Placing | Class | Exhibitor | Flock Name |
| --- | --- | --- | --- |
| 1st | Ewe Lamb | J Stott | Laund |
| 2nd | Ewe Lamb | J & D Stenton | St Ravenscar |
| 3rd | Ewe Lamb | J & D Stenton | St Ravenscar |
Group of Three
| Placing | Class | Exhibitor | Flock Name |
| --- | --- | --- | --- |
| 1st | Group of Three | J & D Stenton | St Ravenscar |
| 2nd | Group of Three | J Stott | Laund |
Bluefaced Champions
| Category | Exhibitor | Type |
| --- | --- | --- |
| Breed Champion & Female Champion | J Stott | Ewe Lamb |
| Res. Champion & Male Champion | M/s Stott & Stenton | Aged Ram |
| Res. Male Champion | J & D Stenton | Shearling Ram |
| Res. Female Champion | J & D Stenton | Aged Ewe |
Gallery
Back to Archive