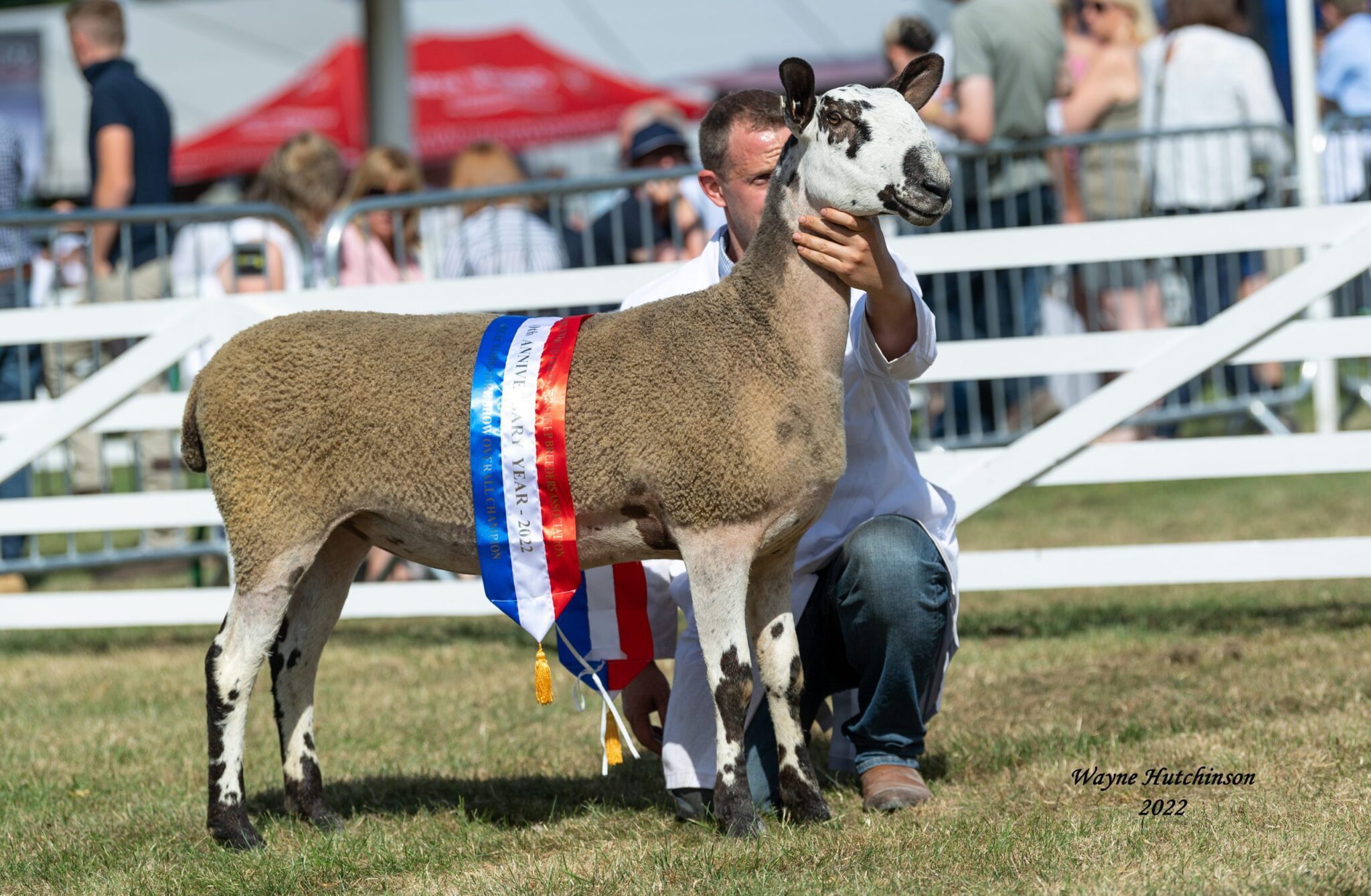 Great Yorkshire Show
12th - 15th July 2022
Harrogate
Mr C Stephenson, Pikestone
An early kick off for the Bluefaced Leicesters saw judging start in the shade of the sheep buildings at 8.30am under a clear blue sky, with Carl Stephenson the replacement judge, brought in as scheduled judge Alec Brown was unwell, casting his watchful eye over the sheep in front of him.
Taking the top honours for the day was Phil Pye of the Emmetts flock with a gimmer shearling that he bought out of Carlisle as a hogg this spring. This sharp lass is by the Riddings L7and out of a daughter of the legendry E1 Hewgill, the breeding behind so many of the current sale toppers and prize winners. It was her first time out and she certainly filled the ring with her presence. Phil, Chris and Alan Pye enjoyed a great day out with their team, collected red and blue tickets in the gimmer lamb class and first in the tup lamb class, which went on to take the Reserve Male championship, with progeny of the Midlock Commander, bought out of Hawes last year, they also collected the pairs championship with his progeny and the team of three was made up of 2/3rd Midlock sired lambs, and also taking the pairs in the Mule gimmer lamb classes, in the later section, with his progeny.
The reserve champion, from John Graham of the Burnbank flock, followed the Emmetts gimmer right through, taking the reserve female ticket and then also the Reserve Overall. This strong gimmer shearling was out of the flocks show gimmer from last year, which they had flushed as a lamb and is by K13 Cottage. The Burnbank flock also struck success in the tup shearling class with a monster of a tup bought out of the Hewgill pen at Hawes last year.
The male champion was a powerful 2 shear ram from the St Ravenscar flock.
Ram, two shear or over
| Placing | Class | Exhibitor | Flock Name |
| --- | --- | --- | --- |
| 1st | Ram, two shear or over | J Stenton | St Ravenscar |
| 2nd | Ram, two shear or over | C & K Ward | Kimrina |
| 3rd | Ram, two shear or over | S D Bladen | Thurgoland |
Shearling Ram
| Placing | Class | Exhibitor | Flock Name |
| --- | --- | --- | --- |
| 1st | Shearling Ram | J Graham | Burnbank |
| 2nd | Shearling Ram | A C & K Pye | Emmetts |
Ram Lamb
| Placing | Class | Exhibitor | Flock Name |
| --- | --- | --- | --- |
| 1st | Ram Lamb | A C & K Pye | Emmetts |
| 2nd | Ram Lamb | A C & K Pye | Emmetts |
| 3rd | Ram Lamb | J Stenton | St Ravenscar |
| 4th | Ram Lamb | Miss H J Stenton | Thornton Le Dale |
Ewe, two shear or over and must have reared a lamb in current year
| Placing | Class | Exhibitor | Flock Name |
| --- | --- | --- | --- |
| 1st | Aged Ewe | Miss H J Stenton | Thornton Le Dale |
| 2nd | Aged Ewe | J Stenton | St Ravenscar |
| 3rd | Aged Ewe | C & K Ward | Kimrina |
Ewe, Shearling
| Placing | Class | Exhibitor | Flock Name |
| --- | --- | --- | --- |
| 1st | Shearling Ewe | A C & K Pye | Emmetts |
| 2nd | Shearling Ewe | J Graham | Burnbank |
| 3rd | Shearling Ewe | J K Hunter | Glen |
| 4th | Shearling Ewe | Miss H J Stenton | Thornton Le Dale |
Ewe Lamb
| Placing | Class | Exhibitor | Flock Name |
| --- | --- | --- | --- |
| 1st | Ewe Lamb | A C & K Pye | Emmetts |
| 2nd | Ewe Lamb | A C & K Pye | Emmetts |
| 3rd | Ewe Lamb | J K Hunter | Glen |
| 4th | Ewe Lamb | J Stenton | St Ravenscar |
Pairs
| Placing | Class | Exhibitor | Flock Name |
| --- | --- | --- | --- |
| 1st | Pairs | A C & K Pye | Emmetts |
| 2nd | Pairs | J Graham | Burnbank |
| 3rd | Pairs | J Stenton | St Ravenscar |
Group of Three
| Placing | Class | Exhibitor | Flock Name |
| --- | --- | --- | --- |
| 1st | Group of Three | A C & K Pye | Emmetts |
| 2nd | Group of Three | J Stenton | St Ravenscar |
| 3rd | Group of Three | Miss H J Stenton | Thornton Le Dale |
Bluefaced Champions
| Category | Exhibitor | Type |
| --- | --- | --- |
| Overall Champion & Female Champion | A C & K Pye, Emmetts | 1st prize Shearling Ewe |
| Reserve Overall Champion & Reserve Female Champion | J Graham, Burnbank | 2nd prize Shearling Ewe |
| Male Champion | J Stenton, St Ravenscar | 1st prize Aged Ram |
| Reserve Male Champion | A C & K Pye, Emmetts | 1st prize Ram Lamb |
Gallery
Back to Archive