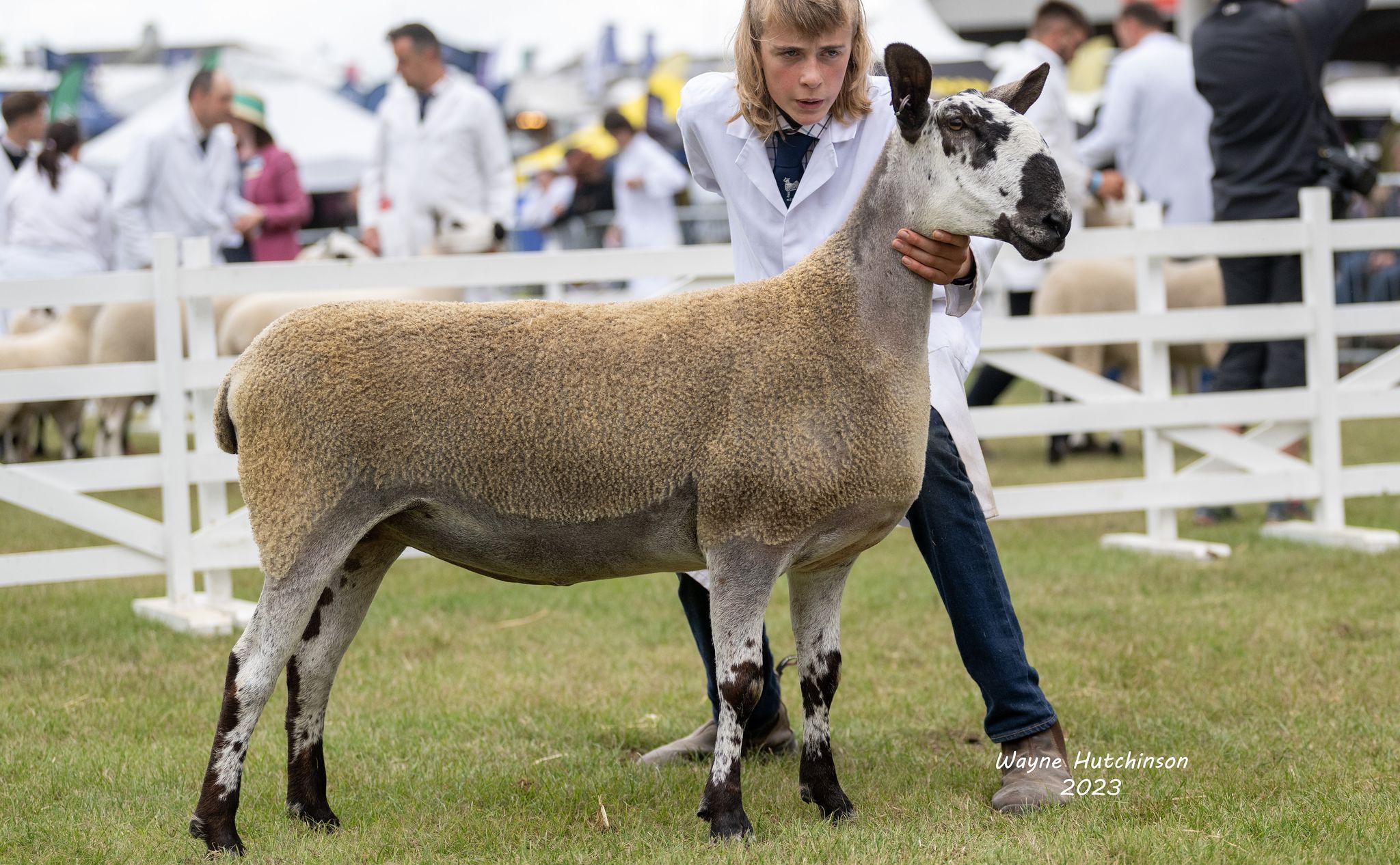 Great Yorkshire Show
11th - 14th July 2023
Harrogate
Great Yorkshire Show.
A revamped program saw an earlier kick off for the Bluefaced Leicester's and the Judge, Alec Brown, who was due to oversee the proceedings last year but due to Covid couldn't make it, cast his expert over the sheep up before him. He fair rattled through the tup classes, which were down considerably on their number, but come the gimmer classes there was a much harder job on his hands, with some strong classes, especially the gimmer shearling class, which had some real depth of quality.
The days Champion came from the ewe class, with a powerful sheep from Paul Fairburn, Marriforth flock, catching the judge's eye from the off. Shown by Paul's son, Henry, this sheep, by the K13 Cottage, is proving to a stalwart of the flock, already having sold a son out of her last year for £12,000. Not just a good looker, she is breeding well, with a gimmer lamb out of her taking 2nd prize in the gimmer lamb class and a pair of tup lambs which will hopefully be heading to the autumn sales. After taking the breed championship, she went on to take the reserve champion in the non MV interbreed section too.
Pushing hard in the female championship was the first prize gimmer from Graham Jackson. This powerful sheep, which was the reserve breed champion, was bought out of Carlisle this spring from James Middleton from the Wharfdale flock, by the £16,000 P4 Dawyck bought in Hawes with Gavin White and out of a Carry House bred ewe.
The male champion came from the Emmotts flock with an embryo lamb by the £20,000 K1 Steel out of a Midlock ewe by L27 Midlock, out of the old Midlock F70 which has bred so well over the years. The reserve champion was a big powerful tup from Hannah Stenton.
Ram, two shear or over
| Placing | Class | Exhibitor | Flock Name | Lot Number |
| --- | --- | --- | --- | --- |
| 1st | Ram, two shear or over | Miss H Stenton | Thornton Le Dale | 544 |
Shearling Ram
| Placing | Class | Exhibitor | Flock Name | Lot Number |
| --- | --- | --- | --- | --- |
| 1st | Shearling Ram | Mr J Graham | Burnbank | 545 |
Ram Lamb
| Placing | Class | Exhibitor | Flock Name | Lot Number |
| --- | --- | --- | --- | --- |
| 1st | Ram Lamb | A C & K Pye | Emmetts | 550 |
| 2nd | Ram Lamb | Mr J Graham | Burnbank | 548 |
| 3rd | Ram Lamb | Miss H Stenton | Thornton Le Dale | 552 |
| 4th | Ram Lamb | A C & K Pye | Emmetts | 551 |
Ewe, two shear or over & must have reared a lamb in current year
| Placing | Class | Exhibitor | Flock Name | Lot Number |
| --- | --- | --- | --- | --- |
| 1st | Ewe | Messrs E & E M Fairburn | Marriforth | 553 |
| 2nd | Ewe | Miss H Stenton | Thornton Le Dale | 556 |
| 3rd | Ewe | Mr J Stenton | St Ravenscar | 557 |
| 4th | Ewe | A C & K Pye | Emmetts | 555 |
| 5th | Ewe | Miss S L Langford | High Snape | 554 |
Ewe, Shearling
| Placing | Class | Exhibitor | Flock Name | Lot Number |
| --- | --- | --- | --- | --- |
| 1st | Ewe, Shearling | Mr G E Jackson | Lakeber | 564 |
| 2nd | Ewe, Shearling | A C & K Pye | Emmetts | 567 |
| 3rd | Ewe, Shearling | Mr G E Jackson | Lakeber | 565 |
| 4th | Ewe, Shearling | Mr I C Copeland | Baily Mill | 561 |
| 5th | Ewe, Shearling | A C & K Pye | Emmetts | 568 |
| 6th | Ewe, Shearling | Messrs E & E M Fairburn | Marriforth | 558 |
| 7th | Ewe, Shearling | Messrs E & E M Fairnburn | Marriforth | 559 |
Ewe Lamb
| Placing | Class | Exhibitor | Flock Name | Lot Number |
| --- | --- | --- | --- | --- |
| 1st | Ewe Lamb | Mr J Graham | Burnbank | 576 |
| 2nd | Ewe Lamb | Messrs E & E M Fairburn | Marriforth | 573 |
| 3rd | Ewe Lamb | A C & K Pye | Emmetts | 579 |
| 4th | Ewe Lamb | Mr I C Copeland | Baily Mill | 574 |
| 5th | Ewe Lamb | A C & K Pye | Emmetts | 578 |
| 6th | Ewe Lamb | Miss H Stenton | Thornton Le Dale | 580 |
Pairs
| Placing | Class | Exhibitor | Flock Name | Lot Number |
| --- | --- | --- | --- | --- |
| 1st | Pairs | A C & K Pye | Emmetts | 583 |
| 2nd | Pairs | Mr J Graham | Burnbank | 582 |
| 3rd | Pairs | Miss H Stenton | Thornton Le Dale | 584 |
Group of Three
| Placing | Class | Exhibitor | Flock Name | Lot Number |
| --- | --- | --- | --- | --- |
| 1st | Group of Three | A C & K Pye | Emmetts | 587 |
| 2nd | Group of Three | Miss H Stenton | Thornton Le Dale | 588 |
Bluefaced Champions
| Category | Exhibitor | Type |
| --- | --- | --- |
| Overall Champion & Champion Female | Messrs E & E M Fairburn, Marriforth | Aged Ewe |
| Reserve Overall Champion & Reserve Champion Female | Mr G E Jackson, Lakeber | Shearling Ewe |
| Champion Male | A C & K Pye, Emmetts | Ram Lamb |
| Reserve Champion Male | Miss H Stenton, Thornton Le Dale | Aged Ram |
Gallery
Back to Show Results