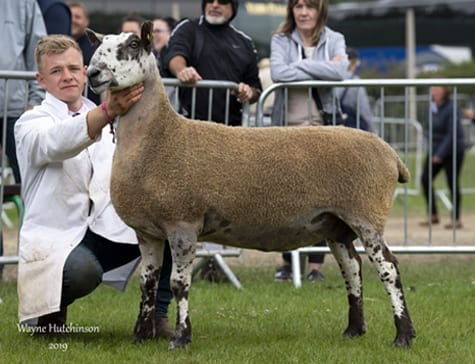 Great Yorkshire Show
9th - 11th July 2019
Harrogate
Melvin Ridley, Shitlington
It was a day to remember for Jack Buckle of Buckles Farm near Kirkby Stephen as he took the champion and reserve placings at the Great Yorkshire Show on his debut at the show with the breed. It followed from earlier in the day when the family took the championship in the Beltex classes too.
The overall champion, which caught the judge's eye the moment it walked into the ring. "The female classes were exceptionally strong, and as soon as I saw her, I knew I had found my champion" said Melvyn Ridley afterwards. She is a 4-crop ewe out of Jack's foundation ewe, a £3000 Midlock ewe he bought out of Carlisle and by Riddings Domino, a tup of his grandad's, a certain James Porter from Riddings. She combines power and style, and just has that certain X factor which really shone in the ring. The reserve champion was also purchased out of Carlisle this January. This was an eye catcher at the sale, where she stood just out of the prizes when sold by Martin Allan, but has blossomed over the summer, turning into quite a stunner. Not straying far from the Riddings bloodlines again, she is by the £24,000 Riddings bought out of Hawes a couple of years ago.
In the tup section, it was the Stott family who were taking the accolades. The family have been stalwarts at the show over the years, and again enjoyed a great day out, taking champion and reserve champion in the male sections with tups purchased last back end. The champion male was bought out of Carlisle off the Scrogton flock, full of Midlock breeding again, as a shearling for £1100 and has done well for the flock and had a gimmer lamb placed in its class by him. The reserve champion male was bought out of Hawes for a snip out of the famous Lunesdale pen, and has proved a bargain, siring the first prize tup lamb as well.
Numbers and the quality on show was certainly a great advert for the breed and hopefully the enthusiasm shown by the big crowd of onlookers around the ring will carry on through the sales this Autumn!
Ram Two Shear or Over
| Placing | Class | Exhibitor | Flock Name |
| --- | --- | --- | --- |
| 1st | Ram Two Shear or Over | J Stott | Laund |
| 2nd | Ram Two Shear or Over | R O & D Metcalfe | Hardenclough |
Shearling Ram
| Placing | Class | Exhibitor | Flock Name |
| --- | --- | --- | --- |
| 1st | Shearling Ram | J Stott | Laund |
| 2nd | Shearling Ram | R & J Myers | Toad Hole |
| 3rd | Shearling Ram | J Graham | Burnbank |
Ram Lamb
| Placing | Class | Exhibitor | Flock Name |
| --- | --- | --- | --- |
| 1st | Ram Lamb | J Stott | Laund |
| 2nd | Ram Lamb | J Graham | Burnbank |
| 3rd | Ram Lamb | J Nisbet | Nisbets |
Aged Ewe
| Placing | Class | Exhibitor | Flock Name |
| --- | --- | --- | --- |
| 1st | Aged Ewe | J Buckle | Buckles |
| 2nd | Aged Ewe | H J Stenton | Thornton-Le-Dale |
| 3rd | Aged Ewe | J Graham | Burnbank |
Shearling Ewe
| Placing | Class | Exhibitor | Flock Name |
| --- | --- | --- | --- |
| 1st | Shearling Ewe | J Buckle | Buckles |
| 2nd | Shearling Ewe | J Graham | Burnbank |
| 3rd | Shearling Ewe | J Nisbet | Nisbets |
Ewe Lamb
| Placing | Class | Exhibitor | Flock Name |
| --- | --- | --- | --- |
| 1st | Ewe Lamb | C J Ward | Kimrina |
| 2nd | Ewe Lamb | J Graham | Burnbank |
| 3rd | Ewe Lamb | A MacPherson | Rigside |
Group of Three
| Placing | Class | Exhibitor | Flock Name |
| --- | --- | --- | --- |
| 1st | Group of Three | J Stott | Laund |
| 2nd | Group of Three | R & J Myers | Toad Hole |
Bluefaced Champions
| Category | Exhibitor | Type |
| --- | --- | --- |
| Male Champion | J Stott | Aged Ram |
| Male Reserve Champion | J Stott | Shearling Ram |
| Breed Champion & Female Champion | J Buckle | Aged Ewe |
| Reserve Breed & Reserve Female Champion | J Buckle | Shearling Ewe |
Gallery
Back to Archive