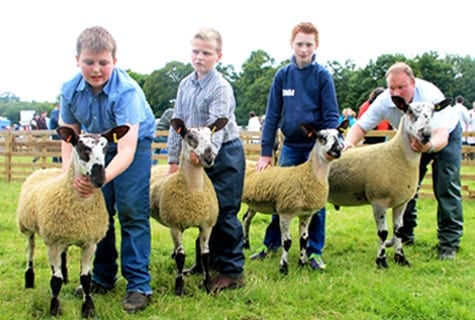 Northern Ireland Progeny Show
25th July 2015
Antrim
Mr J Herdman, Edlingham
Co Antrim Progeny Show 2015
Another great entry of Bluefaced Leicester and Mule sheep were presented at the annual Antrim Progeny Show.   Weather was ideal for Judge James Herdman, Edlingham having the tough job of judging this year's event.    Enjoying a very successful day and winning their first Bluefaced Leicester Championship in the individual class were J Adams & Sons, Holmview, with their first prize gimmer, a smart sheep by F7 Firth an E1 Hewgill son purchased in Hawes for £4200. Reserve champion came from G & J Loughery Temain Flock, with their first prize ewe lamb, a modern lamb sired by G1 Cottage purchased for £8000 from Jimmy & Wendy Bell in Hawes 2014 and shared with Alistair Christie.   The Temain and Holmview flocks were again coming out on top in the Progeny Show with Graham and Julie's Temain flock taking the Champion Progeny group with their three ewe lambs sired by G1 Cottage, with J Adams & Sons Holmview taking Reserve Champion progeny with their three gimmers sired by F7 Firth.
The Mule Section was again very keenly contested with James Mills and son Jason repeating last year's efforts by winning the individual Mule championship with a ewe lamb by E26 Firth, a B4 Tanhouse Farm son purchased in Kelso and again going on to win the Mule Progeny Championship with three tremendous Mule ewe lambs also by E26 Firth.   J Adams & Sons, Holmview were again in the mix with their three Mule ewe lambs being awarded reserve Mule progeny group, sired again by F7 Firth. Michelle Wright, Mullaghwee was winning the Reserve Champion Mule in the individual class with her 1st Prize gimmer sired by a homebred son of their Forebrae stock tup.
This year's BFL young handlers class was won by Kelly O'Kane, doing a great job of showing her ewe lamb.  Also winning the Antrim Show young handlers class was Kelly's older sister Shannon doing an equally good job with her BFL gimmer.
Aged Ram
| Placing | Class | Exhibitor | Flock Name |
| --- | --- | --- | --- |
| 1st | Aged Ram | J Adams & Sons | Holmview |
| 2nd | Aged Ram | E Loughran | Hilltop Farm |
| 3rd | Aged Ram | E Loughran | Hilltop Farm |
Shearling Ram
| Placing | Class | Exhibitor | Flock Name |
| --- | --- | --- | --- |
| 1st | Shearling Ram | G & J Loughery | Temain |
| 2nd | Shearling Ram | J Blaney | Tievebuaile Farm |
| 3rd | Shearling Ram | E McKeegan | Glenane |
Ram Lamb
| Placing | Class | Exhibitor | Flock Name |
| --- | --- | --- | --- |
| 1st | Ram Lamb | G & J Loughery | Temain |
| 2nd | Ram Lamb | J Blaney | Tievebuaile Farm |
| 3rd | Ram Lamb | D McKillop | Giants Causeway |
Ewe
| Placing | Class | Exhibitor | Flock Name |
| --- | --- | --- | --- |
| 1st | Ewe | J Blaney | Tievebuaile Farm |
| 2nd | Ewe | G & J Loughery | Temain |
| 3rd | Ewe | D McKillop | Giants Causeway |
Gimmer
| Placing | Class | Exhibitor | Flock Name |
| --- | --- | --- | --- |
| 1st | Gimmer | J Adams & Sons | Holmview |
| 2nd | Gimmer | J Blaney | Tievebuaile Farm |
| 3rd | Gimmer | J Adams & Sons | Holmview |
Ewe Lamb
| Placing | Class | Exhibitor | Flock Name |
| --- | --- | --- | --- |
| 1st | Ewe Lamb | G & J Loughery | Temain |
| 2nd | Ewe Lamb | G & J Loughery | Temain |
| 3rd | Ewe Lamb | D McKillop | Giants Causeway |
Group Of Three
| Placing | Class | Exhibitor | Flock Name |
| --- | --- | --- | --- |
| 1st | Group Of Three | G & J Loughery | Temain |
| 2nd | Group Of Three | J Adams & Sons | Holmview |
| 3rd | Group Of Three | D McKillop | Giants Causeway |
Young Handlers
| Placing | Class | Exhibitor |
| --- | --- | --- |
| 1st | Young Handlers | K O'Kane |
Mule Ewe
| Placing | Class | Exhibitor | Flock Name |
| --- | --- | --- | --- |
| 1st | Mule Ewe | M Wright | Mullaghwee |
| 2nd | Mule Ewe | V Andrerson | |
| 3rd | Mule Ewe | G & J Loughery | Temain |
Mule Gimmer
| Placing | Class | Exhibitor | Flock Name |
| --- | --- | --- | --- |
| 1st | Mule Gimmer | M Wright | Mullaghwee |
| 2nd | Mule Gimmer | J Adams & Sons | Holmview |
| 3rd | Mule Gimmer | V Anderson | |
Mule Ewe Lamb
| Placing | Class | Exhibitor | Flock Name |
| --- | --- | --- | --- |
| 1st | Mule Ewe Lamb | J Mills | Ballytober |
| 2nd | Mule Ewe Lamb | J Mills | Ballytober |
| 3rd | Mule Ewe Lamb | J Mills | Ballytober |
Group of Three
| Placing | Class | Exhibitor | Flock Name |
| --- | --- | --- | --- |
| 1st | Group of Three | M Wright | Mullaghwee |
Swale Cross Mule Ewe Lamb
| Placing | Class | Exhibitor |
| --- | --- | --- |
| 1st | Swale Cross Mule Ewe Lamb | D Woodburn |
| 2nd | Swale Cross Mule Ewe Lamb | F Loughridge |
| 3rd | Swale Cross Mule Ewe Lamb | E & P McCormick |
Bluefaced Champions
| Category | Exhibitor | Type |
| --- | --- | --- |
| Breed Champion | J Adams & Sons | Gimmer |
| Res. Breed Champion | G & J Loughery | Ewe Lamb |
| Champion Progeny Group | G & J Loughery | Three Ewe Lambs |
| Res. Champion Progeny Group | J Adams & Sons | Three Gimmers |
| Mule Champion | J Mills | Mule Ewe Lamb |
| Res. Mule Champion | M Wright | Mule Gimmer |
| Champion Mule Progeny Group | J Mills | Three Mule Ewe Lambs with Sire |
| Res. Champion Mule Progeny Group | J Adams & Son | Three Mule Ewe Lambs with Sire |
Gallery
Back to Archive