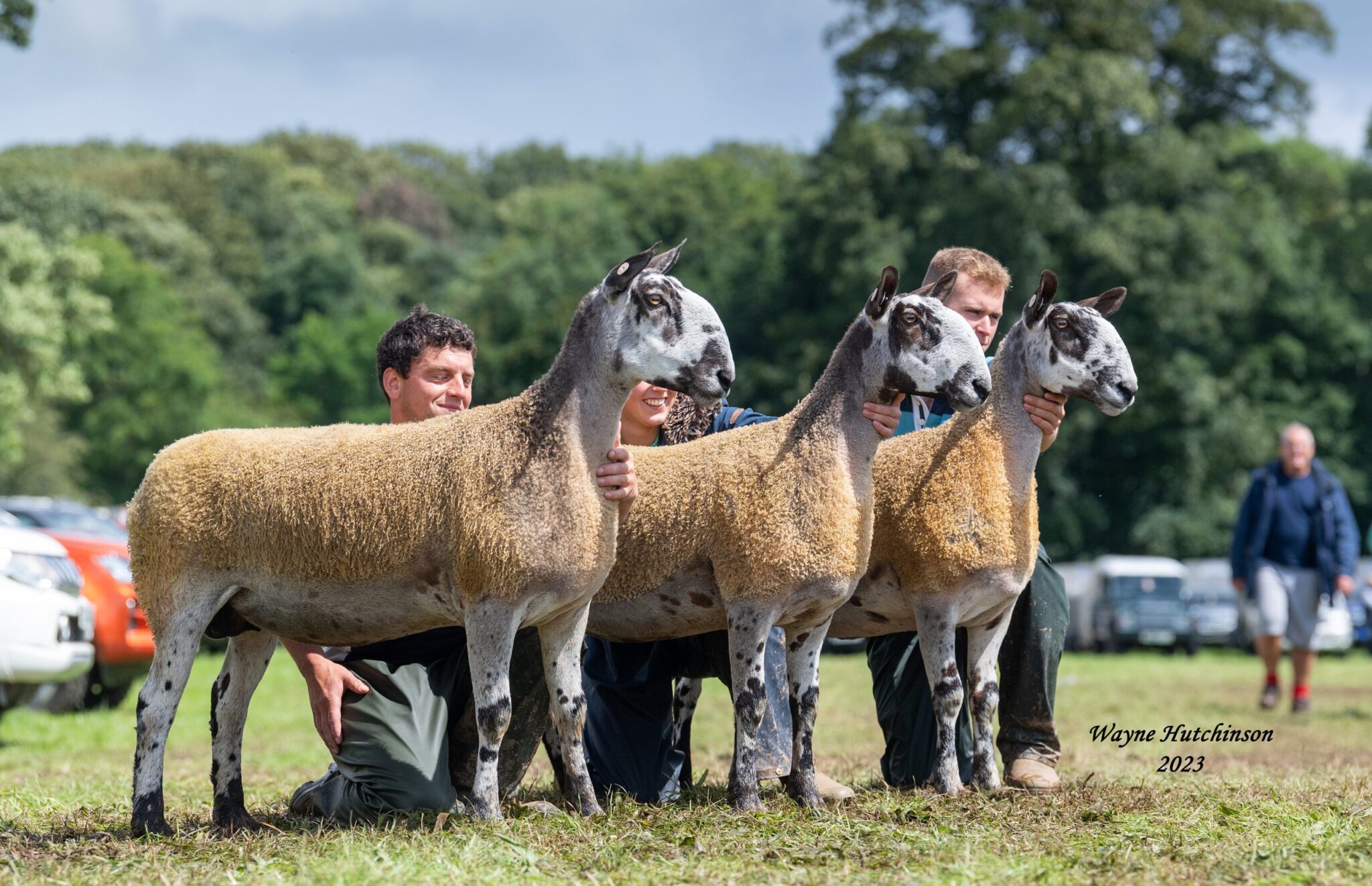 Penrith Progeny Show – Crossing Type & Mule Progeny Results
15th July 2023
Penrith
Mr R Hargreaves, Barley Meadow (BFL), Mr Richard Pedley, (Mules)
Penrith Progeny Show.
This year's Penrith show will go down as being bit of a damp one, to say the least. Torrential rain fell throughout most of the judging, but credit to the judges, stewards and the exhibitors, who carried on regardless in very difficult conditions.
In the crossing section, judged by Bob Hargreaves, Barley Meadow, the competition was as deep and as strong as ever, with a good entry of sheep in most classes, testing the judges skill to the limit. Topping the tree were the Riddings flock with a smashing gimmer lamb by the N2 Skeughdale which has been doing ever so well for them these last few years. She is out of a Hewgill bred ewe by the L7 Riddings. Her colour and style caught the eye and she certainly could have a big future ahead of her.
The reserve champion came from the Dawyck flock, making their debut at the show, with a tup shearling they bought out of Carlisle last autumn from Steel. This boy is by the Bruno tup that the Steel flock retained. They have used him successfully and have a promising batch of lambs heading to the sales this backend hopefully.
In some strong classes special mention must be made for the Pedleys Yore House flock who enjoyed a good show, taking 3 prizes out of 4 in the tup lamb class, with Neil and Mary Marston taking a second in the class to split them up a bit. They went on to take first and second in the ram lamb progeny class too, which is some achievement!
In the Mule progeny section, judged by Richard Pedley, it was show stalwart, Martyn Archer, taking home the silverware with 3 mule gimmer lambs out of Hexham Blackface ewes sired by the £25,000 Midlock Magic, which he bought with the Steel flock out of Hawes last autumn. He is by the P2 Riddings and goes back to the mother of the noted G34 Midlock. He has bred well, with one of the trio of gimmers by him standing first in its class at the Highland whilst another by him, from the Steel, stood second in the same class.
Martin Allan was the runner up in the mule progeny section with 3 gimmer lambs out of Swaledale ewes. These sharp lambs were by the £10,000 Harkerside bought out of Hawes last year.
Shearling Ram
| Placing | Class | Exhibitor | Flock Name | Lot Number |
| --- | --- | --- | --- | --- |
| 1st | Shearling Ram | M R Thornborrow | Dawyck | 46 |
| 2nd | Shearling Ram | J C & E Pedley & Sons | Yore House | 44 |
| 3rd | Shearling Ram | Mark Brennand | West Coast | 47 |
Ram Lamb
| Placing | Class | Exhibitor | Flock Name | Lot Number |
| --- | --- | --- | --- | --- |
| 1st | Ram Lamb | J C & E Pedley & Sons | Yore House | 48 |
| 2nd | Ram Lamb | Neil Marston | Highberries | 57 |
| 3rd | Ram Lamb | J C & E Pedley & Sons | Yore House | 49 |
| 4th | Ram Lamb | J C & E Pedley & Sons | Yore House | 50 |
| 5th | Ram Lamb | Abbey White | Ewebell | 52 |
| 6th | Ram Lamb | Martin Allan | Greenhow | 54 |
Ewe to have reared a lamb in 2023
| Placing | Class | Exhibitor | Flock Name | Lot Number |
| --- | --- | --- | --- | --- |
| 1st | Ewe to have reared a lamb in 2023 | M R Thornborrow | Dawyck | 66 |
| 2nd | Ewe to have reared a lamb in 2023 | Martin Allan | Greenhow | 65 |
| 3rd | Ewe to have reared a lamb in 2023 | W C Porter & Son | Riddings | 68 |
| 4th | Ewe to have reared a lamb in 2023 | M R Thornborrow | Dawyck | 67 |
Gimmer Shearling
| Placing | Class | Exhibitor | Flock Name | Lot Number |
| --- | --- | --- | --- | --- |
| 1st | Gimmer Shearling | Shaun Procter | Spurrigg | 81 |
| 2nd | Gimmer Shearling | Neil Marston | Highberries | 74 |
| 3rd | Gimmer Shearling | Mark Brennand | West Coast | 79 |
| 4th | Gimmer Shearling | Neil Marston | Highberries | 75 |
| 5th | Gimmer Shearling | Shaun Procter | Spurrigg | 82 |
| 6th | Gimmer Shearling | M R Thornborrow | Dawyck | 77 |
Ewe Lamb
| Placing | Class | Exhibitor | Flock Name | Lot Number |
| --- | --- | --- | --- | --- |
| 1st | Ewe Lamb | W C Porter & Son | Riddings | 102 |
| 2nd | Ewe Lamb | Neil Marston | Highberries | 98 |
| 3rd | Ewe Lamb | Neil Marston | Highberries | 99 |
| 4th | Ewe Lamb | Jack Buckle | Buckles | 108 |
| 5th | Ewe Lamb | J C & E Pedley & Sons | Yore House | 89 |
| 6th | Ewe Lamb | W C Porter & Son | Riddings | 103 |
BFL Progeny Group 3 Ram Lambs, by the same sire
| Placing | Class | Exhibitor | Flock Name | Lot Number |
| --- | --- | --- | --- | --- |
| 1st | Group 3 Ram Lambs | J C & E Pedley & Sons | Yore House | 110 |
| 2nd | Group 3 Ram Lambs | J C & E Pedley & Sons | Yore House | 111 |
| 3rd | Group 3 Ram Lambs | Martin Allan | Greenhow | 113 |
| 4th | Group 3 Ram Lambs | Jackson Twentyman | Gill Beck | 114 |
BFL Progeny Group 3 Ewes, by the same sire (to have lambed in 2023)
| Placing | Class | Exhibitor | Flock Name | Lot Number |
| --- | --- | --- | --- | --- |
| 1st | Group 3 Ewes | M R Thornborrow | Dawyck | 115 |
BFL Progeny Group 3 Gimmer Shearlings, by the same sire
| Placing | Class | Exhibitor | Flock Name | Lot Number |
| --- | --- | --- | --- | --- |
| 1st | Group 3 Gimmer Shearlings | M R Thornborrow | Dawyck | 118 |
| 2nd | Group 3 Gimmer Shearlings | W C Porter & Son | Riddings | 119 |
BFL Progeny Group 3 Gimmer Lambs, by the same sire
| Placing | Class | Exhibitor | Flock Name | Lot Number |
| --- | --- | --- | --- | --- |
| 1st | Group 3 Gimmer Lambs | Neil Marston | Highberries | 122 |
| 2nd | Group 3 Gimmer Lambs | W C Porter & Son | Riddings | 124 |
| 3rd | Group 3 Gimmer Lambs | Jack Buckle | Buckles | 126 |
| 4th | Group 3 Gimmer Lambs | W C Porter & Son | Riddings | 124a |
Mule Progeny Group 3 Mule Ewe Lambs, with sire - Swaledale Type
| Placing | Class | Exhibitor | Flock Name | Lot Number |
| --- | --- | --- | --- | --- |
| 1st | Mule Progeny Group 3 Mule Ewe Lambs, with sire - Swaledale Type | Martin Allan | Greenhow | 195 |
Mule Progeny Group 3 Mule Ewe Lambs, with sire - Blackface Type
| Placing | Class | Exhibitor | Flock Name | Lot Number |
| --- | --- | --- | --- | --- |
| 1st | Mule Progeny Group 3 Mule Ewe Lambs, with sire - Blackface Type | R D Archer & Son | Carry House | 197 |
Bluefaced Champions
| Category | Exhibitor | Type |
| --- | --- | --- |
| Breed Champion | W C Porter & Son, Riddings | 1st Prize Ewe Lamb |
| Reserve Breed Champion | M R Thornborrow, Dawyck | 1st Prize Shearling Ram |
| BFL Champion Progeny Group | M R Thornborrow, Dawyck | 1st Prize Group 3 Ewes |
| BFL Reserve Champion Progeny Group | Neil Marston, Highberries | 1st prize Group 3 Gimmer Lambs, |
| Champion Mule Progeny Group | R D Archer & Son, Carry House | 3 Mule Ewe Lambs, with sire - Blackface Type |
| Reserve Champion Mule Progeny Group | Martin Allan, Greenhow | 3 Mule Ewe Lambs, with sire - Swaledale Type |
| Best Skinned Sheep | W C Porter & Son, Riddings | 1st Prize Ewe Lamb |
Gallery
Back to Show Results