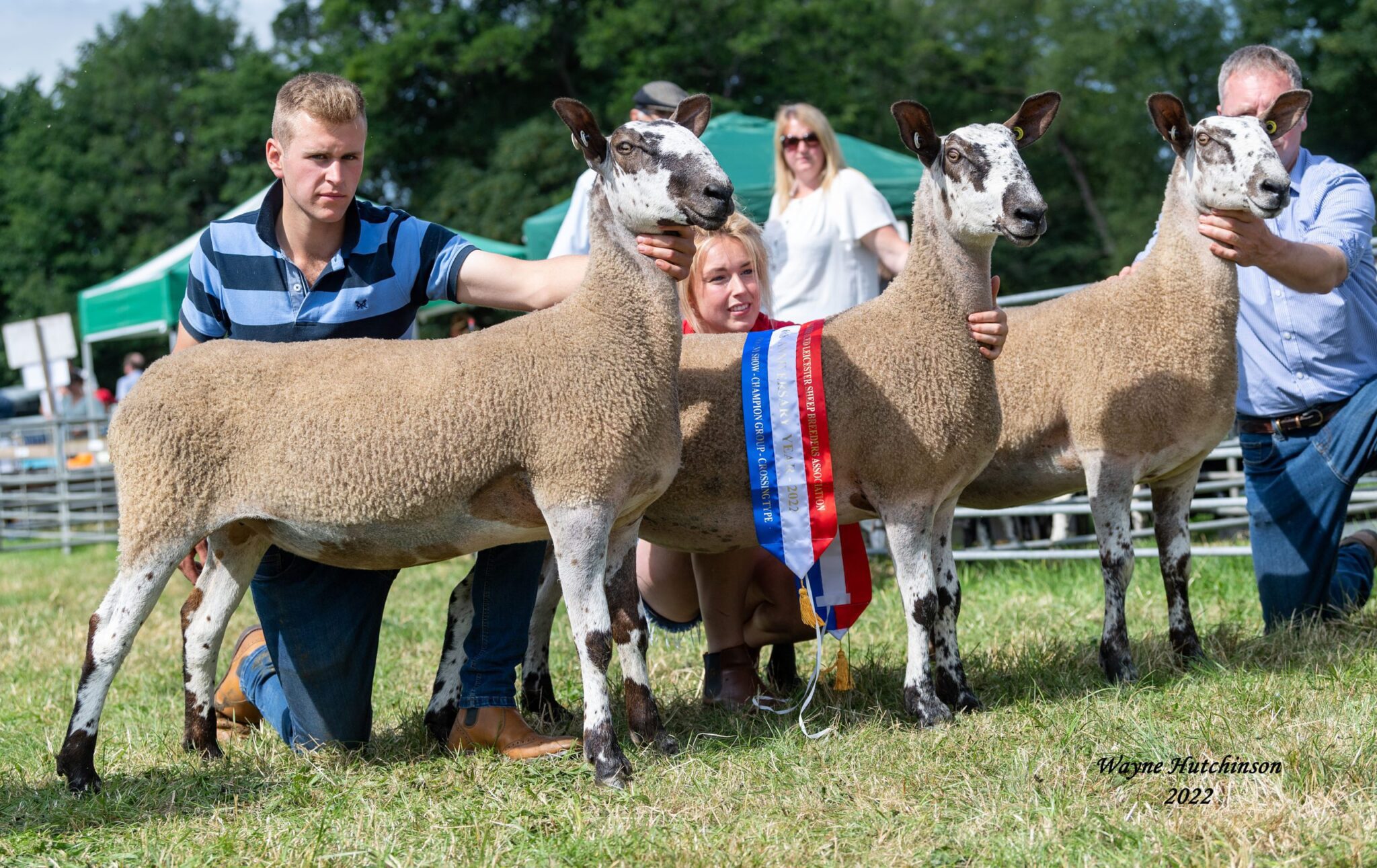 Penrith Progeny Show Crossing Type & Mule Progeny Results
16th July 2022
Penrith
Mr P Ayrton, Yates Farm (BFL), Mr R Little, Low Moor Dyke (Mules)
It was great to be back at Penrith Show once again and the sun seemed to be enjoying itself too, with a clear blue sky, it made its presence felt. The quality of stock on show was sizzling too, with a cracking show in all departments.
The crossing section was the first to complete the judging, which was overseen by Abbeystead based Paul Ayrton, who was very thorough throughout his classes, with nothing missing his eye. Topping the tree in the open classes was a lovely gimmer shearling from the noted Riddings flock. She was by the N2 Skeughdale, the same sire as the record breaker from last year and its mother was by the homebred Domino, which has done so well throughout the flock over the years. The Riddings flock also took the reserve championship with a ewe by M1 Hewgill and out of a ewe by the old Scarrowmanwick tup. The red tickets didn't stop there either for the Riddings team as the scooped the progeny championship with 3 gimmers shearlings by the aforementioned Skeughdale tup, completing a great day at the show for them.
Taking the reserve championship in the progeny section were the Pedleys from Yore House with a very impressive trio of tup lambs sired by the Midlock Commander bought out of Hawes last year, with his progeny looking good, having already taking red tickets at the Yorkshire Show for the Pye family. The Midlock sired lambs also took first and second in the open ram lamb class too. They will be well worth keeping an eye on at this back-end sales too, with their power and great skins, they are going to be worth taking a punt on!
The mule progeny group, a very hotly contested competition, was won by veteran breeder John Smith Jackson with three classy lambs by the homebred N11 Shafthill, a powerful tup, which is leaving some great mule lambs for the Shafthill flock.
Aged Ram
| Placing | Class | Exhibitor | Flock Name |
| --- | --- | --- | --- |
| 1st | Aged Ram | James Taylor | Lunesdale |
| 2nd | Aged Ram | Mark Brennand | West Coast |
Shearling Ram
| Placing | Class | Exhibitor | Flock Name |
| --- | --- | --- | --- |
| 1st | Shearling Ram | R D Archer & Son | Carry House |
Ram Lamb
| Placing | Class | Exhibitor | Flock Name |
| --- | --- | --- | --- |
| 1st | Ram Lamb | J C & E Pedley & Son | Yore House |
| 2nd | Ram Lamb | J C & E Pedley &Son | Yore House |
| 3rd | Ram Lamb | Robert Marrs | Binsey |
| 4th | Ram Lamb | Robbie Barker | Crossfell Farm |
Ewe to have reared a lamb in 2022
| Placing | Class | Exhibitor | Flock Name |
| --- | --- | --- | --- |
| 1st | Ewe | W C Porter & Son | Riddings |
| 2nd | Ewe | Robbie Barker | Crossfell Farm |
| 3rd | Ewe | Mark Brennand | West Coast |
| 4th | Ewe | Mark Brennand | West Coast |
Gimmer Shearling
| Placing | Class | Exhibitor | Flock Name |
| --- | --- | --- | --- |
| 1st | Gimmer Shearling | W C Porter & Son | Riddings |
| 2nd | Gimmer Shearling | Shaun Procter | Spurrigg |
| 3rd | Gimmer Shearling | W C Porter & Son | Riddings |
| 4th | Gimmer Shearling | W C Porter & Son | Riddings |
Ewe Lamb
| Placing | Class | Exhibitor | Flock Name |
| --- | --- | --- | --- |
| 1st | Ewe Lamb | W C Porter & Son | Riddings |
| 2nd | Ewe Lamb | W C Porter & Son | Riddings |
| 3rd | Ewe Lamb | Marian Porter | Skelgate |
| 4th | Ewe Lamb | James Taylor | Lunsdale |
BFL Progeny Group 3 Ram Lambs, by the Same Sire
| Placing | Class | Exhibitor | Flock Name |
| --- | --- | --- | --- |
| 1st | Group 3 Ram Lambs | J C & E Pedley & Sons | Yore House |
| 2nd | Group 3 Ram Lambs | Mark Brennand | West Coast |
BFL Progeny Group 3 Gimmer Shearlings, by the Same Sire
| Placing | Class | Exhibitor | Flock Name |
| --- | --- | --- | --- |
| 1st | 3 Gimmer Shearlings | W C Porter & Son | Riddings |
| 2nd | 3 Gimmer Shearlings | Shaun Procter | Spurrigg |
BFL Progeny Group 3 Gimmer Lambs, by the Same Sire
| Placing | Class | Exhibitor | Flock Name |
| --- | --- | --- | --- |
| 1st | 3 Gimmer Lambs | W C Porter & Son | Riddings |
| 2nd | 3 Gimmer Lambs | J C & E Pedley & Sons | Yore House |
| 3rd | 3 Gimmer Lambs | W C Porter & Son | Riddings |
| 4th | 3 Gimmer Lambs | Robert Marrs | Binsey |
Mule Progeny Group 3 Mule Lambs, with Sire - Swaledale Type
| Placing | Class | Exhibitor | Flock Name |
| --- | --- | --- | --- |
| 1st | Mule Progeny Group 3 Mule Ewe Lambs (Swaledale Type) | John Smith-Jackson | Shafthill |
Mule Progeny Group 3 Mule Lambs, with Sire - Blackface Type
| Placing | Class | Exhibitor | Flock Name |
| --- | --- | --- | --- |
| 1st | Mule Progeny Group 3 Mule Ewe Lambs, with Sire - Blackface Type | R D Archer & Son | Carry House |
| 2nd | Mule Progeny Group 3 Mule Ewe Lambs, with Sire - Blackface Type | R D Archer & Son | Carry House |
Bluefaced Champions
| Category | Exhibitor | Type |
| --- | --- | --- |
| Breed Champion | W C Porter & Son | First Prize Gimmer Shearling |
| Reserve Breed Champion | W C Porter & Son | First Prize Aged Ewe |
| Champion Bluefaced Leicester Progeny Group Crossing Type | W C Porter & Son | 3 Gimmer Shearlings by the Same Sire |
| Reserve Champion Bluefaced Leicester Progeny Group Crossing Type | J C & E Pedley & Sons | 3 Ram Lambs by the Same Sire |
| Champion Mule Progeny Group | John Smith-Jackson | 3 Mule Ewe Lambs with Sire (ex Swaledale) |
| Reserve Champion Mule Progeny Group | R D Archer & Son | 3 Mule Ewe Lambs with sire (ex Blackface) |
Gallery
Back to Archive