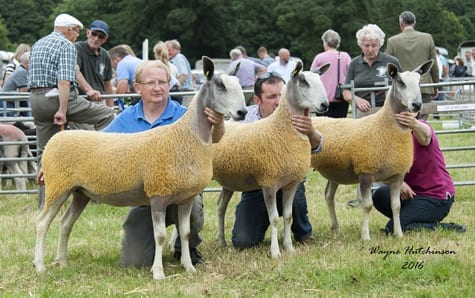 Penrith Progeny Show – Traditional
23rd July 2016
Penrith
D Brown, Drumhumphrey
Penrith Progeny Show 2016
It was a packed show at Penrith, with two rings running and a lot of sheep to be judged, with plenty of showers from northern England and Scotland, under the learned eye of well-respected judges from their circles who both had some depth of quality to pick their eventual winners from.
First to finish by a whisker was the traditional types, judged by Drew Brown, Castle Douglas. His Champion and Reserve came from the same flock from Scott and Clare Thomason aided by son Isaac. Fresh from their success at the Great Yorkshire Show, they again produced the goods, with a different set of sheep, winning with a cracking gimmer lamb making its debut in the ring, sired by H4 Auchry bought out of Builth Wells last year as a "bit of a chancer" according to Scott. Out of a ewe by F9 Myfyrian, it was exactly the same way bred as the male Champion and Reserve overall in the traditional section, making the chancer a very good gamble indeed, and made even better when his gimmer lamb went on to take the Reserve Interbreed title later on in the day.
Running up to the Champion in the reserve section was a gimmer shearling from Stephen Crozier. She was sired by Long Mynd G7 and out of a ewe by Watersyke C10. The Reserve male Champion was a tup lamb from 21 year old Stuart Nelson, showing at Penrith for only his second time. Based up near Lanark he got into the breed only a couple of years ago. His tup lamb is by D5 Elian he bought from Frank Johnson, Ashes in a private deal as a four shear.
The Champion progeny group was won by Matt and Elaine Drummond who travelled all the way down from Ayr to show, with a trio of powerful gimmer shearlings by Woodcroft F4, a Cernyw D1 son bought at Carlisle in 2013. Stuart Nelson was back in among the tickets for his fledgling flock, which runs to 17 ewes as he took the Reserve in the progeny group with three tup lambs by the D5 Elian, making it a day to remember for this young breeder.
Aged Ram
| Placing | Class | Exhibitor | Flock Name |
| --- | --- | --- | --- |
| 1st | Aged Ram | S Thomason | Piel View |
Shearling Ram
| Placing | Class | Exhibitor | Flock Name |
| --- | --- | --- | --- |
| 1st | Shearling Ram | M & C Drummond | Cassington |
| 2nd | Shearling Ram | S Nelson | Medwyn |
| 3rd | Shearling Ram | J W & A M Little | The Close |
Ram Lamb
| Placing | Class | Exhibitor | Flock Name |
| --- | --- | --- | --- |
| 1st | Ram Lamb | S Thomason | Piel View |
| 2nd | Ram Lamb | S Nelson | Medwyn |
| 3rd | Ram Lamb | S Thomason | Piel View |
Ewe
| Placing | Class | Exhibitor | Flock Name |
| --- | --- | --- | --- |
| 1st | Ewe | M & C Drummond | Cassington |
| 2nd | Ewe | S Thomason | Piel View |
| 3rd | Ewe | J W & A M Little | The Close |
Gimmer
| Placing | Class | Exhibitor | Flock Name |
| --- | --- | --- | --- |
| 1st | Gimmer | S Crozier | Watersyke |
| 2nd | Gimmer | S Thomason | Piel View |
| 3rd | Gimmer | M & C Drummond | Cassington |
Ewe Lamb
| Placing | Class | Exhibitor | Flock Name |
| --- | --- | --- | --- |
| 1st | Ewe Lamb | S Thomason | Piel View |
| 2nd | Ewe Lamb | S Thomason | Piel View |
| 3rd | Ewe Lamb | S Crozier | Watersyke |
Progeny Show - Three Ewes By The Same Sire
| Placing | Class | Exhibitor | Flock Name |
| --- | --- | --- | --- |
| 1st | Three Ewes By The Same Sire | M & C Drummond | Cassington |
Progeny Show - Three Gimmers By The Same Sire
| Placing | Class | Exhibitor | Flock Name |
| --- | --- | --- | --- |
| 1st | Three Gimmers By The Same Sire | M & C Drummond | Cassington |
| 2nd | Three Gimmers By The Same Sire | S Crozier | Watersyke |
Progeny Show - Three Ram Lambs By The Same Sire
| Placing | Class | Exhibitor | Flock Name |
| --- | --- | --- | --- |
| 1st | Three Ram Lambs By The Same Sire | S Nelson | Medwyn |
Progeny Show - Three Ewe Lambs By The Same Sire
| Placing | Class | Exhibitor | Flock Name |
| --- | --- | --- | --- |
| 1st | Three Ewe Lambs By The Same Sire | J W & A M Little | The Close |
Bluefaced Champions
| Category | Exhibitor | Type |
| --- | --- | --- |
| Breed Champion & Female Champion | S Thomason | Ewe Lamb |
| Res. Champion & Male Champion | S Thomason | Ram Lamb |
| Res. Male Champion | S Nelson | Ram Lamb |
| Res. Female Champion | S Crozier | Gimmer |
| Champion Progeny Group | M & C Drummond | Three Gimmers |
| Res. Champion Progeny Group | S Nelson | Three Ram Lambs |
Gallery
Back to Archive