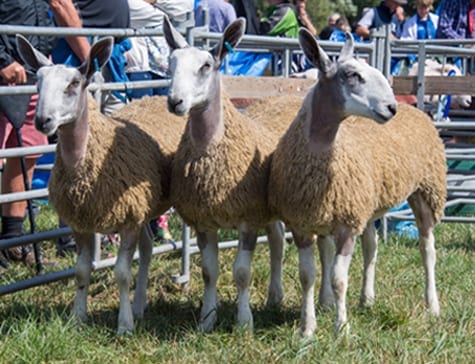 Penrith Progeny Show Traditional Type
28th July 2018
Penrith
A McClymont, Kirkstead
After weeks of red hot temperatures and blue skies missing any clouds, the weather had to break sometime. No doubt the organisers of the Penrith show wouldn't have minded if it had held on for a few more hours, after a deluge in the morning brought on reminders of last year's show, albeit the ground underfoot was good to firm, in race horse terms! Still the skies cleared just in time for the start of the judging and stayed clear for most of the time whilst judging was ongoing.
In the traditional section, the prizes were shared out more evenly, with no one flock having a monopoly of the tickets. The Champion in the progeny section went to Robin Peart on his debut at the show with three gimmer lambs by K3 Whinnyhalll purchased at Carlisle last year with Jack Wilkinson, Bollihope. One of the lambs had already stood 3rd at the Highland Show earlier this year before picking up 2nd and 3rd here at Penrith.
Taking the Reserve in this section was Michael Gray, Low Espley with three gimmer shearlings by the £4500 H1 Shrewbridge bought out of Builth as a shearling, which has gone on and done well in the flock. One of the trio was also the Reserve Champion in the open section, having already taken 1st at the Highland as a gimmer lamb last year and standing 3rd at the Highland again this year in its class.
Top of the tree in the traditional section was a two shear tup from Scott Thomason. This powerful boy is the full brother to the Champion from the Welsh last week, bred at Kirkstead and by the Burndale tup which has done so well for them, out of a ewe bought at the Carry House dispersal as a lamb. He is an immense tup, full of presence and style, traits which caught the eye of the interbreed judge too, who awarded him the interbreed title too, the second in a row for the Walney Island based flock.
Aged Ram
| Placing | Class | Exhibitor | Flock Name |
| --- | --- | --- | --- |
| 1st | Aged Ram | S & C Thomason & Son | Piel View |
| 2nd | Aged Ram | S & C Thomason & Son | Piel View |
Shearling Ram
| Placing | Class | Exhibitor | Flock Name |
| --- | --- | --- | --- |
| 1st | Shearling Ram | M & N Gray | Espley |
| 2nd | Shearling Ram | M & N Gray | Espley |
| 3rd | Shearling Ram | O Scown | Belgrave |
Ram Lamb
| Placing | Class | Exhibitor | Flock Name |
| --- | --- | --- | --- |
| 1st | Ram Lamb | S & C Thomason & Son | Piel View |
| 2nd | Ram Lamb | R Peart | Mayland |
| 3rd | Ram Lamb | M & N Gray | Espley |
Ewe
| Placing | Class | Exhibitor | Flock Name |
| --- | --- | --- | --- |
| 1st | Ewe | M & N Gray | Espley |
| 2nd | Ewe | S & C Thomason & Son | Piel View |
| 3rd | Ewe | M & N Gray | Espley |
Gimmer
| Placing | Class | Exhibitor | Flock Name |
| --- | --- | --- | --- |
| 1st | Gimmer | M & N Gray | Espley |
| 2nd | Gimmer | S & C Thomason & Son | Piel View |
| 3rd | Gimmer | M & N Gray | Espley |
Ewe Lamb
| Placing | Class | Exhibitor | Flock Name |
| --- | --- | --- | --- |
| 1st | Ewe Lamb | S & C Thomason & Son | Piel View |
| 2nd | Ewe Lamb | R Peart | Mayland |
| 3rd | Ewe Lamb | R Peart | Mayland |
Progeny Group - Three Ram Lambs By The Same Sire
| Placing | Class | Exhibitor | Flock Name |
| --- | --- | --- | --- |
| 1st | Group 3 Ram Lambs | M & N Gray | Espley |
Progeny Group - Three Gimmers By The Same Sire
| Placing | Class | Exhibitor | Flock Name |
| --- | --- | --- | --- |
| 1st | Group 3 Gimmers | M & N Gray | Espley |
| 2nd | Group 3 Gimmers | S & C Thomason & Son | Piel View |
Progeny Group - Three Ewe Lambs By The Same Sire
| Placing | Class | Exhibitor | Flock Name |
| --- | --- | --- | --- |
| 1st | Group 3 Ewe Lambs | R Peart | Mayland |
| 2nd | Group 3 Ewe Lambs | S & C Thomason & Son | Piel View |
| 3rd | Group 3 Ewe Lambs | M & N Gray | Espley |
Bluefaced Champions
| Category | Exhibitor | Type |
| --- | --- | --- |
| Interbreed Champion | S & C Thomason & Son | Aged Ram |
| Breed Champion & Male Champion | S & C Thomason & Son | Aged Ram |
| Res. Breed Champion & Female Champion | M & N Gray | Gimmer |
| Reserve Male Champion | S & C Thomason & Son | Ram Lamb |
| Reserve Female Champion | M & N Gray | Ewe |
| Progeny Champion Group | R Peart | Three Ewe Lambs By The Same Sire |
| Res. Progeny Group | M & N Gray | Three Gimmers By The Same Sire |
Gallery
Back to Archive