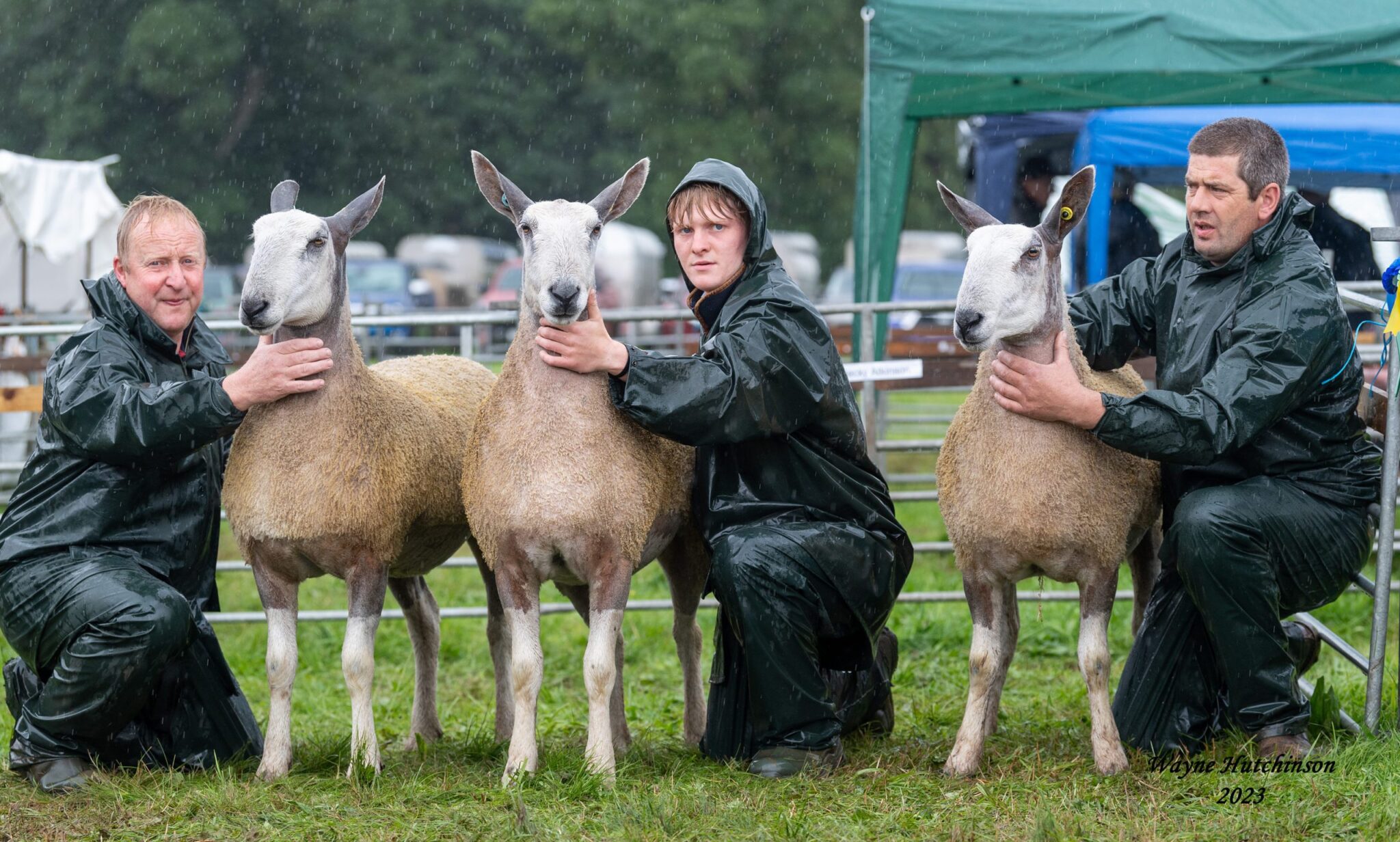 Penrith Progeny Show – Traditional Type
15th July 2023
Penrith
Mr Tudor Harris, Bonvilston
Penrith Progeny Show – Saturday 15th July 2023
This year's Penrith show will go down as being bit of a damp one, to say the least. Torrential rain fell throughout most of the judging, but credit to the judges, stewards and the exhibitors, who carried on regardless in very difficult conditions.
In the Traditional section, the judge, Tudor Harris from the Bonvilston flock, had a great batch of sheep to cast his eye over and his champion, a gimmer shearling from the Kirkstead flock, was certainly an eyecatcher. By the L1 Ashes, she is full of style and sharp as a pin, and despite the weather, she really looked the part. Penrith wasn't her first outing, with her already having the Reserve Female champion tickets from this years Highland show.  She was part of the progeny champion group too with three gimmer shearlings by the Ashes tup, which as a team also took the reserve in the progeny group last year as gimmer lambs. It is good to see them growing out and maintaining that quality.
The reserve champion came from the Piel View flock from Scott and Clare Thomason, bringing a great team from Walney Island. It was their gimmer lamb which took the reserve ticket, which was by the 15,000gns R1 Hope which they bought out of Builth Wells last year and has gone on to do so well within the flock, indeed, all 6 lambs they brought were by him, and went on to win their classes in the progeny sections too and the gimmer lambs went on to take the reserve ticket in the progeny groups too.
Aged Ram
| Placing | Class | Exhibitor | Flock Name | Lot Number |
| --- | --- | --- | --- | --- |
| 1st | Aged Ram | S A & C L Thomason | Piel View | 1 |
Shearling Ram
| Placing | Class | Exhibitor | Flock Name | Lot Number |
| --- | --- | --- | --- | --- |
| 1st | Shearling Ram | M & N Gray | Espley | 5 |
| 2nd | Shearling Ram | R A McClymont & Son | Kirkstead | 2 |
| 3rd | Shearling Ram | S A & C L Thomason | Piel View | 4 |
| 4th | Shearling Ram | M & N Gray | Espley | 6 |
Ram Lamb
| Placing | Class | Exhibitor | Flock Name | Lot Number |
| --- | --- | --- | --- | --- |
| 1st | Ram Lamb | R A McClymont & Son | Kirkstead | 7 |
| 2nd | Ram Lamb | S A & C L Thomason | Piel View | 10 |
| 3rd | Ram Lamb | S A & C L Thomason | Piel View | 11 |
| 4th | Ram Lamb | M & N Gray | Espley | 12 |
Ewe to have reared a lamb in 2023
| Placing | Class | Exhibitor | Flock Name | Lot Number |
| --- | --- | --- | --- | --- |
| 1st | Ewe to have reared a lamb in 2023 | R A McClymont & Son | Kirkstead | 14 |
| 2nd | Ewe to have reared a lamb in 2023 | M & N Gray | Espley | 17 |
| 3rd | Ewe to have reared a lamb in 2023 | S A & C L Thomason | Piel View | 18 |
Gimmer Shearling
| Placing | Class | Exhibitor | Flock Name | Lot Number |
| --- | --- | --- | --- | --- |
| 1st | Gimmer Shearling | R A McClymont & Son | Kirkstead | 19 |
| 2nd | Gimmer Shearling | S A & C L Thomason | Piel View | 22 |
| 3rd | Gimmer Shearling | R A McClymont & Son | Kirkstead | 20 |
| 4th | Gimmer Shearling | M & N Gray | Espley | 24 |
Ewe Lamb
| Placing | Class | Exhibitor | Flock Name | Lot Number |
| --- | --- | --- | --- | --- |
| 1st | Ewe Lamb | S A & C L Thomason | Piel View | 30 |
| 2nd | Ewe Lamb | S A & C L Thomason | Piel View | 31 |
| 3rd | Ewe Lamb | R A McClymont & Son | Kirkstead | 26 |
BFL Progeny Group 3 Ram Lambs, by the Same Sire
| Placing | Class | Exhibitor | Flock Name | Lot Number |
| --- | --- | --- | --- | --- |
| 1st | Group 3 Ram Lambs | S A & C L Thomason | Piel View | 35 |
| 2nd | Group 3 Ram Lambs | M & N Gray | Espley | 36 |
BFL Progeny Group 3 Gimmer Shearlings, by the same sire
| Placing | Class | Exhibitor | Flock Name | Lot Number |
| --- | --- | --- | --- | --- |
| 1st | Group 3 Gimmer Shearlings | R A McClymont & Son | Kirkstead | 38 |
| 2nd | Group 3 Gimmer Shearlings | S A & C L Thomason | Piel View | 40 |
| 3rd | Group 3 Gimmer Shearlings | M & N Gray | Espley | 39 |
BFL Progeny Group 3 Gimmer Lambs, by the same sire
| Placing | Class | Exhibitor | Flock Name | Lot Number |
| --- | --- | --- | --- | --- |
| 1st | Group 3 Gimmer Lambs | S A & C L Thomason | Piel View | 41 |
Bluefaced Champions
| Category | Exhibitor | Type |
| --- | --- | --- |
| Overall Breed Champion | R A McClymont & Son, Kirkstead | 1st Prize Gimmer |
| Reserve Overall Breed Champion | S A & C L Thomason, Piel View | 1st Prize Ewe Lamb |
| Best Opposite Sex to the Champion | M & N Gray, Espley | 1st Prize Shearling Ram |
| Overall Champion Progeny Group | R A McClymont & Son, Kirkstead | 1st Prize 3 Gimmer Shearlings, by the same sire |
| Reserve Overall Champion Progeny Group | S A & C L Thomason, Piel View | 1st Prize 3 Ram Lambs, by the Same Sire |
| Champion Junior Handler | Rian Faulds | |
| Reserve Champion Junior Handler | Kai Gardener - Little | |
| Best Skinned Sheep | S A & C L Thomason, Piel View | 1st Prize Ewe Lamb |
Gallery
Back to Show Results