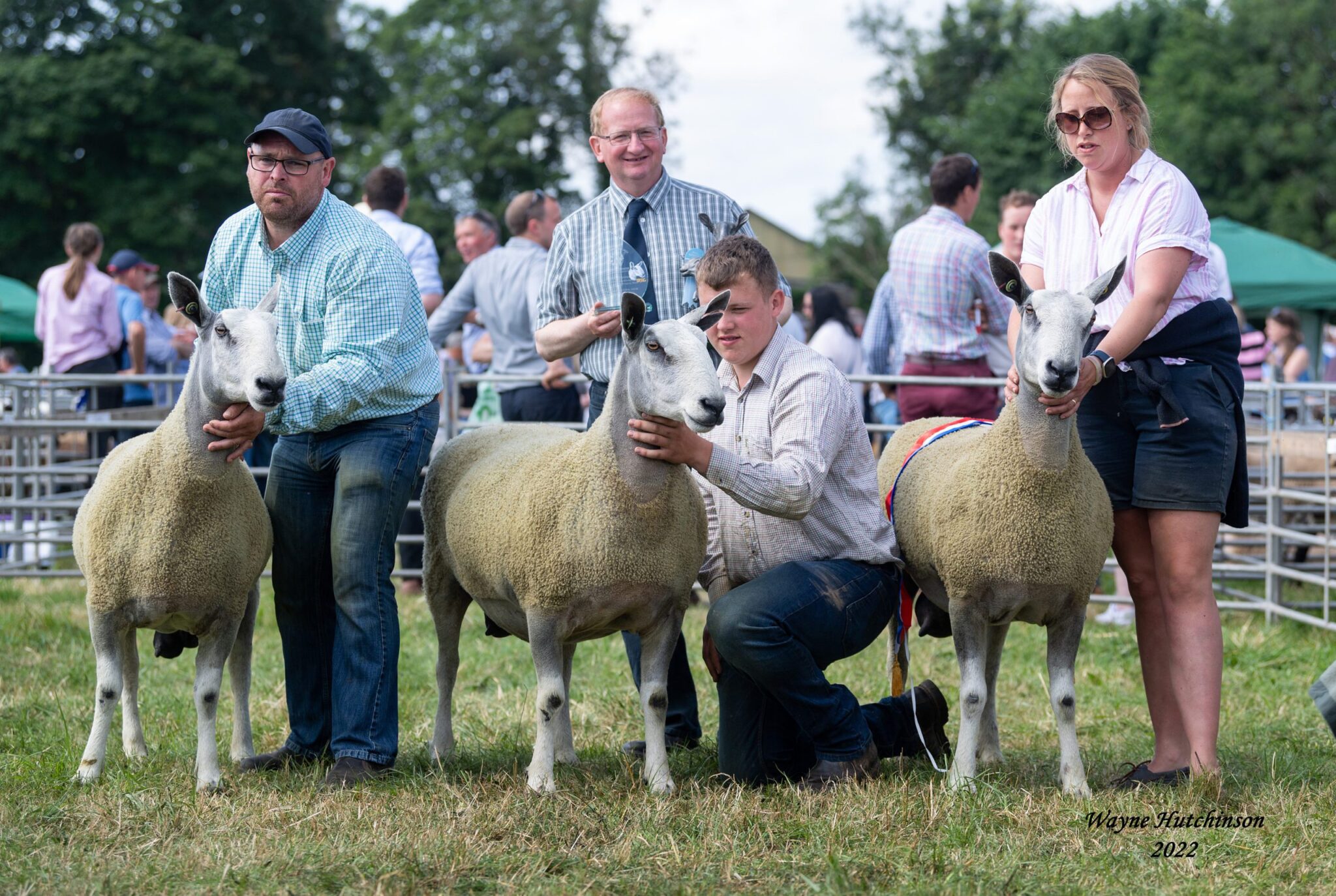 Penrith Progeny Show Traditional Type
16th July 2022
Penrith
Mr M Drummond, Cassington
It was great to be back at Penrith Show once again and the sun seemed to be enjoying itself too, with a clear blue sky, it made its presence felt. The quality of stock on show was sizzling too, with a cracking show in all departments.
The Traditional section saw some very strong classes and Judge, Matt Drummond from Cassington had torn himself away from hay making in Ayr to judge and was hitting the road as soon as he could afterwards to get back and turn the grass……nothing like fitting plenty into your day!
For his champion he picked out the Bonvilston tup from Alan McClymont's Kirkstead flock, which had swept all in front of him at the Highland Show a few weeks earlier. This monster of a tup had certainly filled out since the Highland and is starting to look a snip after Alan bought him at Kelso last year for £3200. It was Alans first trip as a competitor to the Penrith show and he had a very successful day, also picking up the Reserve progeny championship with three sharp gimmers by the L1 Ashes tup, completing a good trip over the Border for the team.
Taking the Reserve Overall championship went to Scott & Claire Thomason, along with son Isaac, who made their regular trip from the Walney Island to compete. Their reserve was a good breeding ewe by J9 Kirkstead, a tup which has done well throughout the flock and on the show field, since they bought him, previously winning the Interbreed championship at Penrith show a few years back. The Champion progeny group were ewes sired by this Kirkstead tup too, with a trio of smashing ewes.
Aged Ram
| Placing | Class | Exhibitor | Flock Name |
| --- | --- | --- | --- |
| 1st | Aged Ram | R A McClymont & Son | Kirkstead |
| 2nd | Aged Ram | S A & C L Thomason | Piel View |
| 3rd | Aged Ram | D & L Hall | West End |
| 4th | Aged Ram | J K Forster | Garriston |
Shearling Ram
| Placing | Class | Exhibitor | Flock Name |
| --- | --- | --- | --- |
| 1st | Shearling Ram | R A McClymont & Son | Kirkstead |
| 2nd | Shearling Ram | J K Foster | Garriston |
Ram Lamb
| Placing | Class | Exhibitor | Flock Name |
| --- | --- | --- | --- |
| 1st | Ram Lamb | S A & C L Thomason & Son | Piel View |
| 2nd | Ram Lamb | R A McClymont & Son | Kirkstead |
| 3rd | Ram Lamb | M & N Gray | Espley |
| 4th | Ram Lamb | S A & C L Thomason | Piel View |
Ewe, to have reared a lamb in 2022
| Placing | Class | Exhibitor | Flock Name |
| --- | --- | --- | --- |
| 1st | Ewe | S A & C L Thomason | Piel View |
| 2nd | Ewe | M & N Gray | Espley |
| 3rd | Ewe | S A & C L Thomason | Piel View |
| 4th | Ewe | M & N Gray | Espley |
Gimmer Shearling
| Placing | Class | Exhibitor | Flock Name |
| --- | --- | --- | --- |
| 1st | Gimmer Shearling | R A McClymont & Son | Kirkstead |
| 2nd | Gimmer Shearling | M & N Gray | Espley |
| 3rd | Gimmer Shearling | S A & C L Thomason | Piel View |
| 4th | Gimmer Shearling | S A & C L Thomason | Piel View |
Ewe Lamb
| Placing | Class | Exhibitor | Flock Name |
| --- | --- | --- | --- |
| 1st | Ewe Lamb | R A McClymont & Son | Kirkstead |
| 2nd | Ewe Lamb | M & N Gray | Espley |
| 3rd | Ewe Lamb | S A & C L Thomason | Piel View |
| 4th | Ewe Lamb | M & N Gray | Espley |
BFL Progeny Group 3 Ram Lambs, by the Same Sire
| Placing | Class | Exhibitor | Flock Name |
| --- | --- | --- | --- |
| 1st | Group 3 Ram Lambs | M & N Gray | Espley |
BFL Progeny Group 3 Ewes, by the Same Sire
| Placing | Class | Exhibitor | Flock Name |
| --- | --- | --- | --- |
| 1st | Group 3 Ewes | S A & C L Thomason | Piel View |
BFL Progeny Group 3 Gimmer Shearlings, by the Same Sire
| Placing | Class | Exhibitor | Flock Name |
| --- | --- | --- | --- |
| 1st | Group 3 Gimmer Shearlings | S A & C L Thomason | Piel View |
| 2nd | Group 3 Gimmer Shearlings | D & I Hall | West End |
| 3rd | Group 3 Gimmer Shearlings | J K Foster | Garrison |
BFL Progeny Group 3 Gimmer Lambs, by the Same Sire
| Placing | Class | Exhibitor | Flock Name |
| --- | --- | --- | --- |
| 1st | Group 3 Gimmer Lambs | R A McClymont & Son | Kirkstead |
| 2nd | Group 3 Gimmer Lambs | M & N Gray | Espley |
| 3rd | Group 3 Gimmer Lambs | S A & C L Thomason | Piel View |
| 4th | Group 3 Gimmer Lambs | J K Foster | Garriston |
Bluefaced Champions
| Category | Exhibitor | Type |
| --- | --- | --- |
| Overall Breed Champion | R A McClymont & Son | First Prize Aged Ram |
| Reserve Overall Breed Champion | S A & C L Thomason | First Prize Aged Ewe |
| Overall Champion Progeny Group | S A & C L Thomason | Group 3 Ewes by the same sire |
| Reserve Overall Champion Progeny Group | R A McClymont & Son | Group 3 Gimmer Lambs by the same sire |
Gallery
Back to Archive