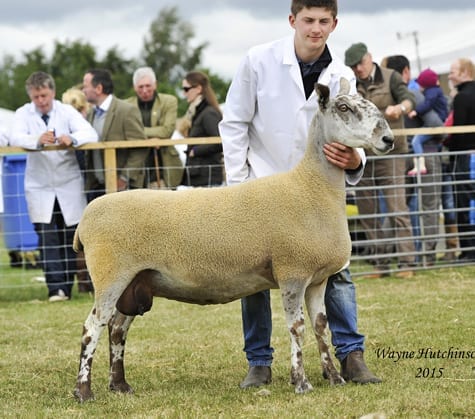 Royal Highland Show
18th - 21st June 2015
Edinburgh
Mr R Bell, Knockairdie
Royal Highland Show 2015
With some strong classes on show it was always going to take a great sheep to take the hotly contested title at the Highland this year. The temperatures weren't good, but the heat in the classes was something else, with sheep from all over the country competing, giving judge Robin Bell from Castle Douglas plenty of scope for thought.
The Champion came from the renowned Midlock flock, who were fresh from celebrating a championship in the Blackface section the day before. Their overall champion was a three crop ewe by the C2 Hewgill and out of a B4 Tanhouse Farm ewe. It was a strong powerful ewe, and a stand out sheep. Not only blessed with good looks, she is a proven breeder too, with her gimmer lamb taking the first prize in its class and she is the grandmother to several of the top Mustang sired tup lambs sold last autumn. She is also the ½ sister to B41 Midlock which is being used at Marriforth, and it was a gimmer shearling out of a ewe by him, which took the Reserve Champion for Paul Fairburn, making his debut at the show. She was by the £14,000 F19 Cottage which Paul bought at Hawes in 2013.
The Reserve Overall Champion was an immense aged ram from the Auld Tinnis flock run by Messrs S McClymont. He had taken the Reserve Male championship last year and stepped up a gear this year. He had power and style in abundance, and gained admirers from other breed showers too with his sheer presence. He was bred at Sauchrie Mains and bought at Castle Douglas as a tup lamb, by D4 Midlock and out of a ewe by the £10,000 Quarry House bought at Kelso several years ago. Taking the Reserve Male Championship was a tup lamb from Gary Thornborrow, which won a very strong class.
Tup above one shear
| Placing | Class | Exhibitor | Flock Name |
| --- | --- | --- | --- |
| 1st | Tup above one shear | S McClymont & Son | Auld Tinnis |
| 2nd | Tup above one shear | K Smith & H Brown | Low Arkland / Leadburnlea |
| 3rd | Tup above one shear | J & D Stenton | St Ravenscar |
Shearling tup
| Placing | Class | Exhibitor | Flock Name |
| --- | --- | --- | --- |
| 1st | Shearling tup | A Bastian | Rowandale |
| 2nd | Shearling tup | J Wight & Sons | Midlock |
| 3rd | Shearling tup | A Clark & Sons | Newmills |
Tup Lamb
| Placing | Class | Exhibitor | Flock Name |
| --- | --- | --- | --- |
| 1st | Tup Lamb | G Thornborrow | Dawyck |
| 2nd | Tup Lamb | M W & C M Ridley | Shitlington |
| 3rd | Tup Lamb | G McDonald | Mid Auchengray |
Ewe
| Placing | Class | Exhibitor | Flock Name |
| --- | --- | --- | --- |
| 1st | Ewe | J Wight & Sons | Midlock |
| 2nd | Ewe | J & D Stenton | St Ravenscar |
| 3rd | Ewe | J & W Bell | Cottage |
Gimmer
| Placing | Class | Exhibitor | Flock Name |
| --- | --- | --- | --- |
| 1st | Gimmer | E Fairburn & Sons | Marriforth |
| 2nd | Gimmer | M & C Drummond | Cassington |
| 3rd | Gimmer | G Thornborrow | Dawyck |
Ewe Lamb
| Placing | Class | Exhibitor | Flock Name |
| --- | --- | --- | --- |
| 1st | Ewe Lamb | J Wight & Sons | Midlock |
| 2nd | Ewe Lamb | A McQuistin | Barnshangan |
| 3rd | Ewe Lamb | A Barnes | Cowden |
Group of three
| Placing | Class | Exhibitor | Flock Name |
| --- | --- | --- | --- |
| 1st | Group of three | J Wight & Sons | Midlock |
| 2nd | Group of three | J & D Stenton | St Ravenscar |
Bluefaced Champions
| Category | Exhibitor | Type |
| --- | --- | --- |
| Breed Champion & Female Champion | J Wight & Son | Aged Ewe |
| Res. Champion & Male Champion | S McClymont & Son | Aged Tup |
| Res. Female Champion | E Fairburn & Son | Gimmer |
| Res. Male Champion | G Thornborrow | Ram Lamb |
Gallery
Back to Archive