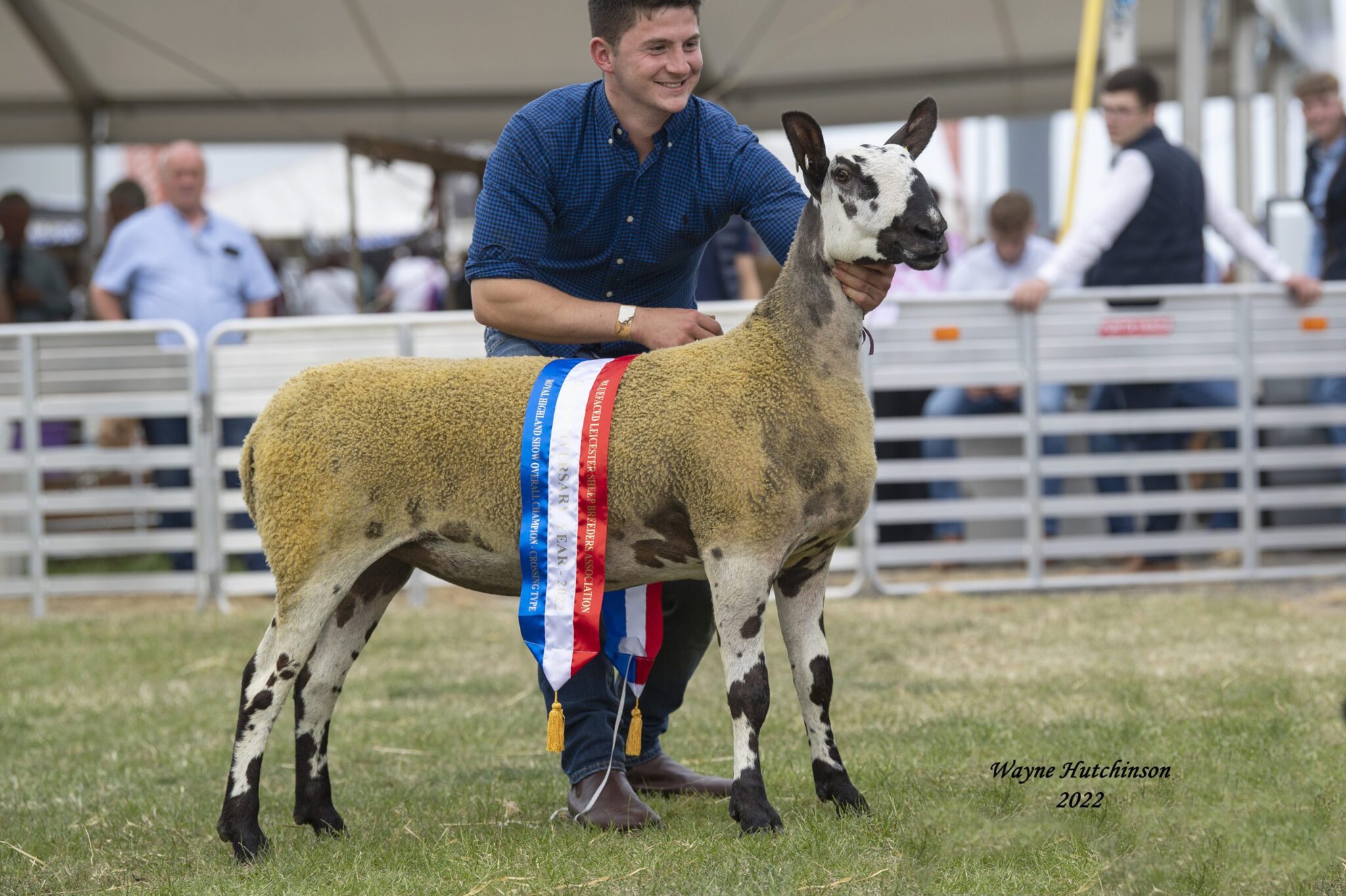 Royal Highland Show – Crossing Type
23rd - 26th June 2022
Edinburgh
Mr Alec Brown, Macqueston
Under the watchful eye of judge Alec Brown, Macqueston, and a clear blue sky, a cracking entry of crossing type sheep were assessed and accordingly placed. With some very strong classes it wasn't an easy job to sort out, but when the judging was all done and dusted it was a familiar face at the top of the tree again, as Midlock proved yet again to be the team to beat. Their champion was a stonking gimmer, which just oozed class. She is the full sister to the £40,000 "Commander" lamb sold last autumn at Hawes, by the M1 Riddings and out of the flocks top breeding ewe Midlock L27. Midlock also took the reserve female championship with an aged ewe by the K1 Shafthill out of an E1 Barfhouse.
Winning the male championship and going on to take the reserve overall championship was a smart tup lamb from Alan McQuistion, Barnshangan. This cocky lamb was full of power and a lovely colour, and again full of Midlock bloodlines. He was sired by the legendry G34 Midlock and out of a ewe by the J14 Blarnavaid, a son of Highberries Hotshot. Its full sister took the gimmer lamb class too, to complete a great double for these lambs. The reserve male champion was a corking home bred tup shearling from the Beeches flock from Finlay Robertson, by the L22 Blarnavaid and out of a ewe by the B41 Hewgill which has done so well for the flock. He will be heading to Kelso later this year to find a fresh home!
The group of 3 prize went to the Thornborrow Family of the Dawyck flock, who were there or thereabouts in all the classes they showed in.
Tup, above one shear
| Placing | Class | Exhibitor | Flock Name |
| --- | --- | --- | --- |
| 1st | Tup, above one shear | Firm of Shawhead | The Mill |
| 2nd | Tup, above one shear | J Stenton | St Ravenscar |
Shearling Tup
| Placing | Class | Exhibitor | Flock Name |
| --- | --- | --- | --- |
| 1st | Shearling Tup | F Robertson | Beeches |
| 2nd | Shearling Tup | J Wight & Sons | Midlock |
| 3rd | Shearling Tup | D & L Graham | Burnbank |
Tup Lamb
| Placing | Class | Exhibitor | Flock Name |
| --- | --- | --- | --- |
| 1st | Tup Lamb | A McQuistin | Barnshangan |
| 2nd | Tup Lamb | M W & C M Ridley | Shitlington |
| 3rd | Tup Lamb | J Wight & Sons | Midlock |
| 4th | Tup Lamb | M R Thornborrow & Sons | Dawyck |
Ewe, must have reared a lamb in the year of show
| Placing | Class | Exhibitor | Flock Name |
| --- | --- | --- | --- |
| 1st | Ewe | J Wight & Sons | Midlock |
| 2nd | Ewe | J Wight & Sons | Midlock |
| 3rd | Ewe | F Robertson | Beeches |
| 4th | Ewe | M R Thornborrow & Sons | Dawyck |
Gimmer
| Placing | Class | Exhibitor | Flock Name |
| --- | --- | --- | --- |
| 1st | Gimmer | J Wight & Sons | Midlock |
| 2nd | Gimmer | M R Thornborrow & Sons | Dawyck |
| 3rd | Gimmer | J Wight & Sons | Midlock |
| 4th | Gimmer | J Pirie | Blarnavaid |
Ewe Lamb
| Placing | Class | Exhibitor | Flock Name |
| --- | --- | --- | --- |
| 1st | Ewe Lamb | A McQuistin | Barnshangan |
| 2nd | Ewe Lamb | M W & C M Ridley | Shitlington |
| 3rd | Ewe Lamb | J Pirie | Blarnavaid |
| 4th | Ewe Lamb | F Robertson | Beeches |
Group of Three
| Placing | Class | Exhibitor | Flock Name |
| --- | --- | --- | --- |
| 1st | Group of Three | M R Thornborrow & Son | Dawyck |
| 2nd | Group of Three | J Pirie | Blarnavaid |
Bluefaced Champions
| Category | Exhibitor | Type |
| --- | --- | --- |
| Overall Champion & Champion Female | J Wight & Sons, Midlock | First Prize Gimmer |
| Reserve Overall Champion & Champion Male | A McQuistin, Barnshangan | First Prize Ram lamb |
| Reserve Champion Female | J Wight & Sons, Midlock | First Prize Ewe |
| Reserve Champion Male | F Robertston, Beeches | First Prize Shearling Ram |
Gallery
Back to Archive