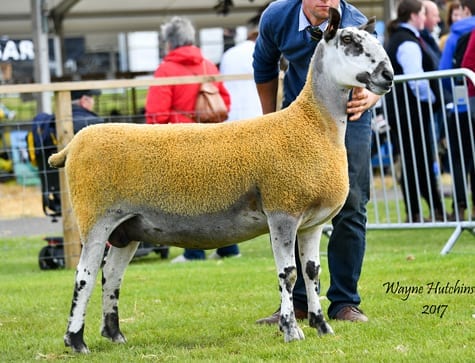 Royal Highland Show – Crossing Type
22nd - 25th June 2017
Edinburgh
D Hall, Firth
The 2017 Royal Highland Show saw once again the classes being split, and it seems to be a great success, after initial concerns. Both rings had a great entry with a great following, and to top it all, both sides of the breed excelled in the interbreed competition with the winner of the traditional section taking reserve in the singles championship and the crossing pairs taking the interbreed pairs championship. A great advert for the breed as a whole, producing exceptional, top quality animals which can stand proud alongside any breed in the country.
The crossing section was the first to be judged, and the judge, Derek Hall, wasted no time at all, being quick and decisive with his judging, and with some big classes in front of him he had to be.
The champion was a ewe from Craig and Gary Thornborrow, by the £16,000 F10 Penhill and out of their best breeding ewe, having bred two previous reserve champions at the Highland, as well as winning at Biggar, Peebles and other shows in her time, by the Z31 Old Hemley. The Dawyck flock had a day to remember, not only taking the championship, but also taking the reserve ticket in the gimmer section with a gimmer shearling too, out of the same ewe. This one was by the £23,000 Carry House and on its first outing. A great result for the Dawyck team who run around 30 ewes in their flock.
In the male section, the champion came from the tup lamb class with Jamie Pirie continuing to build his reputation with a cracking lamb by Highberries Hotshot bought out of Cockermouth a couple of years back, and out of a ewe he bought off Jimmy Bell, Cottage as a ewe lamb, again going back to Highberries breeding. The reserve champion was the £15,000 Midlock Knight Rider, bought out of Hawes. Owned by Jamie Pirie and Andrew Campbell, Drimsynie, this colossal tup is by the Mustang out of one of the best ewes in the Midlock flock.
Tup above one shear
| Placing | Class | Exhibitor | Flock Name |
| --- | --- | --- | --- |
| 1st | Tup above one shear | J Pirie & A Campbell | Blanavaid & Drimsynie |
Shearling tup
| Placing | Class | Exhibitor | Flock Name |
| --- | --- | --- | --- |
| 1st | Shearling tup | S McClymont & Son | Auld Tinnis |
| 2nd | Shearling tup | F Robertston | Beeches |
| 3rd | Shearling tup | A Clark & Sons | Newmills |
Tup Lamb
| Placing | Class | Exhibitor | Flock Name |
| --- | --- | --- | --- |
| 1st | Tup Lamb | J Pirie | Blanavaid |
| 2nd | Tup Lamb | N Marston | Highberries |
| 3rd | Tup Lamb | A Campbell | Drimsynie |
Ewe
| Placing | Class | Exhibitor | Flock Name |
| --- | --- | --- | --- |
| 1st | Ewe | M R Thornborrow & Sons | Dawyck |
| 2nd | Ewe | J Bell | Cottage |
| 3rd | Ewe | F Robertson | Beeches |
Gimmer
| Placing | Class | Exhibitor | Flock Name |
| --- | --- | --- | --- |
| 1st | Gimmer | M R Thornborrow & Sons | Dawyck |
| 2nd | Gimmer | E Fairnburn & Sons | Marriforth |
| 3rd | Gimmer | A Cambell | Drimsynie |
Ewe Lamb
| Placing | Class | Exhibitor | Flock Name |
| --- | --- | --- | --- |
| 1st | Ewe Lamb | E Fairburn & Sons | Marriforth |
| 2nd | Ewe Lamb | J Bell | Cottage |
| 3rd | Ewe Lamb | A Campbell | Drimsynie |
Group of three
| Placing | Class | Exhibitor | Flock Name |
| --- | --- | --- | --- |
| 1st | Group of Three | J Bell | Cottage |
Bluefaced Champions
| Category | Exhibitor | Type |
| --- | --- | --- |
| Interbreed Pair | M R THornborrow & Sons & J Pirie & A Campbell | Ewe & Tup above one shear |
| Breed Champion & Female Champion | M R Thornborrow & Sons | Ewe |
| Res. Breed Champion & Male Champion | J Pirie | Tup Lamb |
| Reserve Male Champion | J Pirie & A Campbell | Tup above one shear |
| Reserve Female Champion | M R Thornborrow & Sons | Gimmer |
Gallery
Back to Archive