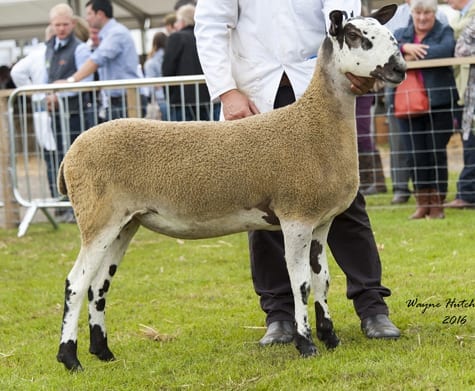 Royal Highland Show – Crossing
23rd - 26th June 2016
Edinburgh
J Stott, Laund
Royal Highland Show 2016
With a change in the schedule at this year's Highland Show, the Bluefaced Leicester classes were split with the crossing type and the traditional types being shown in their own sections. The new format worked with a great show in both sections, underlining the fact that the Bluefaced Leicester is one of the dominant breeds within the UK, regardless of type, and on a day when there was a political split in the country, it was good to see great comradeship within the breed as a whole.
The crossing types were the first into the ring, under the skilled eye of John Stott from the Laund flock. As often is the case at the Highland, the Midlock flock took centre stage with a great show team. They took the Championship in both male and female sections, and consequently the overall championship. The Champion came out of the gimmer section, with a home bred shearling by the £4000 G2 Marriforth. She was making its show debut, but its family is no stranger to taking the top accolades, as its mother was last year's Champion and its embryo sister took the first prize in last year's gimmer lamb class too. This powerful, smart, modern gimmer was pushed hard all the way in the Championship by one of the stars of last year's sale – H1 Carry House bought from Northumberland shepherd Martyn Archer for £23,000 in partnership with M/s Thornborrow, Dawyck at Hawes. He took the male Championship, catching the judge's eye with his power and conformation, but was pipped at the post by his stablemate. The Carry House tup was by the £10,000 G34 Midlock out of a ewe by F1 Oak House.
Midlock took the Reserve honours in the female section too with a two crop ewe by E1 Hewgill. Reserve champion to the male champion was a tup lamb from Craig Thornborrow, Dawyck by the H1 Carry House and out of a ewe by Z31 Old Hemley which has been breeding ever so well, breeding last year's Reserve Male Champion at the Highland and the gimmer shearling which won at Peebles.
Tup above one shear
| Placing | Class | Exhibitor | Flock Name |
| --- | --- | --- | --- |
| 1st | Tup above one shear | J Pirie | Blarnavaid |
| 2nd | Tup above one shear | S McClymont & Son | Auld Tinnis |
Shearling tup
| Placing | Class | Exhibitor | Flock Name |
| --- | --- | --- | --- |
| 1st | Shearling tup | J Wight & Son | Midlock |
| 2nd | Shearling tup | M & C Drummond | Cassington X |
| 3rd | Shearling tup | A Campbell | Drimsynie |
Tup Lamb
| Placing | Class | Exhibitor | Flock Name |
| --- | --- | --- | --- |
| 1st | Tup Lamb | G Thornborrow | Dawyck |
| 2nd | Tup Lamb | J Bell | Cottage |
| 3rd | Tup Lamb | A Frame | haininghead |
Ewe
| Placing | Class | Exhibitor | Flock Name |
| --- | --- | --- | --- |
| 1st | Ewe | J Wight & Son | Midlock |
| 2nd | Ewe | J Wight & Son | Midlock |
| 3rd | Ewe | D Stenton | St Ravenscar |
Gimmer
| Placing | Class | Exhibitor | Flock Name |
| --- | --- | --- | --- |
| 1st | Gimmer | J Wight & Son | Midlock |
| 2nd | Gimmer | E Fairburn & Sons | Marriforth |
| 3rd | Gimmer | G Thornborrow | Dawyck |
Ewe Lamb
| Placing | Class | Exhibitor | Flock Name |
| --- | --- | --- | --- |
| 1st | Ewe Lamb | J Wight & Son | Midlock |
| 2nd | Ewe Lamb | E Fairburn & Sons | Marriforth |
| 3rd | Ewe Lamb | M James | Duhonw |
Group of three
| Placing | Class | Exhibitor | Flock Name |
| --- | --- | --- | --- |
| 1st | Group of three | G Thornborrow | Dawyck |
Bluefaced Champions
| Category | Exhibitor | Type |
| --- | --- | --- |
| Breed Champion & Female Champion | J Wight & Son | Gimmer |
| Reserve Champion & Male Champion | J Wight & Son | Shearling Tup |
| Res. Male Champion | G Thornborrow | Tup Lamb |
| Res. Female Champion | J Wight & Son | Ewe |
Gallery
Back to Archive