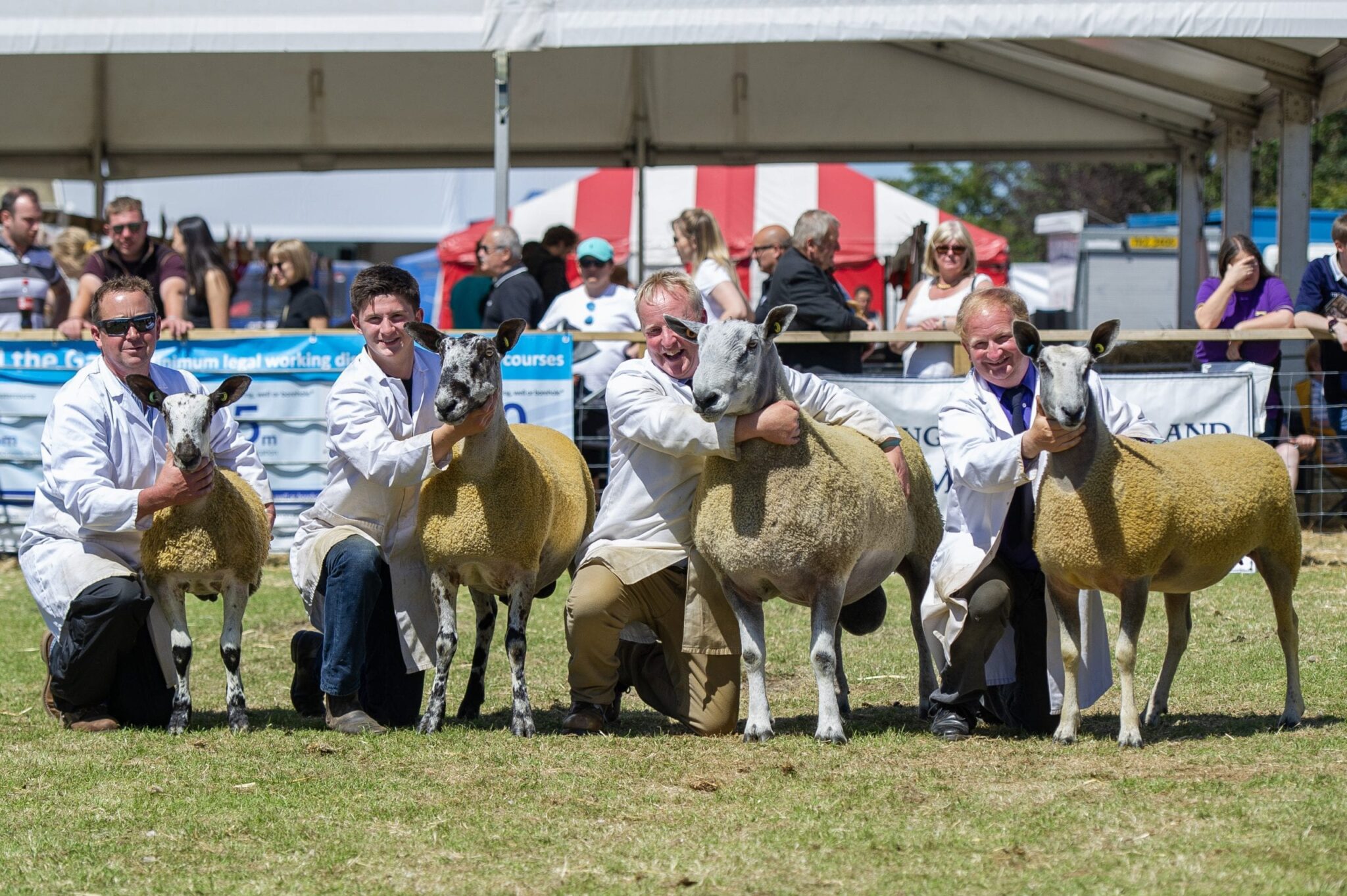 Royal Highland Show – Traditional Type
21st - 24th June 2018
Edinburgh
Aled Jones, Craig Yr Orsedd
The 2018 Highland Show was a cracker for the breed, held under clear blue skies and with strong classes from start to finish in all sections. After the winter and spring they have had to endure, credit must go to the breeders for putting out such a strong show which cumulated with the breed taking champion and reserve championship in the interbreed pairs on the Sunday, quite a feat.
It was Welsh breeder, Aled Jones, who took over the reins when the traditional types came into the ring for inspection. There were some very strong classes and in the championship line up the two toppers were great examples of the breed. The Overall Champion is no stranger to the championship ticket, having taken the championship two years ago when Alan McClymont, Kirkstead, made his debut at the show.  The Burndale tup they bought for 2000 gns at Carlisle and is a real powerhouse of an animal, has done a real job in the flock and to take the top spot with him again puts the icing on the cake for him.
Matt and Elaine Drummond took the reserve placing with one of the sweetest gimmer shearlings seen for a while. It was her first time in among the tickets, despite many thinking it was the gimmer they had taken the Ayr Interbreed with a couple of weeks back! She is by the same sire, a retained homebred tup, Cassington G1 which has done really well within the flock and left some exciting females, and out of a ewe by another homebred tup, Cassington OK Lad.
The reserve male came from the Kildalloig flock with a smart tup lamb making its showring debut, by Mossvale Masterplan out of a ewe by an Ashes tup which goes back to some strong Hazelwood lines. The reserve female was a strong two crop ewe from the Low Espley flock. Again she was making her debut in the ring and she didn't disappoint. Again there was Ashes bloodlines in her too.
The Traditional Pair together with the Crossing Type Pair made breed history for the first time at the Royal Highland Show the Bluefaced Leicesters took Overall Champion (Traditional Pair) and Reserve Overall Champion (Crossing Type Pair) in the Interbreed Pairs Competition
Tup above one shear
| Placing | Class | Exhibitor | Flock Name |
| --- | --- | --- | --- |
| 1st | Tup above one shear | R A McClymont & Son | Kirkstead |
| 2nd | Tup above one shear | R A McClymont & Son | Kirkstead |
| 3rd | Tup above one shear | A M Brown | Drumhumphry |
Shearling tup
| Placing | Class | Exhibitor | Flock Name |
| --- | --- | --- | --- |
| 1st | Shearling tup | R A McClymont & Son | Kirkstead |
| 2nd | Shearling tup | M & C Drummond | Cassington |
| 3rd | Shearling tup | M & C Drummond | Cassington |
Tup lamb
| Placing | Class | Exhibitor | Flock Name |
| --- | --- | --- | --- |
| 1st | Tup lamb | J & M Turner | Kildalloig |
| 2nd | Tup lamb | K Smith | Low Arkland |
| 3rd | Tup lamb | M & N Gray | Espley |
Ewe
| Placing | Class | Exhibitor | Flock Name |
| --- | --- | --- | --- |
| 1st | Ewe | M & N Gray | Espley |
| 2nd | Ewe | R A McClymont & Son | Kirkstead |
| 3rd | Ewe | M & C Drummond | Cassington |
Gimmer
| Placing | Class | Exhibitor | Flock Name |
| --- | --- | --- | --- |
| 1st | Gimmer | M & C Drummond | Cassington |
| 2nd | Gimmer | R A McClymont & Son | Kirkstead |
| 3rd | Gimmer | M & N Gray | Espley |
Ewe Lamb
| Placing | Class | Exhibitor | Flock Name |
| --- | --- | --- | --- |
| 1st | Ewe Lamb | M & N Gray | Espley |
| 2nd | Ewe Lamb | R Peart | Mayland |
| 3rd | Ewe Lamb | J Wilkinson | Bollihope |
Group of three
| Placing | Class | Exhibitor | Flock Name |
| --- | --- | --- | --- |
| 1st | Group of three | M & C Drummond | Cassington |
| 2nd | Group of three | R A McClymont & Son | Kirkstead |
Bluefaced Champions
| Category | Exhibitor | Type |
| --- | --- | --- |
| Breed Champion & Male Champion | R A McClymont & Son | Tup Above One Shear |
| Res. Champion & Female Champion | M & C Drummond | Gimmer |
| Reserve Male Champion | J & M Turner | Ram Lamb |
| Reserve Female Champion | M & N Gray | Aged Ewe |
Gallery
Back to Archive