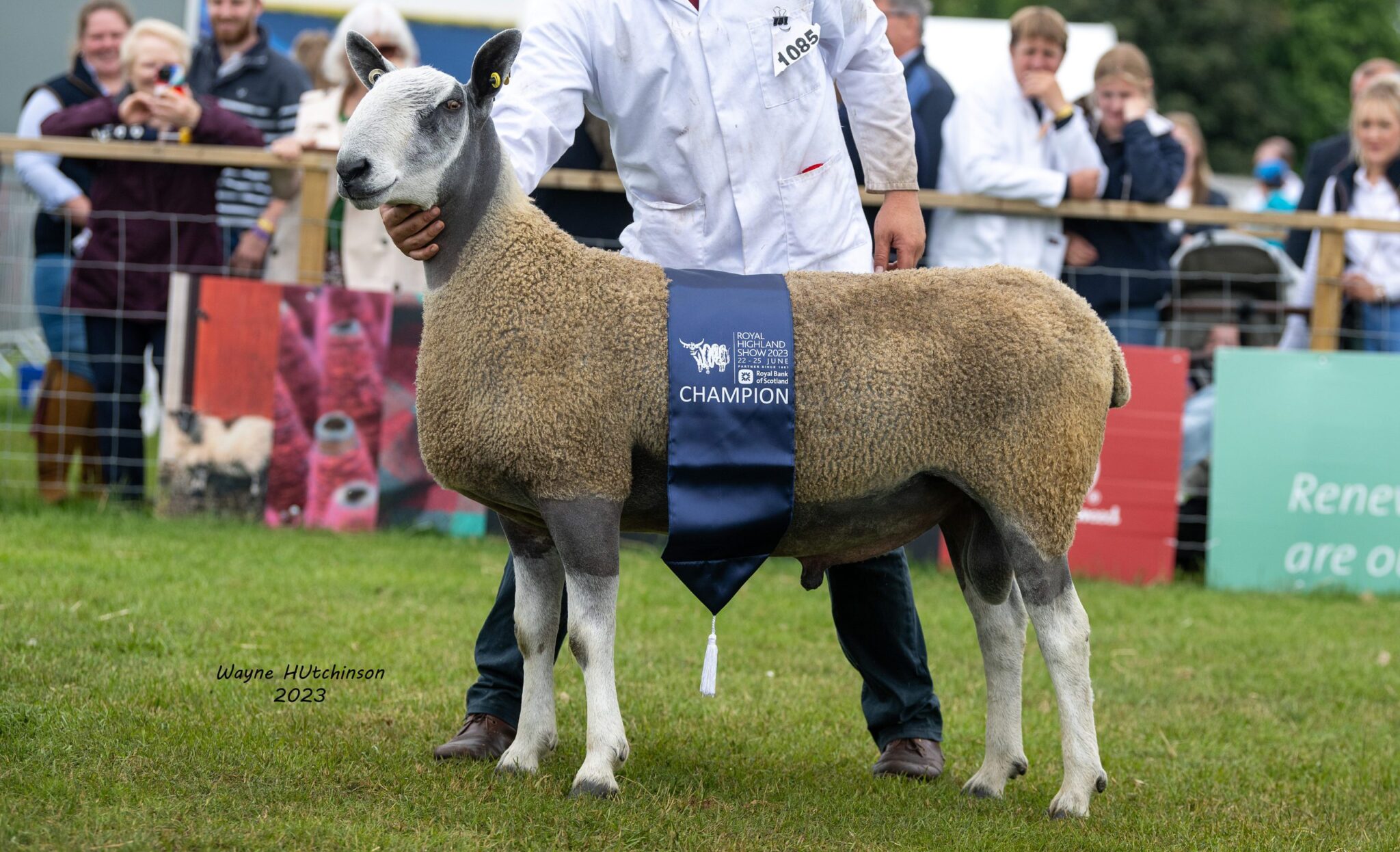 Royal Highland Show – Traditional Type
22nd - 25th June 2023
Edinburgh
Mr Frank Johnson, Ashes
Royal Highland Show – Friday 23rd June 2023
The Traditional type were the first into the ring early on Friday in some nice refreshing rain, a bit of respite from the sun and heat from the previous day. The classes, which had some depth and quality, were judged by noted veteran breeder Frank Johnson from the Ashes flock. The strength of the classes in front of him were a testament to the breed, and he certainly had his work cut out.
His champion came from the first class as his pick out of the aged rams went on to take the Overall title. This powerful ram, christened Bruno, from the Philiphaugh flock, based in Selkirk, just filled the ring with his sheer presence. A son of the N2 Ashes, he was purchased out of Carlisle in 2021 from the Towdy Potts flock for 6000gns as a lamb and has gone on to do exceptionally well within the flock as well as in the show ring, taking the red ticket in the shearling class last year at the Highland. He moved up a gear and gave the Philiphaugh flock their first Highland championship in just their third year of showing. His first sons to be sold will be heading to Kelso later this year and will certainly be well worth a close look.
Taking the reserve place was Hazel Brown with her aged ewe. This lovely, sweet, ewe was bought privately by Hazel from Bilsdean, a small local flock who had bought several Mendick females, but were selling them and Hazel bought 5 ewes with lambs at foot from them. She is by West Bolton H25 and is from the same Dam lines as Leadburnlea M3 which sold to Kirkstead. She has blossomed into a very tidy ewe and certainly catches the eye.
Taking both the reserves in the male and female sections was show stalwart Alan McClymont from the Kirkstead flock. His male Reserve was the three shear Bonvilston N11 which was overall champion last year as well as the reserve Interbreed. He stood second in the class to the champion. The female reserve was a homebred gimmer, Kirkstead R32, by Ashes L1 and out of Kirkstead L22, which herself was twice reserve female at the Highland show. She already has a great showing pedigree behind her, being placed first last year as a gimmer lamb at the Highland, Penrith and Peebles.
The prizes were shared around in all the classes with no one flock dominating the red tickets with Kate Smith, Low Arkland who has recently retired as Association chair, winning the strong shearling ram class, Lisa Fleming, Falnash  taking the gimmer lamb class and Mike Anderson Farming, Hardhaugh the hotly contested ram lamb class.
The Traditional pair from Philiphaugh (male and overall champion) and Leadburnlea (female and overall reserve champion) went on to gain further accolades in the interbreed sections too,  taking the reserve pairs title on the Sunday.
Tup, above one shear
| Placing | Class | Exhibitor | Flock Name | Lot Number |
| --- | --- | --- | --- | --- |
| 1st | Tup, above one shear | Sir F M Strang-Steel | Philiphaugh | 1085 |
| 2nd | Tup, above one shear | R A McClymont & Son | Kirkstead | 1088 |
| 3rd | Tup, above one shear | A Clark & Sons | Newmills | 1086 |
| 4th | Tup, above one shear | J & M Turner | Kildalloig | 1089 |
Shearling Tup
| Placing | Class | Exhibitor | Flock Name | Lot Number |
| --- | --- | --- | --- | --- |
| 1st | Shearling Tup | Mrs Kate Smith | Low Arkland | 1106 |
| 2nd | Shearling Tup | M & N Gray | Espley | 1100 |
| 3rd | Shearling Tup | R A McClymont & SOn | Kirkstead | 1103 |
| 4th | Shearling Tup | Hazel Brown | Leadburnlea | 1094 |
Tup Lamb
| Placing | Class | Exhibitor | Flock Name | Lot Number |
| --- | --- | --- | --- | --- |
| 1st | Tup Lamb | Mike Anderson Farming | Hardhaugh | 1110 |
| 2nd | Tup Lamb | R A McClymont & Son | Kirkstead | 1120 |
| 3rd | Tup Lamb | Miss A Gray | Low Espley | 1119 |
| 4th | Tup Lamb | M & N Gray | Espley | 1118 |
| 5th | Tup Lamb | J & M Turner | Kildalloig | 1123 |
Ewe, must have reared a lamb in the year of show
| Placing | Class | Exhibitor | Flock Name | Lot Number |
| --- | --- | --- | --- | --- |
| 1st | Ewe | Hazel Brown | Leadburnlea | 1128 |
| 2nd | Ewe | M & N Gray | Espley | 1130 |
| 3rd | Ewe | J & M Turner | Kildalloig | 1132 |
| 4th | Ewe | Mike Anderson Farming | Hardhaugh | 1126 |
| 5th | Ewe | R A McClymont & Son | Kirkstead | 1131 |
Gimmer
| Placing | Class | Exhibitor | Flock Name | Lot Number |
| --- | --- | --- | --- | --- |
| 1st | Gimmer | R A McClymont & Son | Kirkstead | 1146 |
| 2nd | Gimmer | Sophie Harding | Shrewbridge | 1144 |
| 3rd | Gimmer | Sophie Harding | Shrewbridge | 1145 |
| 4th | Gimmer | R A McClymont & Son | Kirkstead | 1147 |
Ewe Lamb
| Placing | Class | Exhibitor | Flock Name | Lot Number |
| --- | --- | --- | --- | --- |
| 1st | Ewe Lamb | Lisa Fleming | Falnash | 1160 |
| 2nd | Ewe Lamb | Andrew M Brown | Drumhumphry | 1156 |
| 3rd | Ewe Lamb | Derek Brown | Madrissa | 1157 |
| 4th | Ewe Lamb | Hazel Brown | Leadburnlea | 1158 |
Group of Three
| Placing | Class | Exhibitor | Flock Name |
| --- | --- | --- | --- |
| 1st | Group of Three | R A McClymont & Son | Kirkstead |
| 2nd | Group of Three | M & N Gray | Espley |
Bluefaced Champions
| Category | Exhibitor | Type |
| --- | --- | --- |
| Overall Champion & Champion Male | Sir F M Strang Steel, Philiphaugh | 1st Prize Aged Ram |
| Reserve Overall Champion & Champion Female | Hazel Brown, Leadburnlea | 1st Prize Aged Ewe |
| Reserve Champion Male | R A McClymont & Son, Kirkstead | 2nd Prize Aged Ram |
| Reserve Champion Female | R A McClymont & Son, Kirkstead | 1st Prize Gimmer |
| Best Bred by Exhibitor | R A McClymont & Son, Kirkstead | 1st Prize Gimmer |
Gallery
Back to Show Results