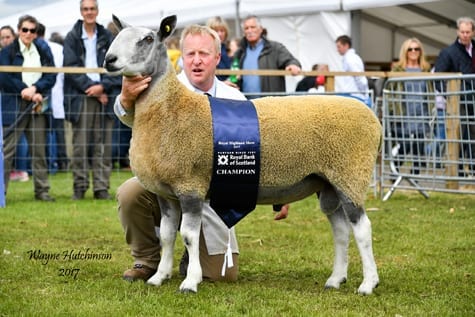 Royal Highland Show – Traditional
22nd - 25th June 2017
Edinburgh
A Hewson, Parton
The 2017 Royal Highland Show saw once again the classes being split, and it seems to be a great success, after initial concerns. Both rings had a great entry with a great following, and to top it all, both sides of the breed excelled in the interbreed competition with the winner of the traditional section taking reserve in the singles championship and the crossing pairs taking the interbreed pairs championship. A great advert for the breed as a whole, producing exceptional, top quality animals which can stand proud alongside any breed in the country.
In the traditional ring, it again was a fully packed catalogue under the watchful eye of Andrew Hewson, Carlisle. Under a clear blue sky, he had his work cut out with a great show of sheep on display. His champion came from the same good home as last year, with the McClymonts from Kirkstead, Alan with his keen sons Sam and Oliver, taking their second championship on just their second outing with a tup shearling bought for £3200 off John Dykes, Mendick at Kelso last year, in partnership with the Philiphaugh Estate. This cracker is by a Red Cottage tup, and he went on to take the reserve interbreed title the next day. The Kirkstead flock also took the reserve male champion with a cocky tup lamb by last year's champion, the Burndale tup, out of the flock's best breeding ewe by the old Carry House.
The reserve champion was a gimmer shearling from J & M Turner, brought out by shepherd John McLachlan. This smart sheep was by Derwenlas Powerhouse bought privately off Phil May, and out of ewe by a Middle Dukesfield. Her mother is no stranger to the show circuit, winning the female championship back in 2011. The reserve female champion came from the Espley flock with his noted show ewe which has been the champion at Glendale Show for the last two years. She is by the F2 Ashes which they bought for 8500 gns out of Carlisle a while back and out of a Grugoer ewe.
Tup above one shear
| Placing | Class | Exhibitor | Flock Name |
| --- | --- | --- | --- |
| 1st | Tup above one shear | R A McClymont & Son | Kirkstead |
| 2nd | Tup above one shear | R A McClymont & Son | Kirkstead |
| 3rd | Tup above one shear | A M Brown | Drumhunphrey |
Shearling tup
| Placing | Class | Exhibitor | Flock Name |
| --- | --- | --- | --- |
| 1st | Shearling tup | M & C Drummond | Cassington |
| 2nd | Shearling tup | J & M Turner | Kildalloig |
| 3rd | Shearling tup | M Gray | Espley |
Tup Lamb
| Placing | Class | Exhibitor | Flock Name |
| --- | --- | --- | --- |
| 1st | Tup Lamb | R A McClymont & Son | Kirkstead |
| 2nd | Tup Lamb | M Gray | Espley |
| 3rd | Tup Lamb | K Smith | Low Arkland |
Ewe
| Placing | Class | Exhibitor | Flock Name |
| --- | --- | --- | --- |
| 1st | Ewe | M Gray | Espley |
| 2nd | Ewe | K Smith | Low Arkland |
| 3rd | Ewe | R A McClymont & Son | Kirkstead |
Gimmer
| Placing | Class | Exhibitor | Flock Name |
| --- | --- | --- | --- |
| 1st | Gimmer | J & M Turner | Kildalloig |
| 2nd | Gimmer | K Smith | Low Arkland |
| 3rd | Gimmer | K Smith | Low Arkland |
Ewe Lamb
| Placing | Class | Exhibitor | Flock Name |
| --- | --- | --- | --- |
| 1st | Ewe Lamb | M Gray | Espley |
| 2nd | Ewe Lamb | K Smith | Low Arkland |
| 3rd | Ewe Lamb | K Wilkinson | Bollihope |
Group of three
| Placing | Class | Exhibitor | Flock Name |
| --- | --- | --- | --- |
| 1st | Group of three | K Smith | Low Arkland |
Bluefaced Champions
| Category | Exhibitor | Type |
| --- | --- | --- |
| Res. Interbreed Champion, Breed Champion & Male Champion | R A McClymont & Son | Tup above one shear |
| Res. Champion & Female Champion | J & M Turner | Gimmer |
| Reserve Male Champion | R A McClymont & Son | Tup Lamb |
| Reserve Female Champion | M Gray | Ewe |
Gallery
Back to Archive