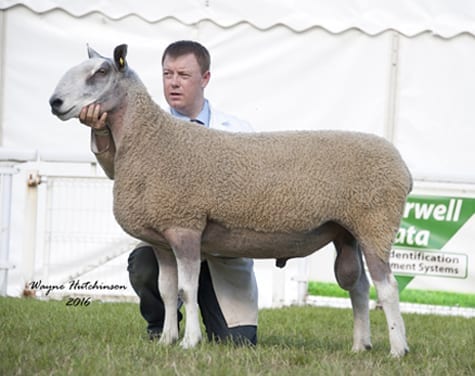 Royal Welsh Show
18th - 21st July 2016
Builth Wells
R Bell, Teviot
Royal Welsh Show 2016
Under a cloudless sky and a blazing sun, Rory Bell of the Teviot flock had a day to remember. The judging took part at the hottest time of the day on the hottest day of the year. Never mind the phrase "Only mad dogs and English men go out in the midday sun", here it was Scottish and Welshmen and women….but I think even the mad dogs were seeking shelter from the sun!
Taking the top accolades was the aged ram from Tudor Harris who runs 40 ewes at the Bonvilston flock. F2 Cendy was bought at the Builth sale a couple of years back as a tup lamb for £400, and has done very well within the flock, and has a number of shearlings by him heading to the Builth sale later this autumn. This was the first trip out for the B4 Craig Yr Orsedd, and what an impression he made, tall and clean he struck a chord with the judge right from the start and Rory had no hesitation in making him his Champion. Tudor wasn't finished there, also taking the Reserve female Champion with a gimmer lamb, also making its debut in the show circuit. This stylish lamb was out of the ewe which bred C1 Bonvilston which was sold to Burndale as an aged ram for 4500 gns. She is by T1 Cocklaw after Tudor bought some semen off Martyn Archer specifically for this ewe.
The female Champion came from John and Gareth Jones from the Robleston flock, Haverford West, who run 25 Bluefaced Leicester ewes alongside their dairy herd of 230 cows and Suffolk, Texel and Charolais sheep. This three crop ewe was again related to the C1 Bonvilston, proving that good genetics run deep. She was shown as a ewe lamb, but has not been out since. She has brought up two smart gimmer lambs this year and was in prime condition for the show, full of power and with a tremendous skin.
The Reserve male Champion came from noted breeder Elfyn Owen with his homebred tup G1 Cernyw Gladiator, a really powerful tup with great conformation. He is performance recorded and has some great figures behind him. His sire was C15 Cernyw Muscleman which gives a good indication of where he is coming from! He is out of a ewe bought off Phil May, which was first in its class at the Royal Welsh several years ago and he was the sire to the second prize tup lamb and the fourth prize gimmer lamb out of a strong class of 22. He is no stranger to the show ring, having already won the Welshpool Progeny Show as a lamb. He is the main stock ram for the flock's 70 Leicester ewes.
Ram Two Shear Or Over
| Placing | Class | Exhibitor | Flock Name |
| --- | --- | --- | --- |
| 1st | Ram Two Shear Or Over | T R Harris | Bonvilston |
| 2nd | Ram Two Shear Or Over | E Owen | Cernyw |
| 3rd | Ram Two Shear Or Over | R G & R A Jones & Son | Robleston |
Shearling Ram
| Placing | Class | Exhibitor | Flock Name |
| --- | --- | --- | --- |
| 1st | Shearling Ram | T R Harris | Bonvilston |
| 2nd | Shearling Ram | T R Harris | Bonvilston |
| 3rd | Shearling Ram | R J H Lewis | Meudwy |
Ram Lamb
| Placing | Class | Exhibitor | Flock Name |
| --- | --- | --- | --- |
| 1st | Ram Lamb | R G & R A Jones & Son | Robleston |
| 2nd | Ram Lamb | E Owen | Cernyw |
| 3rd | Ram Lamb | A Bennett | |
Aged Ewe
| Placing | Class | Exhibitor | Flock Name |
| --- | --- | --- | --- |
| 1st | Aged Ewe | R G & R A Jones & Son | Robleston |
| 2nd | Aged Ewe | D P May | Derwenlas |
| 3rd | Aged Ewe | M James | Duhonw |
Shearling Ewe
| Placing | Class | Exhibitor | Flock Name |
| --- | --- | --- | --- |
| 1st | Shearling Ewe | R G & R A Jones & Son | Robleston |
| 2nd | Shearling Ewe | T R Harris | Bonvislton |
| 3rd | Shearling Ewe | J McLeod | Wanstead |
Ewe Lamb
| Placing | Class | Exhibitor | Flock Name |
| --- | --- | --- | --- |
| 1st | Ewe Lamb | T R Harris | Bonvilston |
| 2nd | Ewe Lamb | R G & R A Jones & Son | Robleston |
| 3rd | Ewe Lamb | R G & R A Jones & Son | Robleston |
Group of three
| Placing | Class | Exhibitor | Flock Name |
| --- | --- | --- | --- |
| 1st | Group of three | R G & R A Jones & Son | Robleston |
| 2nd | Group of three | E Owen | Cernyw |
Bluefaced Champions
| Category | Exhibitor | Type |
| --- | --- | --- |
| Breed Champion & Male Champion | T R Harris | Aged Ram |
| Res. Breed Champion & Female Champion | R G & R A Jones & Son | Aged Ewe |
| Res. Female Champion | T R Harris | Ewe Lamb |
| Res. Male Champion | E Owen | Cernyw |
Gallery
Back to Archive