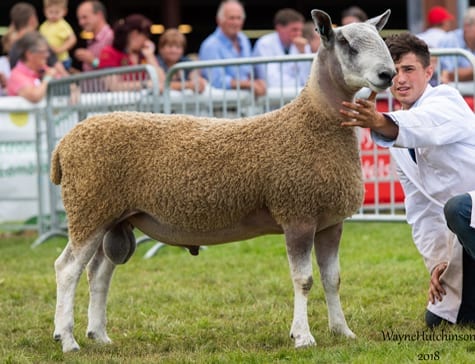 Royal Welsh Show
23rd - 26th July 2018
Builth Wells
B C Dallyn, Killington
After a baking hot start to the summer and with farmers crying out for rain, Builth Wells finally received some on the Tuesday morning of the Royal Welsh. By the time the Leicesters started judging under the watchful eye of Brian Dallyn, Devon, the sun had got out again, but it certainly freshend everyone up.
There were some strong classes, but the overall Champion was an unanimous choice from most around the ring, coming from the Griffiths family showing for the first time, only having kept Leicesters for the last two years. Their Champion was a tup shearling purchase made with Griff & Carolyn Morris last autumn from Alan McClymont, Kirkstead, by the Burndale tup which has taken the Highland Championship twice, out of a ewe lamb bought at the Carry House dispersal which has bred some great sheep for the Kirkstead flock.
The Reserve Champion was a sharp aged ewe from E Owen, Cernyw which has been shown as a lamb and took the Reserve Championship at last year's Welshpool Progeny Show. She is very stylish, by the D3 Howlea, which sold for 2200 gns as an old tup at Carlisle, and out of a ewe by the old homebred Y1 Cernwy. She met up with her twin brother, who took the aged tup 1st prize class earlier.
The Reserve female came from regular exhibitor, Jackie McLeod with a gimmer shearling bought as a ewe lamb from her neighbour at the Riverview flock, by a tup she sold to them. The Reserve Male came from the Robleston flock with a tup lamb.
Aged Ram
| Placing | Class | Exhibitor | Flock Name |
| --- | --- | --- | --- |
| 1st | Aged Ram | R G & R A Jones & Son | Robleston |
| 2nd | Aged Ram | A Bennett & Family | |
| 3rd | Aged Ram | I Williams | Wernfawr |
Shearling Ram
| Placing | Class | Exhibitor | Flock Name |
| --- | --- | --- | --- |
| 1st | Shearling Ram | T J & L S R Griffiths | Tyhir |
| 2nd | Shearling Ram | T R Harris | Bonvilston |
| 3rd | Shearling Ram | C & M Richards | Mcffi |
Ram Lamb
| Placing | Class | Exhibitor | Flock Name |
| --- | --- | --- | --- |
| 1st | Ram Lamb | R G & R A Jones & Son | Robleston |
| 2nd | Ram Lamb | T J & L S R Griffiths | Tyhir |
| 3rd | Ram Lamb | A Bennett & Family | |
Aged Ewe
| Placing | Class | Exhibitor | Flock Name |
| --- | --- | --- | --- |
| 1st | Aged Ewe | E Owen | Cernyw |
| 2nd | Aged Ewe | G G & C M Morris | Lower Drostre |
| 3rd | Aged Ewe | R G & R A Jones & Son | Robleston |
Shearling Ewe
| Placing | Class | Exhibitor | Flock Name |
| --- | --- | --- | --- |
| 1st | Shearling Ewe | J McLeod | Wanstead |
| 2nd | Shearling Ewe | D W & S L Harries | Hope |
| 3rd | Shearling Ewe | G G & C B Morris | Lower Drostre |
Ewe Lamb
| Placing | Class | Exhibitor | Flock Name |
| --- | --- | --- | --- |
| 1st | Ewe Lamb | T R Harris | Bonvilston |
| 2nd | Ewe Lamb | R G & R A Jones & Son | Robleston |
| 3rd | Ewe Lamb | R G & R A Jones | Robleston |
Group of three
| Placing | Class | Exhibitor | Flock Name |
| --- | --- | --- | --- |
| 1st | Group of three | R G & R A Jones & Son | Robleston |
| 2nd | Group of three | G G & C B Morris | Lower Drostre |
| 3rd | Group of three | T R Harris | Bonvilston |
Bluefaced Champions
| Category | Exhibitor | Type |
| --- | --- | --- |
| Breed Champion & Male Champion | T J & L S R Griffiths | Shearling Ram |
| Res. Champion & Female Champion | E Owen | Ewe |
| Reserve male Champion | R G & R A Jones & Son | Ram Lamb |
| Reserve Female Champion | J McLeod | Shearling Ewe |
Gallery
Back to Archive