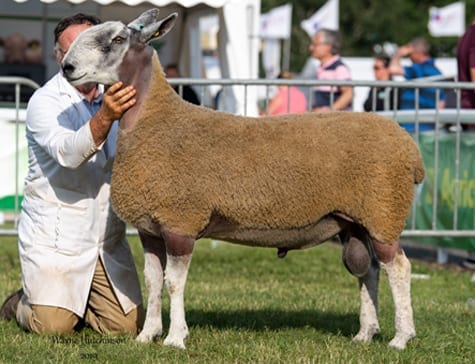 Royal Welsh Show
22nd - 25th July 2019
Builth Wells
M Drummond, Cassington
Another scorching day at the show, which saw temperatures nudge over 34c and some sheep classes postponed until cooler conditions in the evening. However, a case of only Mad Dogs and Welsh Shepherds go out in the midday sun as judge Matt Drummond from Maybole, Scotland, kept battling away.
It proved to be a the return of the king as last year's champion came back, bigger and stronger than last year, sweeping all before him. He has filled out and yet still retains great breed characteristics, with a good skin and depth of colour. He was bought from Kirkstead two years ago and has gone on to prove a bargain. By the Burndale tup which has done ever so well for Kirkstead, both in the flock and in the show field too. Shown by T J & L S R Griffiths and Griff & Carolyn Morris. The reserve champion tickets were taken by the Griffith family with their female champion, a shearling sired by the champion, and out of a ewe bred by Aled Jones. This gimmer is a lovely example of the breed, sweet and sharp with a lovely outlook on her.
The reserves in both the female and male sections were a pair of ET twins by the £5000 Piel View bought last year by the Robleston flock run by R G & R A Jones and out of the flock's show ewe by a Burndale tup. These tup and gimmer lambs pair were like peas in a pod, very sharp and very correct, with cocky lugs and great body.
Aged Ram
| Placing | Class | Exhibitor | Flock Name |
| --- | --- | --- | --- |
| 1st | Aged Ram | C & G Morris & J & L Griffiths | Lower Drostre & Tyhir |
| 2nd | Aged Ram | R G & R A Jones & Son | Robleston |
| 3rd | Aged Ram | E Owen | Cernyw |
Shearling Ram
| Placing | Class | Exhibitor | Flock Name |
| --- | --- | --- | --- |
| 1st | Shearling Ram | E D Griffiths & Co | Mynach |
| 2nd | Shearling Ram | D P May | Derwenlas |
| 3rd | Shearling Ram | T R Harris | Bonvilston |
Ram Lamb
| Placing | Class | Exhibitor | Flock Name |
| --- | --- | --- | --- |
| 1st | Ram Lamb | R G & R A Jones & Son | Robleston |
| 2nd | Ram Lamb | C & G Morris | Lower Drostre |
| 3rd | Ram Lamb | T R Harris | Bonvilston |
Aged Ewe
| Placing | Class | Exhibitor | Flock Name |
| --- | --- | --- | --- |
| 1st | Aged Ewe | R Howatson | Clwyd |
| 2nd | Aged Ewe | E Owen | Cernyw |
| 3rd | Aged Ewe | J & L Griffiths | Tyhir |
Shearling Ewe
| Placing | Class | Exhibitor | Flock Name |
| --- | --- | --- | --- |
| 1st | Shearling Ewe | J & L Griffiths | Tyhir |
| 2nd | Shearling Ewe | C & G Morris | Lower Drostre |
| 3rd | Shearling Ewe | R G & R A Jones & Son | Robleston |
Ewe Lamb
| Placing | Class | Exhibitor | Flock Name |
| --- | --- | --- | --- |
| 1st | Ewe Lamb | R G & R A Jones & Son | Robleston |
| 2nd | Ewe Lamb | J & L Griffiths | Tyhir |
| 3rd | Ewe Lamb | T R Harris | Bonvilston |
Group of Three
| Placing | Class | Exhibitor | Flock Name |
| --- | --- | --- | --- |
| 1st | Group of Three | J & L Griffiths | Tyhir |
| 2nd | Group of Three | T R Harris | Bonvilston |
| 3rd | Group of Three | R G & R A Jones & Son | Robleston |
Bluefaced Champions
| Category | Exhibitor | Type |
| --- | --- | --- |
| Breed Champion & Male Champion | C & G Morris & J & L Griffiths | Aged Ram |
| Reserve Breed Champion & Female Champion | J & L Griffiths | Shearling Ewe |
| Reserve Male Champion | R G & R A Jones & Son | Ram Lamb |
| Reserve Female Champion | R G & R A Jones & Son | Ewe Lamb |
Gallery
Back to Archive