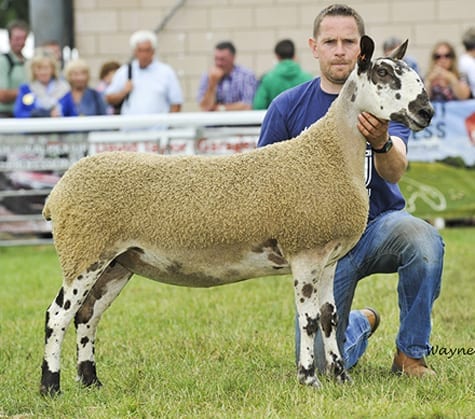 Royal Welsh Show
20th - 24th July 2015
Builth Wells
Mr M Archer, Carry House
Royal Welsh Show 2015
Once again the Bluefaced Leicester show provided a great spectacle, with big strong classes and a packed ringside to watch proceedings in good showing weather….dry, but cool. Martyn Archer was the days judge and he certainly had his work cut out to sort out his winners.
It was local stalwart of the breed, and the Welsh chairman, Michael James who dominated the event, three out of the four championship places, taking Champion male and both the Champion and Reserve in the female section. Unsurprisingly given those results, he went on to take the Overall Championship. It was his gimmer shearling which took Martyn's eye. She won a strong class of 17 before moving on to the Championship. This strong, modern sheep was making her show debut. She is by the homebred F1 Golden Balls, which has done so well for the Duhonw flock, and out of a ewe by the old A5 Hawkswell. His Reserve Champion was an aged ewe which done exceptionally well over the years for the flock, winning female Champion at Penrith in 2010 before taking the Reserve Overall and more recently, breeding the Reserve Champion tup at Hawes last year which sold for £4000. She is by A5 Old Hemley, and out of a ewe by P22 Castle Bolton.
The male Champion was bought last year by Mike and Ella, bringing new genetics into the flock from Midlock for £9000. He is by E1 Hewgill out of a ewe by D4 Tanhouse, half brother to the tup run at Marriforth. He was bought in partnership with Shitlington, Clennell and Crow Hall. The Reserve Male Champion was an outstanding ram lamb from R & G Jones, Robleston Hall. He is a very sharp, cocky lamb by the G16 Cernyw and out of the Bonvilston tup they sold as an old tup in Builth for £4000 a couple of years back.
Overall the show had great depth and quality of sheep and the comradeship of the breeders was great, with all enjoying the show and the party in the NSA shed on the breed stand, with a poignant moment when the breeders raised their glasses to Stu Ridley, whose funeral it had been during the day, and many members at the show being close friends with the family would liked to have been there to support the family.
Ram two shear or over
| Placing | Class | Exhibitor | Flock Name |
| --- | --- | --- | --- |
| 1st | Ram two shear or over | S Lane & C Wood | Mynydd Glas |
| 2nd | Ram two shear or over | D P May | Derwenlas |
Shearling Ram
| Placing | Class | Exhibitor | Flock Name |
| --- | --- | --- | --- |
| 1st | Shearling Ram | M James | Duhonw |
| 2nd | Shearling Ram | D P May | Derwenlas |
| 3rd | Shearling Ram | E Owen | Cernyw |
Tup Lamb
| Placing | Class | Exhibitor | Flock Name |
| --- | --- | --- | --- |
| 1st | Tup Lamb | R G & R A Jones | Robleston |
| 2nd | Tup Lamb | O Bennett | Cefn Parc |
| 3rd | Tup Lamb | D G I T & M E Jones | Goyalltywi |
Ewe
| Placing | Class | Exhibitor | Flock Name |
| --- | --- | --- | --- |
| 1st | Ewe | M James | Duhonw |
| 2nd | Ewe | J McLeod | Wanstead |
| 3rd | Ewe | S Abberley | Old Hemley |
Gimmer
| Placing | Class | Exhibitor | Flock Name |
| --- | --- | --- | --- |
| 1st | Gimmer | M James | Duhonw |
| 2nd | Gimmer | D Parry | Nant-Y-Glyd |
| 3rd | Gimmer | D I L & E Jones | Llanilltyd |
Ewe Lamb
| Placing | Class | Exhibitor | Flock Name |
| --- | --- | --- | --- |
| 1st | Ewe Lamb | D I L & E Jones | Llanilltyd |
| 2nd | Ewe Lamb | D I L & E Jones | Llanilltyd |
| 3rd | Ewe Lamb | M James | Duhonw |
Group of three
| Placing | Class | Exhibitor | Flock Name |
| --- | --- | --- | --- |
| 1st | Group of three | M James | Duhonw |
| 2nd | Group of three | E Owen | Cernyw |
Bluefaced Champions
| Category | Exhibitor | Type |
| --- | --- | --- |
| Breed Champion & Female Champion | M James | Gimmer |
| Res. Champion & Res. Female Champion | M James | Ewe |
| Male Champion | M James | Shearling Ram |
| Res. Male Champion | R G & R A Jones | Ram Lamb |
Gallery
Back to Archive