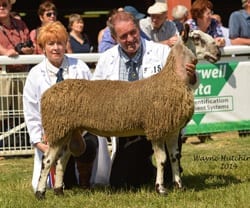 Royal Welsh Show
21st - 24th July 2014
Builth Wells
Mr G Dixon, Alwinton
Royal Welsh Show 2014
Judge Graham Dixon from the Alwinton flock, drafted in as a late replacement for Sid Ivinson, to whom the Association sends get well soon wishes, had his work cut out on a scorching morning at the Royal Welsh. With a growing reputation and enthusiastic following in the region, these classes are always some of the keenest fought at the show, and this year proved no exception.
It was Tegwyn Jones who carried the day with a strong tup lamb out of a ewe bought from the Smearsett flock in Carlisle a couple of years ago, sired by the D17 Old Hemley tup run by Michael James, it carried plenty of modern bloodlines and a cracking conformation for a lamb, and was a well acclaimed champion from this flock who only run 12 ewes and have only shown for a couple of years. A full sister stood top of the line in the gimmer lamb class too, making the purchase of a single straw of the D17 Old Hemley look a very worthwhile investment indeed. He will probably be heading to Hawes later this back end, and Tegwyn will be hoping he can carry his form on to that sale.
Regular shower, Elfyn Owen, Cernyw, had another successful day, taking the reserve championship ticket with a lovely, sweet gimmer out of a Shrewbridge bred ewe and by C15 Cernyw "Muscle Man". It was her first show and she certainly caught the eye with her cockiness and character, and promises to have a great future ahead of her.
Aged Ram
| Placing | Class | Exhibitor | Flock Name |
| --- | --- | --- | --- |
| 1st | Aged Ram | T R Harris | Bonvilston |
| 2nd | Aged Ram | D P May | Derwenlas |
| 3rd | Aged Ram | Miss D Williams | Daisy |
Shearling Ram
| Placing | Class | Exhibitor | Flock Name |
| --- | --- | --- | --- |
| 1st | Shearling Ram | S Lane | Mynydd Glas |
| 2nd | Shearling Ram | T R Harris | Bonvilston |
| 3rd | Shearling Ram | D P May | Derwenlas |
Ram Lamb
| Placing | Class | Exhibitor | Flock Name |
| --- | --- | --- | --- |
| 1st | Ram Lamb | D G I T & M E Jones | Goyalltywi |
| 2nd | Ram Lamb | E Owen | Cernyw |
| 3rd | Ram Lamb | D P May | Derwenlas |
Ewe Two Shear or Over
| Placing | Class | Exhibitor | Flock Name |
| --- | --- | --- | --- |
| 1st | Ewe Two Shear or Over | E Owen | Cernyw |
| 2nd | Ewe Two Shear or Over | D P May | Derwenlas |
| 3rd | Ewe Two Shear or Over | R W Howatson | Clwyd |
Shearling Ewe
| Placing | Class | Exhibitor | Flock Name |
| --- | --- | --- | --- |
| 1st | Shearling Ewe | E Owen | Cernyw |
| 2nd | Shearling Ewe | P Douch | Brechfa |
| 3rd | Shearling Ewe | R W Howatson | Clwyd |
Ewe Lamb
| Placing | Class | Exhibitor | Flock Name |
| --- | --- | --- | --- |
| 1st | Ewe Lamb | D G I T & M E Jones | Goyalltywi |
| 2nd | Ewe Lamb | D P May | Derwenlas |
| 3rd | Ewe Lamb | O Bennett | |
Group of Three
| Placing | Class | Exhibitor | Flock Name |
| --- | --- | --- | --- |
| 1st | Group of Three | D P May | Derwenlas |
| 2nd | Group of Three | D P May & J Williams | Derwenlas |
Bluefaced Champions
| Category | Exhibitor | Type |
| --- | --- | --- |
| Breed Champion & Male Champion | D G I T & M E Jones | Ram Lamb |
| Res. Breed Champion & Female Champion | E Owen | Shearling Ram |
| Res. Female Champion | D G I T & M E Jones | Ewe Lamb |
| Res. Male Champion | T R Harris | Aged Ram |
Gallery
Back to Archive