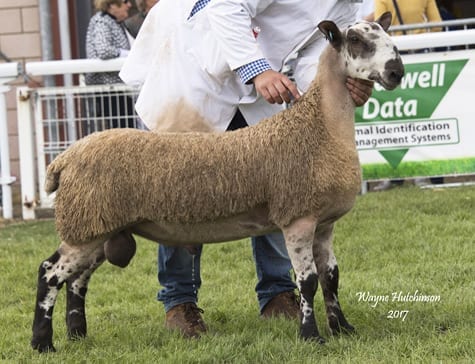 Royal Welsh Show
24th - 27th July 2017
Builth Wells
J Lawson, Hundith
Once again the Royal Welsh Show provided a great spectacle under blue skies. There was a great show of sheep with some strong classes, especially in the lamb sections, and it was from these classes that the day's Champions came from. The judge, Jack Lawson, enjoyed his day out at the show, and for once ditched his trademark bib and braces and was nearly as well turned out as some of the sheep, in his suit. He did retain his cap however.
Stephen Abberley, Old Hemley, had as good a day as anybody on the showfield, taking the championship with a powerful tup lamb. This lamb was by the £14,000 Skeughdale tup bought out of Hawes a couple of years back in partnership with the Kirkby Redgate flock, and out of a shearling by C2 Tanhouse Farm which was the Reserve Champion in Hawes when they bought him. He certainly generated a lot of interest and the intention is to take him to Hawes later this year.
As well as his Champion, the Old Hemley flock also took the Reserve Male Champion with a tup shearling bred by Michael and Ella James, Duhonw. He is by the £8000 G1 Midlock, and was the Reserve Champion at Hawes last year when they bought him, in partnership with the Myfyrian X flock. They also went on to take the Reserve Female Championship with a gimmer shearling which showed some serious style. This was bought out of Carlisle this January off the Kirkby Redgate flock as a gimmer lamb and by the G17 Marriforth, same sire as the record breaking Kirkby Redgate lamb.
Holding the Old Hemley tide back was Michael James, Duhonw, with a sweet gimmer lamb. Slightly later born than usual, this lamb has the potential to grow out into something really special, full of stretch and style. She is by the homebred tup, Golden Balls, which has done ever so well within the flock, and is out of a ewe by another homebred tup which also bred the Hawes Champion in 2014.
The winners of the other classes were Elfyn Owen in the ewe class with a lovely sweet ewe, and the aged ram class was won by Tom Jones with "Mighty Mike", another tup bought from the Duhonw flock.
Aged Ram
| Placing | Class | Exhibitor | Flock Name |
| --- | --- | --- | --- |
| 1st | Aged Ram | D I L & E Jones | Llanilltyd |
| 2nd | Aged Ram | T R Harris | Bonvilston |
| 3rd | Aged Ram | D P May | Derwenlas |
Shearling Ram
| Placing | Class | Exhibitor | Flock Name |
| --- | --- | --- | --- |
| 1st | Shearling Ram | S Abberley | Old Hemley |
| 2nd | Shearling Ram | S Abberley | Old Hemley |
| 3rd | Shearling Ram | T R Harris | Derwenlas |
Ram Lamb
| Placing | Class | Exhibitor | Flock Name |
| --- | --- | --- | --- |
| 1st | Ram Lamb | S Abberley | Old Hemley |
| 2nd | Ram Lamb | P Douch | Brechfa |
| 3rd | Ram Lamb | E Owen | Cernyw |
Aged Ewe
| Placing | Class | Exhibitor | Flock Name |
| --- | --- | --- | --- |
| 1st | Aged Ewe | E Owen | Cernyw |
| 2nd | Aged Ewe | P Douch | Brechfa |
| 3rd | Aged Ewe | S Abberley | Old Hemley |
Shearling Ewe
| Placing | Class | Exhibitor | Flock Name |
| --- | --- | --- | --- |
| 1st | Shearling Ewe | S Abberley | Old Hemley |
| 2nd | Shearling Ewe | M James | Duhonw |
| 3rd | Shearling Ewe | E Owen | Cernwy |
Ewe Lamb
| Placing | Class | Exhibitor | Flock Name |
| --- | --- | --- | --- |
| 1st | Ewe Lamb | M James | Duhonw |
| 2nd | Ewe Lamb | S Abberley | Old Hemley |
| 3rd | Ewe Lamb | C & M Richards | Mcffi |
Group of three
| Placing | Class | Exhibitor | Flock Name |
| --- | --- | --- | --- |
| 1st | Group of three | S Abberley | Old Hemley |
| 2nd | Group of three | E Owen | Cernwy |
Bluefaced Champions
| Category | Exhibitor | Type |
| --- | --- | --- |
| Breed Champion & Male Champion | S Abberley | Ram Lamb |
| Res. Breed Champion & Female Champion | M James | Ewe Lamb |
| Res. Female Champion | S Abberley | Shearling Ewe |
| Res. Male Champion | S Abberley | Shearling Ram |
Gallery
Back to Archive