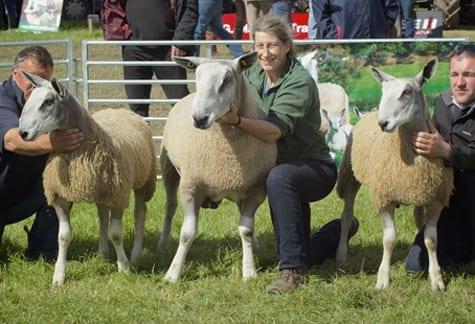 Scottish Progeny Show – Traditional
15th August 2015
Peebles
Mr A Bisset, Middle Dukesfield
The 2015 Scottish Region Progeny Show was kindly hosted by Peebles Show on Saturday 15th August. With the very heavy rain the previous day we arrived to what was a very muddy show field, but the sun shone and the mud dried up for what turned out to be a very successful day for the show and the Bluefaced Leicester Association. 
In a first for an agricultural show in Scotland the decision was taken to have two completely separate classes for the Bluefaced Leicesters – the traditional type and the crossing type. This proved to be a very popular decision with members bringing forward a bumper entry of 270 sheep in total for our two judges to find their respective champions from.  There were 160 in the traditional section and 110 in the crossing type section.
Our judge in the traditional ring was highly respected breeder Mr Alex Bisset from the long established Middle Dukesfield flock based near Hexham in Northumberland.  In the crossing type ring the judge was another highly respected breeder Mr Graham Loughery from the Temain flock based in Co Londonderry, Northern Ireland.
In the traditional ring Alex Bisset awarded his champion in the open classes to an outstanding aged ewe from Alan McClymont, Kirkstead. She is a homebred ewe sired by Shrewbridge D17, and out of a homebred ewe by a Carry House sire.  The reserve champion was awarded to a gimmer from M & N Gray, Espley and she is sired by the £8500 F2 Ashes tup. 
In the progeny section Alex awarded his champion group to M & N Gray, Espley with their pair of lambs shown with their sire the F2 Ashes tup. One of the lambs out of this group was also awarded the first prize tup lamb.  The reserve group was awarded to R Neill, Rossiebank with a pair of homebred shearling rams 840/G11 and 840/G19 and they were sired by 2882/D14 Mendick from J Dykes.  G11 is to be kept with the flock and is being used as a stock tup.
Ram Two Shear Or Over
| Placing | Class | Exhibitor | Flock Name |
| --- | --- | --- | --- |
| 1st | Ram Two Shear Or Over | R Neill | Rossiebank |
| 2nd | Ram Two Shear Or Over | M & N Gray | Espley |
| 3rd | Ram Two Shear Or Over | K Smith | Low Arkland |
Shearling Ram
| Placing | Class | Exhibitor | Flock Name |
| --- | --- | --- | --- |
| 1st | Shearling Ram | H Brown | Leadburnlea |
| 2nd | Shearling Ram | R Neill | Rossiebank |
| 3rd | Shearling Ram | A McClymont | Kirkstead |
Ram Lamb
| Placing | Class | Exhibitor | Flock Name |
| --- | --- | --- | --- |
| 1st | Ram Lamb | M & N Gray | Espley |
| 2nd | Ram Lamb | R Neill | Rossiebank |
| 3rd | Ram Lamb | M & N Gray | Espley |
Aged Ewe Two Shear Or Over
| Placing | Class | Exhibitor | Flock Name |
| --- | --- | --- | --- |
| 1st | Aged Ewe Two Shear Or Over | A McClymont | Kirkstead |
| 2nd | Aged Ewe Two Shear Or Over | R Neill | Rossiebank |
| 3rd | Aged Ewe Two Shear Or Over | M & N Gray | Espley |
Gimmer
| Placing | Class | Exhibitor | Flock Name |
| --- | --- | --- | --- |
| 1st | Gimmer | M & N Gray | Espley |
| 2nd | Gimmer | S J Crozier | Watersyke |
| 3rd | Gimmer | A McClymont | Kirkstead |
Ewe Lamb
| Placing | Class | Exhibitor | Flock Name |
| --- | --- | --- | --- |
| 1st | Ewe Lamb | A McClymont | Kirkstead |
| 2nd | Ewe Lamb | A McClymont | Kirkstead |
| 3rd | Ewe Lamb | R Neill | Rossiebank |
Group (Ram Any Age, Ewe, Gimmer & Ewe Lamb)
| Placing | Class | Exhibitor | Flock Name |
| --- | --- | --- | --- |
| 1st | Group (Ram Any Age, Ewe, Gimmer & Ewe Lamb) | M & N Gray | Espley |
| 2nd | Group (Ram Any Age, Ewe, Gimmer & Ewe Lamb) | A McClymont | Kirkstead |
| 3rd | Group (Ram Any Age, Ewe, Gimmer & Ewe Lamb) | R Neill | Rossiebank |
Progeny Show - Pair Of Ewes Sired By The Same Sire
| Placing | Class | Exhibitor | Flock Name |
| --- | --- | --- | --- |
| 1st | Pair Of Ewes Sired By The Same Sire | A McClymont | Kirkstead |
| 2nd | Pair Of Ewes Sired By The Same Sire | K Smith | Low Arkland |
| 3rd | Pair Of Ewes Sired By The Same Sire | J Dykes | Mendick |
Progeny Show - Pair Of Gimmers By The Same Sire
| Placing | Class | Exhibitor | Flock Name |
| --- | --- | --- | --- |
| 1st | Pair Of Gimmers By The Same Sire | M & N Gray | Espley |
| 2nd | Pair Of Gimmers By The Same Sire | A McClymont | Kirkstead |
| 3rd | Pair Of Gimmers By The Same Sire | R Neill | Rossiebank |
Progeny Show - Pair Of Shearling Rams By The Same Sire
| Placing | Class | Exhibitor | Flock Name |
| --- | --- | --- | --- |
| 1st | Pair Of Shearling Rams By The Same Sire | R Neill | Rossiebank |
| 2nd | Pair Of Shearling Rams By The Same Sire | A McClymont | Kirkstead |
| 3rd | Pair Of Shearling Rams By The Same Sire | D L & S Currie | Braegarrie |
Progeny Show - Group Of Three Ram Lambs By The Same Sire
| Placing | Class | Exhibitor | Flock Name |
| --- | --- | --- | --- |
| 1st | Group Of Three Ram Lambs By The Same Sire | M & N Gray | Espley |
| 2nd | Group Of Three Ram Lambs By The Same Sire | R Neill | Rossiebank |
| 3rd | Group Of Three Ram Lambs By The Same Sire | H Brown | Leadburnlea |
Progeny Show - Group Of Three Ewe Lambs By The Same Sire
| Placing | Class | Exhibitor | Flock Name |
| --- | --- | --- | --- |
| 1st | Group Of Three Ewe Lambs By The Same Sire | R Neill | Rossiebank |
| 2nd | Group Of Three Ewe Lambs By The Same Sire | A McClymont | Kirkstead |
| 3rd | Group Of Three Ewe Lambs By The Same Sire | H Brown | Leadburnlea |
Progeny Show - Pair Of Lambs (Any Sex) By The Same Sire - Shown With Sire
| Placing | Class | Exhibitor | Flock Name |
| --- | --- | --- | --- |
| 1st | Pair Of Lambs (Any Sex) By The Same Sire - Shown With Sire | M & N Gray | Espley |
| 2nd | Pair Of Lambs (Any Sex) By The Same Sire - Shown With Sire | R Neill | Rossiebank |
| 3rd | Pair Of Lambs (Any Sex) By The Same Sire - Shown With Sire | A McClymont | Kirkstead |
Bluefaced Champions
| Category | Exhibitor | Type |
| --- | --- | --- |
| Breed Champion | A McClymont | Aged Ewe |
| Res. Breed Champion | M & N Gray | Gimmer |
| Champion Progeny Group | M & N Gray | Pair Of Lambs (Any Sex) By The Same Sire - Shown With Sire |
| Res. Champion Progeny Group | R Neill | Pair Of Shearling Rams By The Same Sire |
Gallery
Back to Archive