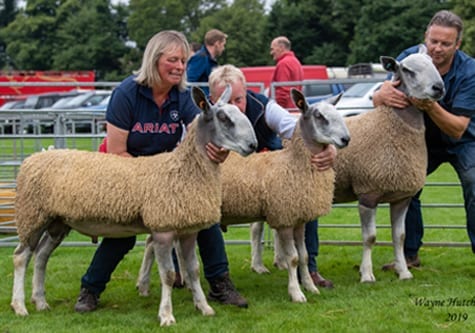 Scottish Progeny Show – Traditional
3rd August 2019
Perth
Mr A McClymont, Kirkstead
Perth Progeny Show 2019
The Scottish Progeny Show continued its tour of bonnie Scotland, this time being held at the picturesque showground near the River Tay. It was an early start for some exhibitors, coming all the way from Ayrshire. The day started off dull and misty, but slowly came out as the day progressed.
In the traditional end Alan McClymont, Kirkstead was the man everyone was looking to impress. The section was split into accredited and non-accredited sections, which saw Alan clamouring over gates to check out his line ups, which didn't help the speed! There was a strong show of traditional types and the winner was a very impressive gimmer from Matt Drummond. She has a strong pedigree in the show ring with her mother and grand mother all taking big titles over the years. She is by the Cassington G1, a son on of the Craig-yr-Orsedd which has served the flock so well, and out of another show ewe. She has been shown successfully this season and is a very smart, stylish gimmer with a great future. She also took the reserve champion progeny title with another daughter of the G1 and completing a great day for her, took the overall Bluefaced Leicester title when up against the crossing type.
The reserve champion went to the £12,000 Bonvilston Tudor shown by Hazel Brown and Martin Quinn. This monster of a tup, with a cracking mouth, was bought out of Builth last year, with the judge the underbidder. He must have still impressed him as he gave the champion a good run for his money! He is by G2 Cendy and this is his first time out this year after taking 1st prize at the Welsh progeny as a shearling last year. He is producing the goods too, with his tup lambs taking 2nd and 4th in the classes and these two came together with the tup to take the progeny Champion title. These tup lambs will be heading to Carlisle later in the season, and they should certainly be on someone's shopping list, with the power of their sire shining through.
Aged Ram
| Placing | Class | Exhibitor | Flock Name |
| --- | --- | --- | --- |
| 1st | Aged Ram | M Quinn | Whinnyhall |
Shearling Ram
| Placing | Class | Exhibitor | Flock Name |
| --- | --- | --- | --- |
| 1st | Shearling Ram | D & M MacNiven | High Craigs |
| 2nd | Shearling Ram | M Drummond | Cassington |
| 3rd | Shearling Ram | M Drummond | Cassington |
Ram Lamb
| Placing | Class | Exhibitor | Flock Name |
| --- | --- | --- | --- |
| 1st | Ram Lamb | A & J Adam | Glamis |
| 2nd | Ram Lamb | M Quinn | Whinnyhall |
| 3rd | Ram Lamb | M Drummond | Cassington |
Ewe
| Placing | Class | Exhibitor | Flock Name |
| --- | --- | --- | --- |
| 1st | Ewe | M Drummond | Cassington |
| 2nd | Ewe | A & J Adam | Glamis |
| 3rd | Ewe | M/s Fotheringham | Craighall |
Gimmer
| Placing | Class | Exhibitor | Flock Name |
| --- | --- | --- | --- |
| 1st | Gimmer | M Drummond | Cassington |
| 2nd | Gimmer | M Drummond | Cassington |
| 3rd | Gimmer | D & M MacNiven | High Craigs |
Ewe Lamb
| Placing | Class | Exhibitor | Flock Name |
| --- | --- | --- | --- |
| 1st | Ewe Lamb | A & J Adam | Glamis |
| 2nd | Ewe Lamb | A & J Adam | Glamis |
| 3rd | Ewe Lamb | A & J Adam | Glamis |
Progeny Show - Pair Of Ewes By The Same Sire
| Placing | Class | Exhibitor | Flock Name |
| --- | --- | --- | --- |
| 1st | Pair Of Ewes By The Same Sire | A & J Adam | Glamis |
| 2nd | Pair Of Ewes By The Same Sire | D & M MacNiven | High Craigs |
Progeny Show - Pair Of Gimmers By The Same Sire
| Placing | Class | Exhibitor | Flock Name |
| --- | --- | --- | --- |
| 1st | Pair Of Gimmers By The Same Sire | M Drummond | Cassington |
| 2nd | Pair Of Gimmers By The Same Sire | D & M MacNiven | High Craigs |
| 3rd | Pair Of Gimmers By The Same Sire | A & J Adam | Glamis |
Progeny Show - Three Ram Lambs By The Same Sire
| Placing | Class | Exhibitor | Flock Name |
| --- | --- | --- | --- |
| 1st | Three Ram Lambs By The Same Sire | M Quinn | Whinnyhall |
| 2nd | Three Ram Lambs By The Same Sire | A & J Adam | Glamis |
| 3rd | Three Ram Lambs By The Same Sire | D & M MacNiven | High Craigs |
Progeny Show - Three Ewe Lambs By The Same Sire
| Placing | Class | Exhibitor | Flock Name |
| --- | --- | --- | --- |
| 1st | Three Ewe Lambs By The Same Sire | A & J Adam | Glamis |
| 2nd | Three Ewe Lambs By The Same Sire | D & M MacNiven | High Craigs |
Progeny Show - Pair of Lambs (any sex) Sired By Same Sire Shown With Sire
| Placing | Class | Exhibitor | Flock Name |
| --- | --- | --- | --- |
| 1st | Pair of Lambs (any sex) Sired By Same Sire Shown With Sire | M Quinn | Whinnyhall |
Bluefaced Champions
| Category | Exhibitor | Type |
| --- | --- | --- |
| Breed Champion & Female Champion | M Drummond | Gimmer |
| Res. Champion & Male Champion | M Quinn | Aged Ram |
| Res. Female Champion | M Drummond | Ewe |
| Res. Male | A & J Adam | Ram Lamb |
| Champion Progeny Group | M Quinn | Pair of Lambs (any sex) Sired By Same Sire Shown With Sire |
| Res. Champion Progeny Group | M Drummond | Pair Of Gimmers By The Same Sire |
Gallery
Back to Archive