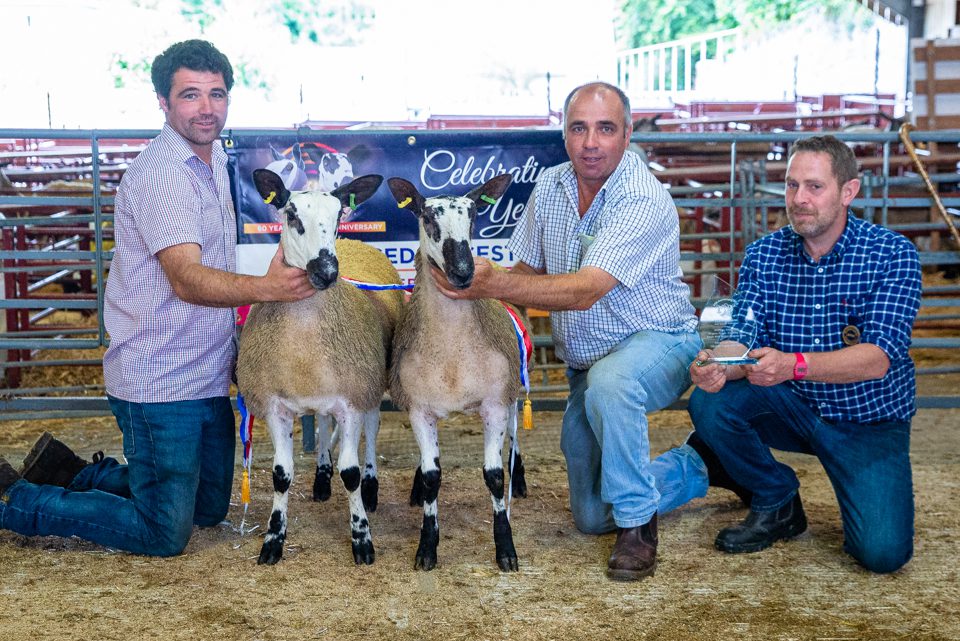 South West Progeny Show Crossing Type & Mule Progeny Results
20th August 2022
Tavistock
Mr Michael James, Duhonw
South West Progeny Show – Saturday 20th August, 2022
To commemorate our 60th Anniversary year the South West Club Members held a progeny show at Tavistock Market, which was very well supported from members showing both types.
In the Crossing section, Judge for the afternoon was Mr Michael James, Duhonw Flock based near Builth Wells.
Again with a good number of entries forward in this section the members did not make it easy for the Judge.
Taking the top honours in the Individual classes was an eye catching ewe lamb from the Yelland Flock of Peter Heard, this homebred ewe lamb which was female champion is sired by the 3565/N001 Steel which Peter bought out of Hawes in 2020 for £5,000, a tremendous investment for the flock who has certainly made his mark.  Peter also took the reserve female champion with another ewe lamb also bred by the N001 Steel.
Taking the male championship was Adam Garthwaite from the Hill End Flock with his homebred ram lamb 4549/R001 sired by homebred Hill End P001 Hulk, out of L030 who stood 1st prize aged ewe at the 2022 Okehampton Show.  Taking the reserve male championship was Richard Turner, Brindifield with his homebred ram Brindifield 3037/M001 sired by 790/L002 Yore House.
In the Progeny Section again taking top honours was Peter Heard, Yelland with a pair of ewe lambs by the N001 Steel , with reserve champion group going to Adam Garthwaite, Hill End with his pair of ram lambs by the same sire – Hill End Hulk 4549/P001.
In the Mule Classes with only a small show of Mules forward it was Peter heard, Yelland who took top honours in the single and group classes with ewe lambs all sired by the N001 Steel.   The winning Mule Progeny Group were a group of 3 Mule Ewe Lambs ex Scotch Blackface shown with their Sire.  Reserve Mule Progeny Group were a group of 3 Mule Ewe Lambs ex Swaledale shown with Sire.
A tremendous day was enjoyed by all who took part and congratulations to all members for putting out a tremendous show of sheep.
Gimmer Shearling
| Placing | Class | Exhibitor | Flock Name |
| --- | --- | --- | --- |
| 1st | Gimmer Shearling | Ollie Farncis | Cosdon |
| 2nd | Gimmer Shearling | Richard Turner | Brindifield |
| 3rd | Gimmer Shearling | Richard Turner | Brindifield |
Gimmer Lamb
| Placing | Class | Exhibitor | Flock Name |
| --- | --- | --- | --- |
| 1st | Gimmer Lamb | Peter Heard | Yelland |
| 2nd | Gimmer Lamb | Peter Heard | Yelland |
| 3rd | Gimmer Lamb | Adam Garthwaite | Hill End |
| 4th | Gimmer Lamb | Adam Garthwaite | Hill End |
Aged Ram
| Placing | Class | Exhibitor | Flock Name |
| --- | --- | --- | --- |
| 1st | Aged Ram | Richard Turner | Brindifield |
| 2nd | Aged Ram | Peter Heard | Yelland |
Shearling Ram
| Placing | Class | Exhibitor | Flock Name |
| --- | --- | --- | --- |
| 1st | Shearling Ram | Brian Dallyn | Killington |
| 2nd | Shearling Ram | Brian Dallyn | Killington |
Ram Lamb
| Placing | Class | Exhibitor | Flock Name |
| --- | --- | --- | --- |
| 1st | Ram Lamb | Adam Garthwaite | Hill End |
| 2nd | Ram Lamb | Peter Heard | Yelland |
| 3rd | Ram Lamb | Adam Garthwaite | Hill End |
| 4th | Ram Lamb | Adam Garthwaite | Hill End |
BFL Progeny Two Shearling Gimmers by the same sire
| Placing | Class | Exhibitor | Flock Name |
| --- | --- | --- | --- |
| 1st | 2 Shearling Gimmers | Richard Turner | Brindifield |
BFL Progeny Two Ewe Lambs by the same Sire
| Placing | Class | Exhibitor | Flock Name |
| --- | --- | --- | --- |
| 1st | 2 Ewe Lambs | Peter Heard | Yelland |
| 2nd | 2 Ewe Lambs | Adam Garthwaite | Hill End |
BFL Progeny Two Ram Lambs by the same Sire
| Placing | Class | Exhibitor | Flock Name |
| --- | --- | --- | --- |
| 1st | 2 Ram Lambs | Adam Garthwaite | Hill End |
| 2nd | 2 Ram Lambs | Peter Heard | Yelland |
| 3rd | 2 Ram Lambs | Ollie Francis | Cosdon |
| 4th | 2 Ram Lambs | Richard Turner | Brindifield |
Mule Open Class - Single Mule Gimmer Lamb (any type)
| Placing | Class | Exhibitor | Flock Name |
| --- | --- | --- | --- |
| 1st | Single Mule Gimmer Lamb | Peter Heard | Yelland |
| 2nd | Single Mule Gimmer Lamb | Peter Heard | Yelland |
| 3rd | Single Mule Gimmer Lamb | Peter Heard | Yelland |
| 4th | Single Mule Gimmer Lamb | Peter Heard | Yelland |
Mule Progeny Three Mule Ewe Lambs Shown with Sire, Ex Swaledale
| Placing | Class | Exhibitor | Flock Name |
| --- | --- | --- | --- |
| 1st | 3 Mule Ewe lambs Ex Swaledale | Peter Heard | Yelland |
Mule Progeny Three Mule Ewe Lambs Ex Scotch Blackface
| Placing | Class | Exhibitor | Flock Name |
| --- | --- | --- | --- |
| 1st | 3 Mule Ewe lambs Ex Blackface | Peter Heard | Yelland |
Bluefaced Champions
| Category | Exhibitor | Type |
| --- | --- | --- |
| Overall Champion Female | Peter Heard | 1st prize Gimmer Lamb |
| Reserve Overall Champion Female | Peter Heard | 2nd prize Gimmer Lamb |
| Overall Champion Male | Adam Garthwaite | Ram Lamb |
| Reserve Overall Champion Male | Richard Turner | Aged Ram |
| Overall Champion | Peter Heard | Gimmer Lamb |
| Reserve Overall Champion | Adam Garthwaite | Ram Lamb |
| BFL Overall Champion Group | Peter Heard | 2 Gimmer Lambs by the same sire |
| BFL Reserve Overall Champion Group | Adam Garthwaite | 2 Ram Lambs by the same sire |
| Mule Champion Group | Peter Heard | 3 MEL (ex Scotch Blackface) with sire |
| Mule Reserve Champion Group | Peter Heard | 3 MEL (ex Swaledale) with sire |
Gallery
Back to Archive