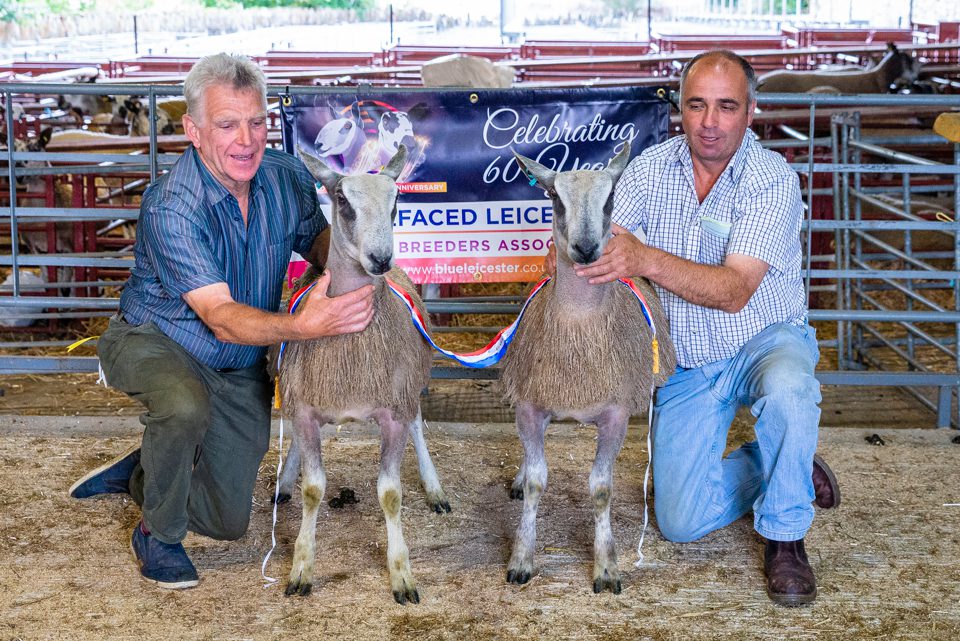 South West Progeny Show Traditional Type
20th August 2022
Tavistock
John Armstrong, Lay's
South West Progeny Show – Saturday 20th August, 2022
To commemorate our 60th Anniversary year the South West Club Members held a progeny show at Tavistock Market, which was very well supported from members showing both types.
In the Traditional section, Judge for the morning was Wales & South West Chairman John Armstrong, Lay's Flock based in Herefordshire who had a very difficult job with some tremendous classes in front of him.
Taking the overall championship was the eye catching first prize shearling ram and Male Champion from Helen Havill, Martin Grange.  This was a homebred ram 3585/P005 Martin Grange sired by homebred sire Martin Grange M009.  P005 will be in Helen's pen at the Welshpool Sale on the 29th September.   Taking the overall reserve was the female Champion and first prize gimmer shearling from Dick & Ann Marie Montague of the Ashdown flock.  This smart homebred gimmer 3410/P031 was sired by Espley L014.  The reserve female champion also came out of the same Ashdown pen this time it was a homebred ewe lamb again by the L014 Espley sire.  The Montagues are reducing their stock of females and rams throughout the sales this Autumn with a batch heading to the NSA Wales & Border Ram Sales at Builth Wells with another batch of females heading to Welshpool. The reserve male championship was awarded to Richard Turner with his aged ram 3246/N003 Heddon Valley Napoleon bred by Barry Nicholls, Napoleon will be heading to the Builth Wells Sale in September.
In the Progeny Classes another tremendous show of groups were forward.  Taking the overall champion Bluefaced Leicester Progeny Group was Brian Dallyn, Killington with his pair of homebred ram lambs by the same sire.  1925/R001 and R002 are twins born in March sired by Trofarth 4394/P001 which Brian purchased out of Welshpool in 2021, he was the top priced ram lamb at the sale selling for 1200gns. The lambs are out of a Derwenlas ewe bred by Phil May 3822/L008.
Reserve Champion Progeny Group went to the first prize pair of 2 shearling gimmers by the same sire exhibited by Helen Havill, Martin Grange, this pair were sired by the homebred Martin Grange 3585/M009.
A tremendous day was enjoyed by all who took part and congratulations to all members for putting out a tremendous show of sheep.
Gimmer Shearling
| Placing | Class | Exhibitor | Flock Name |
| --- | --- | --- | --- |
| 1st | Gimmer Shearling | R L & A M Montague | Ashdown |
| 2nd | Gimmer Shearling | R L & A M Montague | Ashdown |
| 3rd | Gimmer Shearling | Helen Havill | Martin Grange |
| 4th | Gimmer Shearling | Richard Turner | Brindifield |
Gimmer Lamb
| Placing | Class | Exhibitor | Flock Name |
| --- | --- | --- | --- |
| 1st | Gimmer Lamb | R L & A M Montague | Ashdown |
| 2nd | Gimmer Lamb | Helen Havill | Martin Grange |
| 3rd | Gimmer Lamb | Richard Ridout | Ebford |
| 4th | Gimmer Lamb | Brian Dallyn | Killington |
Aged Ram
| Placing | Class | Exhibitor | Flock Name |
| --- | --- | --- | --- |
| 1st | Aged Ram | Richard Turner | Brindifield |
| 2nd | Aged Ram | Helen Havill | Martin Grange |
| 3rd | Aged Ram | Helen Havill | Martin Grange |
Shearling Ram
| Placing | Class | Exhibitor | Flock Name |
| --- | --- | --- | --- |
| 1st | Shearling Ram | Helen Havill | Martin Grange |
| 2nd | Shearling Ram | Richard Ridout | Ebford |
| 3rd | Shearling Ram | R L & A M Montague | Ashdown |
| 4th | Shearling Ram | Richard Ridout | Ebford |
Ram Lamb
| Placing | Class | Exhibitor | Flock Name |
| --- | --- | --- | --- |
| 1st | Ram Lamb | Helen Havill | Martin Grange |
| 2nd | Ram Lamb | R L & A M Montague | Ashdown |
| 3rd | Ram Lamb | Brian Dallyn | Killington |
| 4th | Ram Lamb | R L & A M Montague | Ashdown |
BFL Progeny 2 Shearling Gimmers by the same sire
| Placing | Class | Exhibitor | Flock Name |
| --- | --- | --- | --- |
| 1st | 2 Shearling Gimmers | Helen Havill | Martin Grange |
| 2nd | 2 Shearling Gimmers | Richard Turner | Brindifield |
| 3rd | 2 Gimmer Shearlings | R L & A M Montague | Ashdown |
BFL Progeny 2 Ewe Lambs by the same sire
| Placing | Class | Exhibitor | Flock Name |
| --- | --- | --- | --- |
| 1st | 2 Ewe Lambs | Richard Turner | Brindifield |
| 2nd | 2 Ewe lambs | Helen Havill | Martin Grange |
| 3rd | 2 Ewe lambs | Brian Dallyn | Killington |
| 4th | 2 Ewe lambs | R L & A M Montague | Ashdown |
BFL Progeny 2 Ram Lambs by the same sire
| Placing | Class | Exhibitor | Flock Name |
| --- | --- | --- | --- |
| 1st | 2 Ram Lambs | Brian Dallyn | Killington |
| 2nd | 2 Ram Lambs | Helen Havill | Martin Grange |
| 3rd | 2 Ram Lambs | R L & A M Montague | Ashdown |
Bluefaced Champions
| Category | Exhibitor | Type |
| --- | --- | --- |
| Overall Female | R L & A M Montague | Gimmer Shearling |
| Reserve Overall Female Champion | R L & A M Montague | Gimmer Lamb |
| Overall Male Champion | Helen Havill | Shearling Ram |
| Reserve Overall Male Champion | Richard Turner | Aged Ram |
| Overall Champion | Helen Havill | Shearling Ram |
| Reserve Overall Champion | R L & A M Montague | Gimmer Shearling |
| Overall Champion Group | Brian Dallyn | 2 Ram Lambs by the Same Sire |
| Reserve Overall Champion Group | Helen Havill | 2 Shearling Gimmers by the Same Sire |
Gallery
Back to Archive