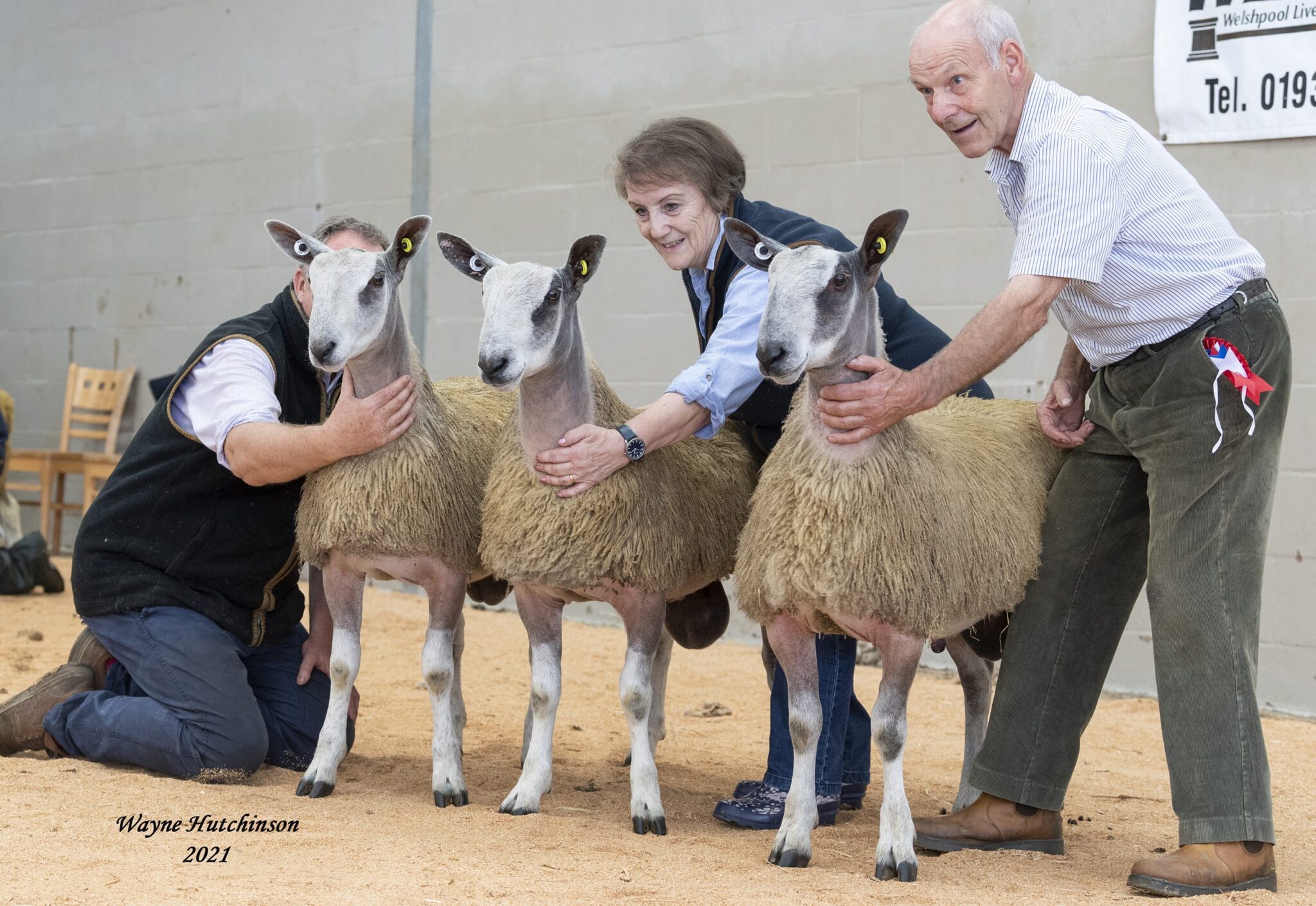 Wales & South West Progeny Show
23rd August 2021
Welshpool
Mr P Forster, Hexham (BFL & Mules)
Welshpool Progeny Show – Monday 23rd August, 2021
Held within Welshpool Auction Mart – by kind permission of Welshpool Livestock Sales
There was a welcome return to the show ring in Wales as the Bluefaced Leicester Association pressed ahead with their progeny show at Welshpool market this week, with plenty of sheep for the judge, Peter Forster, Hexham, to be casting his eye over.
The prizes were well spread out with a good selection of sheep on show. Rising to the top in the Bluefaced classes was a cracking ewe from Phil May, who was showing an impressive number of sheep, helped by friends as he has just had a pair of new hips fitted.   His champion L56 Derwenlas was by K11 Kidalloig and was shown as a gimmer lamb at the Royal Welsh, since then she has produced a couple of very nice gimmer lambs. Phil started his flock 21 years since and has taken plenty of accolades in the show ring, but will be reducing his sheep this autumn, selling most of his older ewes at the Welshpool sale.
Taking the reserve in this section was a tup shearling from Tudor Harris and the Bonvilston flock from Barry Island. This powerful tup, which is heading up to Kelso at the season opening sale this autumn, is by L1 Burndale, a son of the noted H3 Lower Down, and out of one of the flocks best ewes, K38 Bonvilson which was by H1 Robleston.
The reserves in the female section went to Sophie Harding, Shrewbridge, with a strong ewe lamb, which topped an impressive class of 17 lambs. This lamb is by the N3 Ashes bought in Welshpool last year for 6200gns. The reserve male was shown by the Griffith family, with M7 Middle Dukesfield. This giant of a tup was by the K20 Kirkstead and has done well in the flock, and will be heading to the Builth sale later this autumn.
The progeny section saw the Bonvilston flock triumph with Peter Forster picking out their 3 powerful, sharp ram lambs P9, 10 & 11 sired by the K3 Kirkstead that they bought last backend in Builth from the Tyhir flock of TJ & LSR Griffith.
The Myfyrian flock took the reserve in the section with 3 lovely gimmer lambs by the M1 Lowes Fell bought out of Hexham Kelso sale last backend. To avoid conflict with the judge, Jackie Williams placed the group. They were very sharp and clean of their skins and no doubt the tup will leave his mark in the flock.
In the mule section numbers were limited, but the champions were worthy of the name, with T Jerman making his debut at the progeny show. His mules were out of Brecknock Hill Cheviots by M2 Watch Hill bought out of Carlisle a couple of years back. The reserves in the mule section went to J Armstrong with 3 Cheviot mules by a homebred tup.
A big thank you to all who showed and made it a great day out. Onwards and upwards for next year!
Aged Ram
| Placing | Class | Exhibitor | Flock Name |
| --- | --- | --- | --- |
| 1st | Aged Ram | T J & L S R Griffiths & G Morris | Tyhir & Lower Drostre |
| 2nd | Aged Ram | M & G Roberts | Myfyrian |
| 3rd | Aged Ram | D P May | Derwenlas |
| 4th | Aged Ram | D P May | Derwenlas |
| 5th | Aged Ram | D W P Davies | Gornal |
Shearling Ram
| Placing | Class | Exhibitor | Flock Name |
| --- | --- | --- | --- |
| 1st | Shearling Ram | T R Harris | Bonvilston |
| 2nd | Shearling Ram | MIss S A Harding | Shrewbridge |
| 3rd | Shearling Ram | T R Harris | Bonvilston |
| 4th | Shearling Ram | D P May | Derwenlas |
| 5th | Shearling Ram | D W P Davies | Gornal |
Ram Lamb
| Placing | Class | Exhibitor | Flock Name |
| --- | --- | --- | --- |
| 1st | Ram Lamb | D P May | Derwenlas |
| 2nd | Ram Lamb | T R Harris | Bonvilston |
| 3rd | Ram Lamb | T R Harris | Bonvilston |
| 4th | Ram Lamb | The Bennett Family | Springwood |
| 5th | Ram Lamb | The Bennett Family | Springwood |
Ram Lamb - Performance Recorded
| Placing | Class | Exhibitor | Flock Name |
| --- | --- | --- | --- |
| 1st | Ram Lamb - Performance Recorded | D W P Davies | Gornal |
| 2nd | Ram Lamb - Performance Recorded | D W P Davies | Gornal |
Aged Ewe - to have reared a lamb in 2021
| Placing | Class | Exhibitor | Flock Name |
| --- | --- | --- | --- |
| 1st | Aged Ewe | D P May | Derwenlas |
| 2nd | Aged Ewe | D P May | Derwenlas |
| 3rd | Aged Ewe | D P May | Derwenlas |
| 4th | Aged Ewe | D P May | Derwenlas |
Shearling Ewe
| Placing | Class | Exhibitor | Flock Name |
| --- | --- | --- | --- |
| 1st | Shearling Ewe | T R Harris | Bonvilston |
| 2nd | Shearling Ewe | D P May | Derwenlas |
| 3rd | Shearling Ewe | D P May | Derwenlas |
| 4th | Shearling Ewe | Miss S A Harding | Shrewbridge |
| 5th | Shearling Ewe | D P May | Derwenlas |
Ewe Lamb
| Placing | Class | Exhibitor | Flock Name |
| --- | --- | --- | --- |
| 1st | Ewe Lamb | Miss S A Harding | Shrewbridge |
| 2nd | Ewe Lamb | T J & L S R Griffiths | Tyhir |
| 3rd | Ewe Lamb | T R Harris | Bonvilston |
| 4th | Ewe Lamb | D P May | Derwenlas |
| 5th | Ewe Lamb | M & G Roberts | Myfyrian |
BFL Progeny - Three Ram Lambs by the Same Sire to be Shown with or Without Sire
| Placing | Class | Exhibitor | Flock Name |
| --- | --- | --- | --- |
| 1st | Group Three Ram Lambs | T R Harris | Bonvilston |
| 2nd | Group Three Ram Lambs | The Bennett Farmily | Springwood |
| 3rd | Group Three Ram Lambs | D W P Davies | Gornal |
BFL Progeny - Three Shearling Ewes by the Same Sire
| Placing | Class | Exhibitor | Flock Name |
| --- | --- | --- | --- |
| 1st | Group Three Shearling Ewes | D P May | Derwenlas |
| 2nd | Group Three Shearling Ewes | S A Harding | Shrewbridge |
| 3rd | Group Three Shearling Ewes | J T Armstrong | Lay's |
BFL Progeny - Three Ewe Lambs by the Same Sire to be Shown with or Without Sire
| Placing | Class | Exhibitor | Flock Name |
| --- | --- | --- | --- |
| 1st | Group Three Ewe Lambs | M & G Roberts | Myfyrian |
| 2nd | Group Three Ewe Lambs | The Bennett Family | Springwood |
| 3rd | Group Three Ewe Lambs | T J & L S R Griffiths | Tyhir |
| 4th | roup Three Ewe Lambs | T P Jerman | Church Farm |
BFL Progeny - Recorded Ram Lamb & Ewe Lamb Shown with Sire
| Placing | Class | Exhibitor | Flock Name |
| --- | --- | --- | --- |
| 1st | Group Recorded Ram & Ewe Lamb | D W P Davies | Gornal |
One Mule Ewe - to have reared a Lamb in 2021
| Placing | Class | Exhibitor | Flock Name |
| --- | --- | --- | --- |
| 1st | One Mule Ewe | J T Armstrong | Lay's |
| 2nd | One Mule Ewe | J T Armstrong | Lay's |
| 3rd | One Mule Ewe | J T Armstrong | Lay's |
One Mule Ewe Lamb (Whitefaced Type)
| Placing | Class | Exhibitor | Flock Name |
| --- | --- | --- | --- |
| 1st | One Mule Ewe Lamb (Whitefaced Type) | T P Jerman | Church Farm |
| 2nd | One Mule Ewe Lamb (Whitefaced Type) | T P Jerman | Church Farm |
| 3rd | One Mule Ewe Lamb (Whitefaced Type) | D & M Parry | Nant Y Glyd |
| 4th | One Mule Ewe Lamb (Whitefaced Type) | D & M Parry | Nant Y Glyd |
Bluefaced Champions
| Category | Exhibitor | Type |
| --- | --- | --- |
| Male Champion | T R Harris | Shearling Ram |
| Reserve Male Champion | T J & L S R Griffiths & G Morris | Aged Ram |
| Female Champion | D P May | Aged Ewe |
| Reserve Female Champion | S A Harding | Ewe Lamb |
| Breed Champion | D P May | Aged Ewe |
| Reserve Breed Champion | T R Harris | Shearling Ram |
| BFL Champion Progeny Group | T R Harris | 3 Ram Lambs shown with or without Sire |
| BFL Reserve Champion Progeny Group | M & G Roberts | 3 Ewe lambs shown with or without Sire |
| Champion Mule | J T Armstrong | Mule Ewe |
| Reserve Champion Mule | T P German | Mule Ewe Lamb |
| Mule Champion Progeny Group | T P Jerman | 3 Mule Ewe Lambs shown with Sire (whitefaced Type) |
| Mule Reserve Champion Progeny Group | J T Armstrong | |
Gallery
Back to Archive