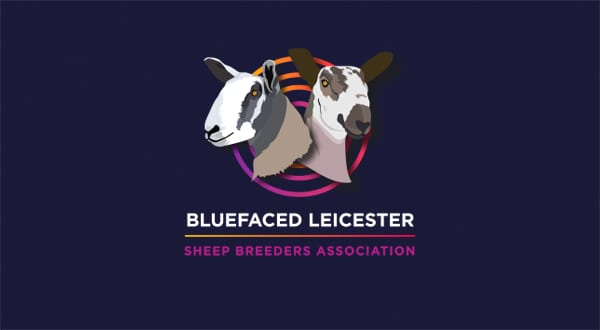 Wales & South West Progeny
19th August 2013
Welshpool
Mr A Hewson, Parton (BFL), Mr Jones, Deri (Mules)
2013 Welshpool Progeny Show
Welshpool Progeny Show has become one of the highlights of the Bluefaced Leicester calendar attracting quality sheep in good numbers with a similar entry to last year. The weather was dry and bright, not too hot perfect for showing sheep. A number of tup buyers walked the pens as it was also sale day there. It was encouraging to see new breeders including Stuart Lane showing for the first time.
Judge Andrew Hewson, Parton Flock gave the champion ticket to M C Roberts, Myfyrian flock, Anglesey for a ewe lamb sired by homebred tup Myfyrian C1, who was champion at this event in 2010. C1 also sired the ewe lamb that was champion here in 2011. C1 was sold at Builth Wells for 4800 gns. Myrfyn retained a half share in him with the other half going to Alan Clarke, Mossermains flock.
Winning the shearling ram class was S A Harding with a Long Mynd tup bought at Carlise last year for £7500 after winning the championship at the pre sale show. He was sired by Cassington C1 "Elite Plus" and out of a ewe by Cassington W2.
Reserve overall and male champion was Elfyn Owen, Cernyw Flock with a two shear Howlea ram bought as a lamb from Carlisle. This ram was champion at Denbigh and Flint County show the previous week.
Winning the ram lamb class was Phil May, Derwenlas flock with a lamb by a home bred sire 2280/D3 which was champion male at the Royal Welsh in 2012 and 2013 and will be offered for sale at Builth this year.
The winning aged ewe was a five year old ewe sired by Old Parks W1 from Elfyn Owen, Cernyw flock. She had won breed champion at Anglesey Show the previous week under judge Mike James.
There was a massive yearling ewe class, the biggest class of the day. The reserve female champion was from Aled Jones, Craig yr Orsedd flock with a sharp embryo yearling ewe by the renowned sire Arkleby B1 and out of W41 Craig yr Orsedd. This ewe reared the top price Leicester at Builth sale in 2006, 3363/Y12 achieving £1940 and whose twin brother was retained and achieved Elite plus status.
Champion group were three very strong yearling ewes by Arkleby B1 E+, including the winner of the yearling ewe class. These three ewes had won their class as lambs shown with their sire at last year's progeny show. It is intended to flush embryos from at least one of these gimmers as they have been outstanding since they were born.
Three ram lambs from Phil May's Derwenlas flock were the reserve progeny group. These were by the same home bred sire 2280/D3 that sired the first prize lamb.
Elfyn Owen's recorded ram lamb was sired using AI by the homebred L20 E+. This lamb had an amazing carcase and is typical of the L20 stamp, a ram which was widely used in the Sire Reference Scheme. Recorded progeny group of a ram lamb and ewe lamb with their sire was won again this year by Aled Jones, Craig yr Orsedd flock with Arkleby B1, the ewe lamb being a full sister to the first prize yearling ewe.
Champion in the Mule section was from renowned Bluefaced Leicester and Mule breeder Stephen Abberley, Old Hemley flock. It was a coloured type ewe lamb by Marriforth D4 that caught the eye of judge Mr Jones, Deri Flock. Reserve champion was Miss D Williams, Daisy flock with a white-faced type Mule ewe lamb by the Craig Yr Orsedd tup E15 bought out of Carlisle last year for £1200. This tup also sired the reserve progeny group for Miss Williams. Champion in the Mule progeny section was Michael James, Duhonw flock with three smart ewe lambs by Old Hemley D7 bought at Hawes in 2011 for £6500 and sired by Tanhouse Farms C2.
Aged Ram
| Placing | Class | Exhibitor | Flock Name |
| --- | --- | --- | --- |
| 1st | Aged Ram | E Owen | Cernyw |
| 2nd | Aged Ram | P Howell | Long Mynd |
| 3rd | Aged Ram | D P May | Derwenlas |
Shearling Ram
| Placing | Class | Exhibitor | Flock Name |
| --- | --- | --- | --- |
| 1st | Shearling Ram | Miss S A Harding | Shrewbridge |
| 2nd | Shearling Ram | D P May | Derwenlas |
| 3rd | Shearling Ram | D P May | Derwenlas |
Ram Lamb
| Placing | Class | Exhibitor | Flock Name |
| --- | --- | --- | --- |
| 1st | Ram Lamb | D P May | Derwenlas |
| 2nd | Ram Lamb | D P May | Derwenlas |
| 3rd | Ram Lamb | E Owen | Cernyw |
Ram Lamb - Peformance Recorded (Not to have been shown in previous class)
| Placing | Class | Exhibitor | Flock Name |
| --- | --- | --- | --- |
| 1st | Ram Lamb - Peformance Recorded | E Owen | Cernyw |
Aged Ewe
| Placing | Class | Exhibitor | Flock Name |
| --- | --- | --- | --- |
| 1st | Aged Ewe | E Owen | Cernyw |
| 2nd | Aged Ewe | M C Roberts | Myfyrian |
| 3rd | Aged Ewe | M C Roberts | Myfyrian |
Shearling Ewe
| Placing | Class | Exhibitor | Flock Name |
| --- | --- | --- | --- |
| 1st | Shearling Ewe | S A & R P Jones | Craig Yr Orsedd |
| 2nd | Shearling Ewe | Miss S A Harding | Shrewbridge |
| 3rd | Shearling Ewe | P Howell | Long Mynd |
Ewe Lamb
| Placing | Class | Exhibitor | Flock Name |
| --- | --- | --- | --- |
| 1st | Ewe Lamb | M C Roberts | Myfyrian |
| 2nd | Ewe Lamb | D P May | Derwenlas |
| 3rd | Ewe Lamb | Miss S A Harding | Shrewbridge |
Young Handlers
| Placing | Class | Exhibitor | Flock Name |
| --- | --- | --- | --- |
| 1st | Young Handlers | T Horn | |
| 2nd | Young Handlers | Daisy Williams | Daisy |
Progeny Show - Three Ram Lambs With Or Without Their Sire
| Placing | Class | Exhibitor | Flock Name |
| --- | --- | --- | --- |
| 1st | Three Ram Lambs With Or Without Their Sire | D P May | Derwenlas |
Progeny Show - Three Shearling Ewes By The Same Sire
| Placing | Class | Exhibitor | Flock Name |
| --- | --- | --- | --- |
| 1st | Three Shearling Ewes By The Same Sire | S A & R P Jones | Craig Yr Orsedd |
| 2nd | Three Shearling Ewes By The Same Sire | P Howell | Long Mynd |
| 3rd | Three Shearling Ewes By The Same Sire | M C Roberts | Myfyrian |
Prgeny Show - Three Ewe Lambs With Or Without Their Sire
| Placing | Class | Exhibitor | Flock Name |
| --- | --- | --- | --- |
| 1st | Three Ewe Lambs With Or Without Their Sire | D P May | Derwenlas |
| 2nd | Three Ewe Lambs With Or Without Their Sire | Miss S A Harding | Shrewbridge |
| 3rd | Three Ewe Lambs With Or Without Their Sire | S A & R P Jones | Craig Yr Orsedd |
Progeny Show - Recorded Ram Lamb and Ewe Lamb To Be Shown With its Sire
| Placing | Class | Exhibitor | Flock Name |
| --- | --- | --- | --- |
| 1st | Recorded Ram Lamb & Ewe Lamb With Sire | S A & R P Jones | Craig Yr Orsedd |
| 2nd | Recorded Ram Lamb & Ewe Lamb With Sire | E Owen | Cernyw |
Mule Ewe
| Placing | Class | Exhibitor | Flock Name |
| --- | --- | --- | --- |
| 1st | Mule Ewe | E Owen | Cernyw |
| 2nd | Mule Ewe | G Roberts | Myfyrian X |
| 3rd | Mule Ewe | E Owen | Cernyw |
Mule Shearling
| Placing | Class | Exhibitor | Flock Name |
| --- | --- | --- | --- |
| 1st | Mule Shearling | G Roberts | Myfyrian X |
| 2nd | Mule Shearling | Miss D Williams | Daisy |
| 3rd | Mule Shearling | E Owen | Cernyw |
One Mule Ewe Lamb (Coloured Type)
| Placing | Class | Exhibitor | Flock Name |
| --- | --- | --- | --- |
| 1st | One Mule Ewe Lamb (Coloured Type) | D J Abberley | Old Hemley |
| 2nd | One Mule Ewe Lamb (Coloured Type) | M James | Duhonw |
| 3rd | One Mule Ewe Lamb (Coloured Type) | D J Abberley | Old Hemley |
One Mule Ewe Lamb (Whitefaced Type)
| Placing | Class | Exhibitor | Flock Name |
| --- | --- | --- | --- |
| 1st | One Mule Ewe Lamb (Whitefaced Type) | Miss D Williams | Daisy |
| 2nd | One Mule Ewe Lamb (Whitefaced Type) | Miss D Williams | Daisy |
| 3rd | One Mule Ewe Lamb (Whitefaced Type) | M C Roberts | Myfyrian |
One Mule Ewe Lamb (any other type)
| Placing | Class | Exhibitor | Flock Name |
| --- | --- | --- | --- |
| 1st | One Mule Ewe Lamb (any other type) | M James | Duhonw |
| 2nd | One Mule Ewe Lamb (any other type) | M James | Duhonw |
| 3rd | One Mule Ewe Lamb (any other type) | M James | Duhonw |
Progeny Show - Ram With Three Mule Ewe Lambs (Coloured Type)
| Placing | Class | Exhibitor | Flock Name |
| --- | --- | --- | --- |
| 1st | Ram With Three Mule Ewe Lambs (Coloured Type) | M James | Duhonw |
| 2nd | Ram With Three Mule Ewe Lambs (Coloured Type) | D J Abberley | Old Hemley |
| 3rd | Ram With Three Mule Ewe Lambs (Coloured Type) | G Roberts | Myfyrian X |
Progeny Show - Ram With Three Mule Ewe Lambs (Whitefaced type)
| Placing | Class | Exhibitor | Flock Name |
| --- | --- | --- | --- |
| 1st | Ram With Three Mule Ewe Lambs (Whitefaced type) | Miss D Williams | Daisy |
| 2nd | Ram With Three Mule Ewe Lambs (Whitefaced type) | S Lane | Mynydd Glas |
| 3rd | Ram With Three Mule Ewe Lambs (Whitefaced type) | Miss D Williams | Daisy |
Progeny Show - Ram With Three Mule Ewe Lambs (Any Other type)
| Placing | Class | Exhibitor | Flock Name |
| --- | --- | --- | --- |
| 1st | Ram With Three Mule Ewe Lambs (Any Other type) | M James | Duhonw |
Bluefaced Champions
| Category | Exhibitor | Type |
| --- | --- | --- |
| Breed Champion & Female Champion | M C Roberts | Ewe Lamb |
| Res. Champion & Male Champion | E Owen | Aged Ram |
| Res. Male Champion | D P May | Ram Lamb |
| Res. Female Champion | S A & R P Jones | Shearling Ewe |
| Best Skinned Sheep | P Howell | |
| Champion Progeny Group | S A & R P Jones | Three Shearling Ewes By The Same Sire |
| Rex. Champion Progeny Group | D P May | Three Ram Lambs With or Without Sire |
| Champion Mule | D J Abberley | Mule Ewe Lamb (Coloured Type) |
| Res. Champion Mule | Miss D Williams | Mule Ewe Lamb (Whitefaced Type) |
| Champion Mule Progeny Group | M James | Ram With Three Mule Ewe Lambs (Coloured Type) |
| Res. Champion Mule Progeny Group | Miss D Williams | Ram with three Mule ewe lambs (Whitefaced type) |
Back to Archive