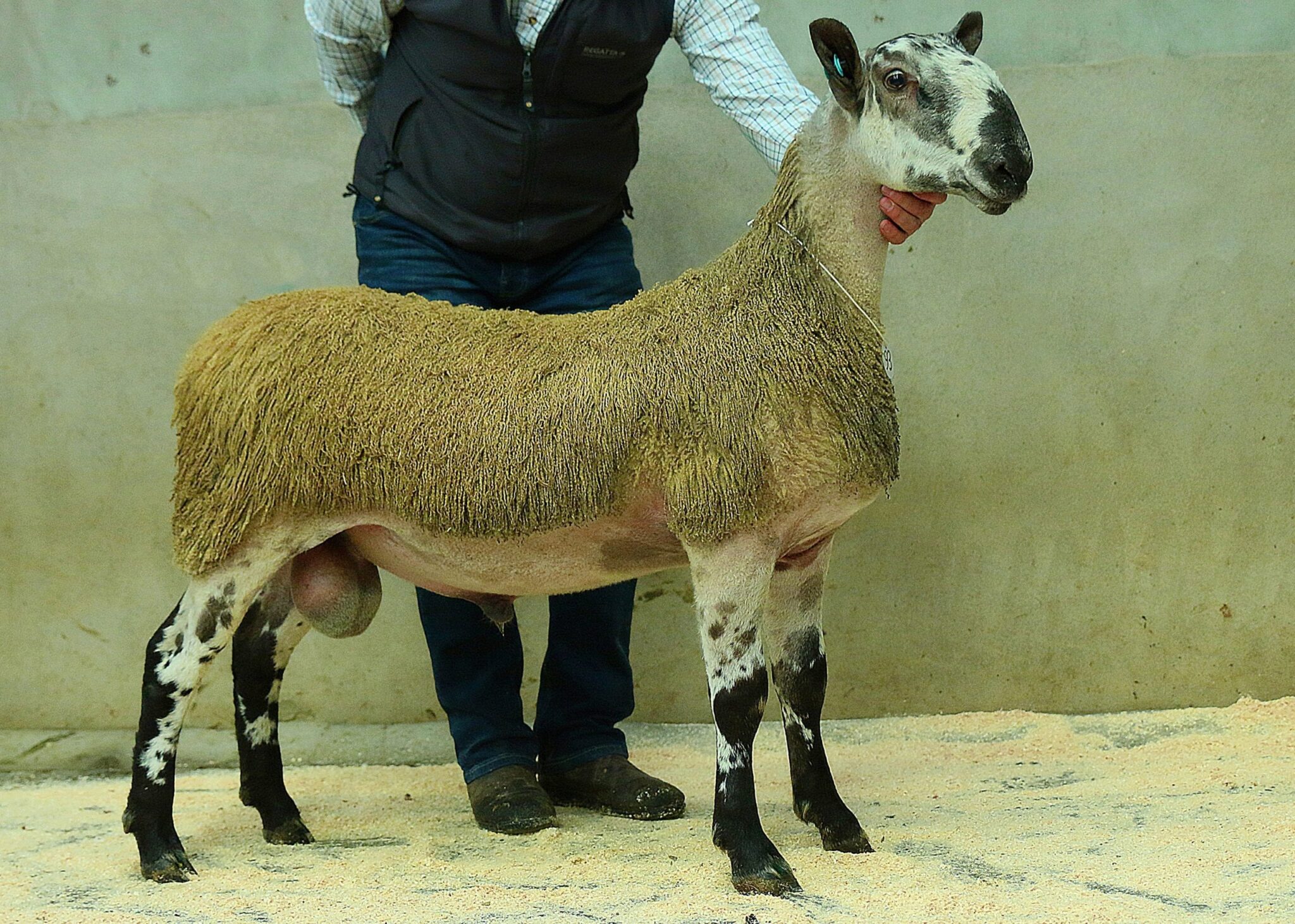 Armoy Ram & Female Sale
7th October 2017
Armoy
Mr W Bell, Dappledale
The Northern Ireland Bluefaced Leicester breeders enjoyed another flying trade at their annual sale in Armoy Market. Alister Christie, The Fields flock enjoyed a very successful day, both in the sale ring and the show ring. He was awarded Overall Champion with his 1st prize ram lamb K2, sired by J1 Carryhouse selling for the joint top price of 1200 gns to Trevor Butler, Ballycastle. Alister followed on with two further sales at 1100 gns for a V10 Todhills son selling to Michelle Wright and 1000 gns for a G1 Nunscleugh son.
William Bell, Dappledale judged the event and found his Reserve Champion from the flock of B Blaney, Tievebuaile Farm with their 1st prize ewe lamb bred by H1 Tievebuaile selling to Trevor Butler, Ballycastle for 700 gns.
Robert Loughridge, Orravale topped the shearlings at 1200 gns for his first prize shearling J30 by H10 Alwinton which was purchased by Arnold Douglas, Limavady.
Ian Montgomery, Misty Burn also received 1000 gns for his ram lamb K1 sired by J1 Misty Burn which found a new home with A & J Murphy Torr. Alastair Sampson Volac again very kindly sponsored the event.
Shearling Rams
| Placing | Class | Exhibitor | Flock Name |
| --- | --- | --- | --- |
| 1st | Shearling Rams | R Loughridge | Orravale |
| 2nd | Shearling Rams | E Harkin | Moneygran |
| 3rd | Shearling Rams | R Loughridge | Orravale |
| 4th | Shearling Rams | Miss M Wright | Mullaghwee |
Ram Lambs
| Placing | Class | Exhibitor | Flock Name |
| --- | --- | --- | --- |
| 1st | Ram Lambs | A Christie | The Fields |
| 2nd | Ram Lambs | S Laverty | Orra View |
| 3rd | Ram Lambs | S Laverty | Orra View |
| 4th | Ram Lambs | I Montgomery | Mistyburn |
Females
| Placing | Class | Exhibitor | Flock Name | Lot Number |
| --- | --- | --- | --- | --- |
| 1st | Females | B Blaney | Tievebuaile Farm | Ewe lamb |
| 2nd | Females | B Blaney | Tievebuaile Farm | Ewe Lamb |
| 3rd | Females | E McKeegan | Glenane | Ewe Lamb |
| 4th | Females | C Butler | Glenmakeeran | Ewe Lamb |
Bluefaced Champions
| Category | Exhibitor | Type |
| --- | --- | --- |
| Overall Champion & Male Champion | A Christie | Ram Lamb |
| Res. Overall Champion & Res. Male Champion | R Loughridge | Shearling Ram |
| Female Champion | B Blaney | Ewe Lamb |
| Res. Female Champion | B Blaney | 2nd Prize Ewe Lamb |
Gallery
Back to Archive