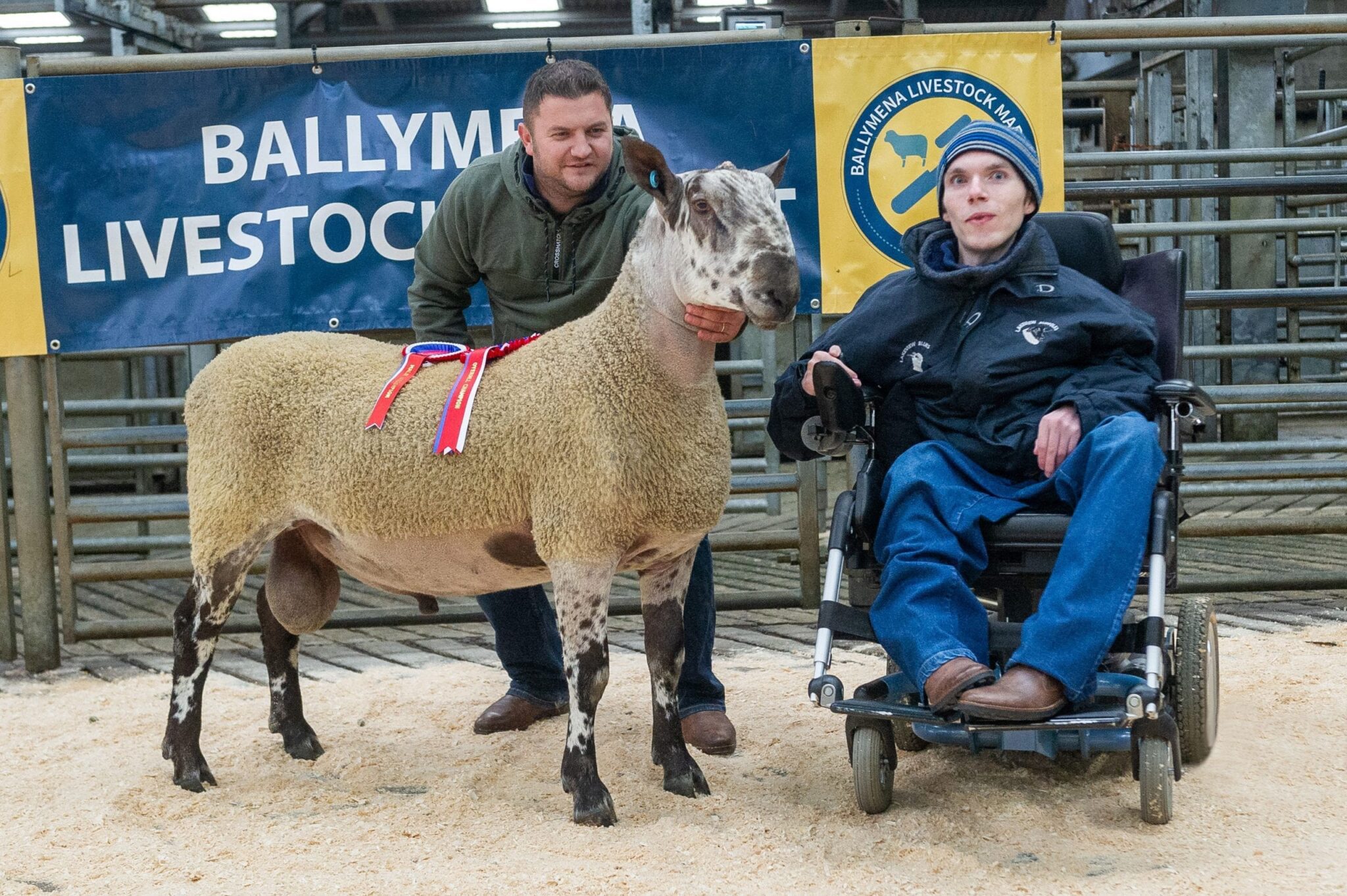 Ballymena Rams and Females
22nd September 2018
Ballymena
T Willoughby, Penhill
Once again Bluefaced Leicester Sheep in Ballymena were in great demand.   Averages fell slightly on the year but with 70 more sheep forward a good crowd, plenty of buyers this resulted in a tremendous clearance rate.
Topping the days trade was a cracking April born tup lamb from the Holmview Flock of J Adams & Sons, this lamb was 1st prize in the presale show and reserve overall, judged by Tom Willoughby, Penhill, by J1 Carryhouse in a 3 way split to Hugh Henry, Starbog, William & Michael Smyth, Foyleview and G & J Loughery, Temain at 7000gns.   The Holmview flock enjoyed a fantastic day also receiving 3800gns for another Carryhouse Son, selling to Graham Cooke, Gortin and R & S Hayes, Castledamph, and another 3200gns to Kieran McGrath, Donegal.   Joe Adams & sons were also awarded the Kerr memorial cup for the best pen of sheep an average just short of 2000gns for 12 lambs.   Michelle Wright also had a day to remember selling 2 ram lambs at 3000gns 1st being a J2 Dawyck son, selling to Craig Thornbrough buying back some of his own blood, and a K17 Drummuck son to Paul Samon, Tipperary, next in the lamb section Misty Burn received 2800gns for his G1 highberries son finding a new home with Brendan Blaney, Teivebuaile Farm.
The shearling section was topped by Graham & Julie Loughery, Temain selling their 1st shearling at 3600gns to Robert Loughery, Gortnarney and following that their second shearling selling at 3000gns to Arnold Douglas, Ballyhanna.    C Magill, Slaneburn followed at 2800gns to Sandra Hunter, Bushmills.   Lee Beacom Lakeview was awarded overall Champion with his 1st prize shearling a G4 Parkgatestone son, selling at 2500gns to Patrick Gallon, Castlederg.
The Female section was topped by G&J Loughery with a K5 Hegwill daughter selling across the water to Tom Willoughby, Penhill for 1200gns,   Declan McKillop, Giants Causeway received 1100gns twice and 1000gns for 3 females.
195 shearlings sold to average 851gns.
132 ram lambs sold to average 951gns
38 females sold to average 492gns.
Shearling Rams
| Placing | Class | Exhibitor | Flock Name | Lot Number |
| --- | --- | --- | --- | --- |
| 1st | Shearling Rams | L Beacom | Lakeview Farm | 101 |
| 2nd | Shearling Rams | C McGill | Slaneburn | 143 |
| 3rd | Shearling Rams | G & J Loughery | Temain | 48 |
| 4th | Shearling Rams | J Mills | Ballytober | 75 |
Ram Lambs
| Placing | Class | Exhibitor | Flock Name | Lot Number |
| --- | --- | --- | --- | --- |
| 1st | Ram Lambs | J Adams & Sons | Holmview | 360 |
| 2nd | Ram Lambs | Miss M Wright | Mullaghwee | 216 |
| 3rd | Ram Lambs | J Adams & Sons | Holmview | 361 |
| 4th | Ram Lambs | A & D McKillop | Giants Causeway | 287 |
Females
| Placing | Class | Exhibitor | Flock Name | Lot Number |
| --- | --- | --- | --- | --- |
| 1st | Females | R Graham | Tullyvallen (ewe lamb) | 408 |
| 2nd | Females | A & D McKillop | Giants Causeway (gimmer) | 378 |
| 3rd | Females | A & D McKillop | Giants Causeway (gimmer) | 388 |
| 4th | Females | G & J Loughery | Temain (ewe lamb) | 411 |
Bluefaced Champions
| Category | Exhibitor | Type |
| --- | --- | --- |
| Overall & Male Champion | L Beacom | Shearling Ram |
| Reserve Overall & Reserve Male Champion | J Adams & Sons | Ram Lamb |
| Female Champion | R Graham | Ewe Lamb |
| Reserve Female | A & D McKillop | Gimmer |
Gallery
Back to Archive