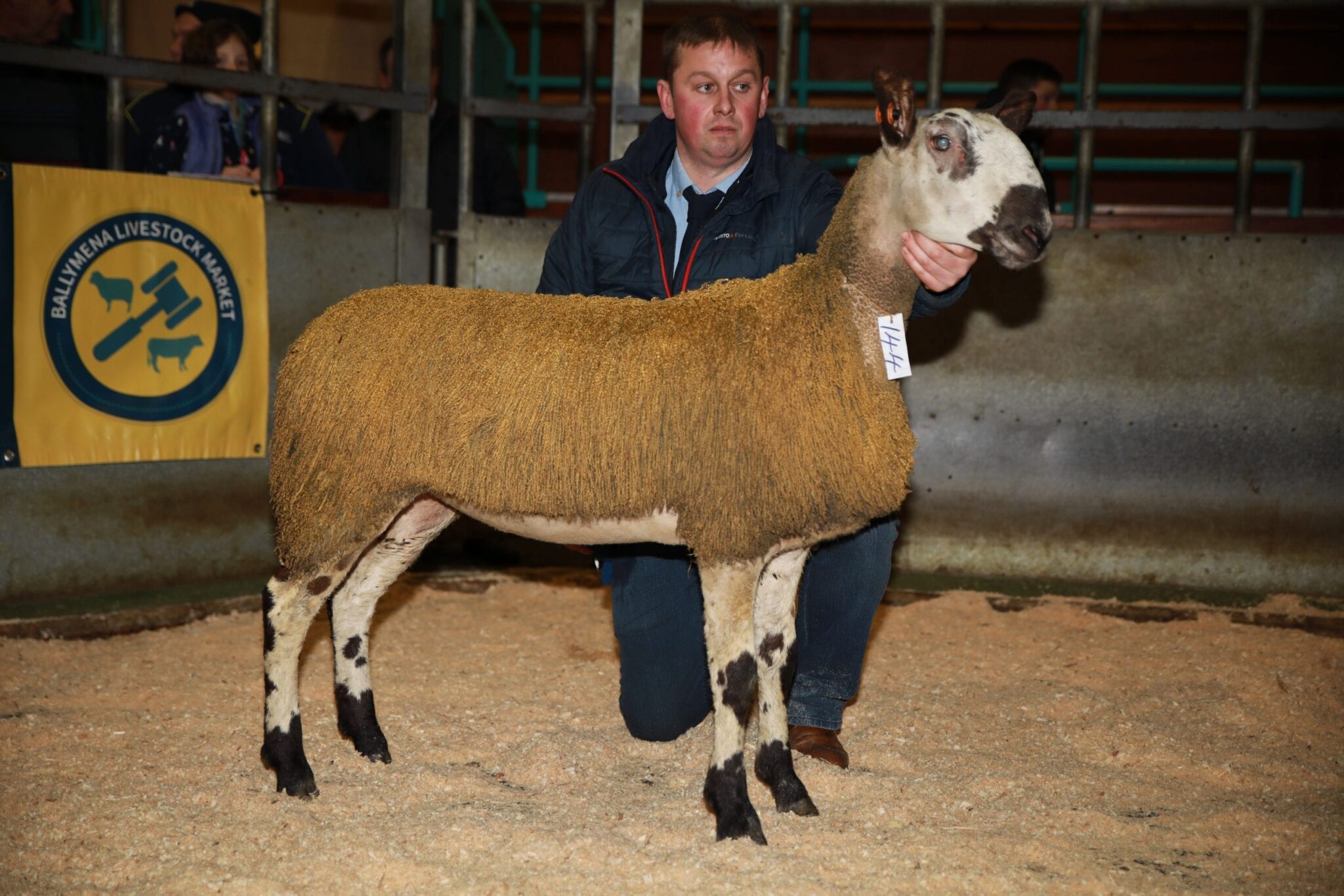 Ballymena Female Sale
13th January 2020
Ballymena
Mr J Loughery, Gortnarney
The blustery weather conditions did create a storming trade for the annual Bluefaced Leicester Female Sale. The opening of the first decade sale saw for the first time a live stream which was advantageous for telephone bids. The appetite for quality females was arguably greater than in previous years. Jonathan Loughrey took on the role of judging which gripped the attention of many buyers. William Adams collected the championship for his J1 Carryhouse Ewe Lamb and this was pursued with the Reserve Champion for his in Lamb Cottage Hogget carrying twins to J1 Carryhouse. The Temain flock banked first place with their in lamb by G1 Cottage ewe carrying triplets to L6 Firth. With a full clearance of all females presented on the night, the demand for the breed seemed stronger than ever.
Topping the evening's trade was a gimmer shearling from William Adams from the noted Holmview Flock. Standing first in her class and proceeding to lift the championship rosette at the pre-sale show, she travelled home with Alister Christie to The Fields Flock. This powerful and stylish lamb bred by F7 Firth ewe and the renowned J1 Carryhouse. J1 continued to highlight his success for William with yet another championship. William also secured £1150 for another J1 Carryhouse out of a Cottage ewe. Michelle Wright from the Mullaghwee also joined the triumph in the ewe lamb section managing to top her sale at £1000. Her modern K6 Elvan lamb from a C18 Highberries ewe saw the hammer tapping for Roger Hayes from the Castledamph Flock.
Declan Mc Killop from the Causeway had the challenging task of opening the sale, however the bloodlines in his pen forced the buyers to spend early. Declan secured £1500 twice for two hoggets in lamb for the much acclaimed Popeye. His J25 Happrew cross G4 Firth and H2 Giants Causeway attracted a lot of attention, both in lamb to L1 Farden and with his reputation ensured the bids kept coming in. His first lot fell to AC Pye and will be making her way across the water to join the Emmet's Flock. His second lot made her way to Kiernan M Fadden, Kiernan is gradually building upon his flock and is eager to inject the needed bloodlines to move forward.
William Adam's has always been noted for bringing some quality sheep to this sale and once again he didn't disappoint in the hogget section, unsurprisingly his J1 Carryhouse, F7 Firth carrying two lambs to H1 Cottage topped the hogget section. Fetching £1700 this correct and catchy ewe travelled to the Southern Region to first time blue buyer TJ Duffy Lanmore Livestock.
It certainly was a night to remember for the Temain Flock, Graham and Julie Loughrey's reduction sale attracted buyers from many parts, although not always there in flesh, the bidding still took place. Sales to the Southern Region along with Scotland saw the Temain flock top the price at £1800 in the in lamb ewe section for a G1 Cottage, F1 Firth Ewe. Colin Dick from the Hamildean flock remained a steady bidder throughout and will be no doubt waiting patiently on arrival of triplets to the L6 Firth. Testimony to the quality of their stock they maintained an excellent trade throughout. In the hogget section their K5 Hewgill, H1 Starbog carrying two to the 7K L1 Holmview excited many buyers, but Lee Elliot managed to stop the hammer at £1350. Gavin Browne from Donegal claimed ownership at £1200 for their 10K Hamildean, F1 Cottage carrying two lambs to L6 Firth. With buyers continuing to dig deep Graham and Julie saw prices reflective of their quality for the remaining lots. Andrew Riley from Limavady seized bidding at £1300 for their H1 Starbog, E16 Temain in lamb carrying triplets to L6 Firth. Gareth Tumelty from Downpatrick managed to cash in at £1100 for their stylish G1 Cottage, D2 Firth carrying twins to L6 Firth. On the success of Gavin Browne's showing throughout 2019 he made his selections to bank an array of well-known bloodlines and followed through to pick up another lot at £1100 from Temain. This J8 Redgate, C3 Midlock was deemed as a prefect recipe for him especially coming in lamb to K5 Hewgill. A bid of £1000 for Graham and Julie ended with a lot remaining more local, Victoria Workman was the final bidder for a G1 Cottage, C1 Shafthill ewe, in lamb carrying a single to their 7K L1 Holmview. William Adam's yet again featured in the top priced arena with a ewe by F7 Firth and out of a ewe by B10 Orravale which was full of power and carrying three lambs to J1 Carryhouse caught the eye of several breeders. The eventual purchaser was Lee Eliott, forcing to pay £1250.
Aged Ewes
| Placing | Class | Exhibitor | Flock Name | Lot Number |
| --- | --- | --- | --- | --- |
| 1st | Aged Ewes | G & J Loughery | Temain | 110 |
| 2nd | Aged Ewes | J Adams & Sons | Holmview | 140 |
| 3rd | Aged Ewes | G & J Loughery | Temain | 111 |
| 4th | Aged Ewes | J Adams & Sons | Holmview | 142 |
Hoggets
| Placing | Class | Exhibitor | Flock Name | Lot Number |
| --- | --- | --- | --- | --- |
| 1st | Hoggets | J Adams & Sons | Holmview | 139 |
| 2nd | Hoggets | D McKillop | Giants Causeway | 102 |
Ewe Lambs
| Placing | Class | Exhibitor | Flock Name | Lot Number |
| --- | --- | --- | --- | --- |
| 1st | Ewe Lambs | J Adams & Sons | Holmview | 144 |
| 2nd | Ewe Lambs | J Adams & Sons | Holmview | 145 |
| 3rd | Ewe Lambs | Michelle Wright | Mullaghwee | 153 |
| 4th | Ewe Lambs | R Hayes | Castledamph | 136 |
Bluefaced Champions
| Category | Exhibitor | Type |
| --- | --- | --- |
| Overall Champion | J Adams & Sons | Ewe Lamb |
| Reserve Overall Champion | J Adams & Sons | Hogget |
Gallery
Back to Archive