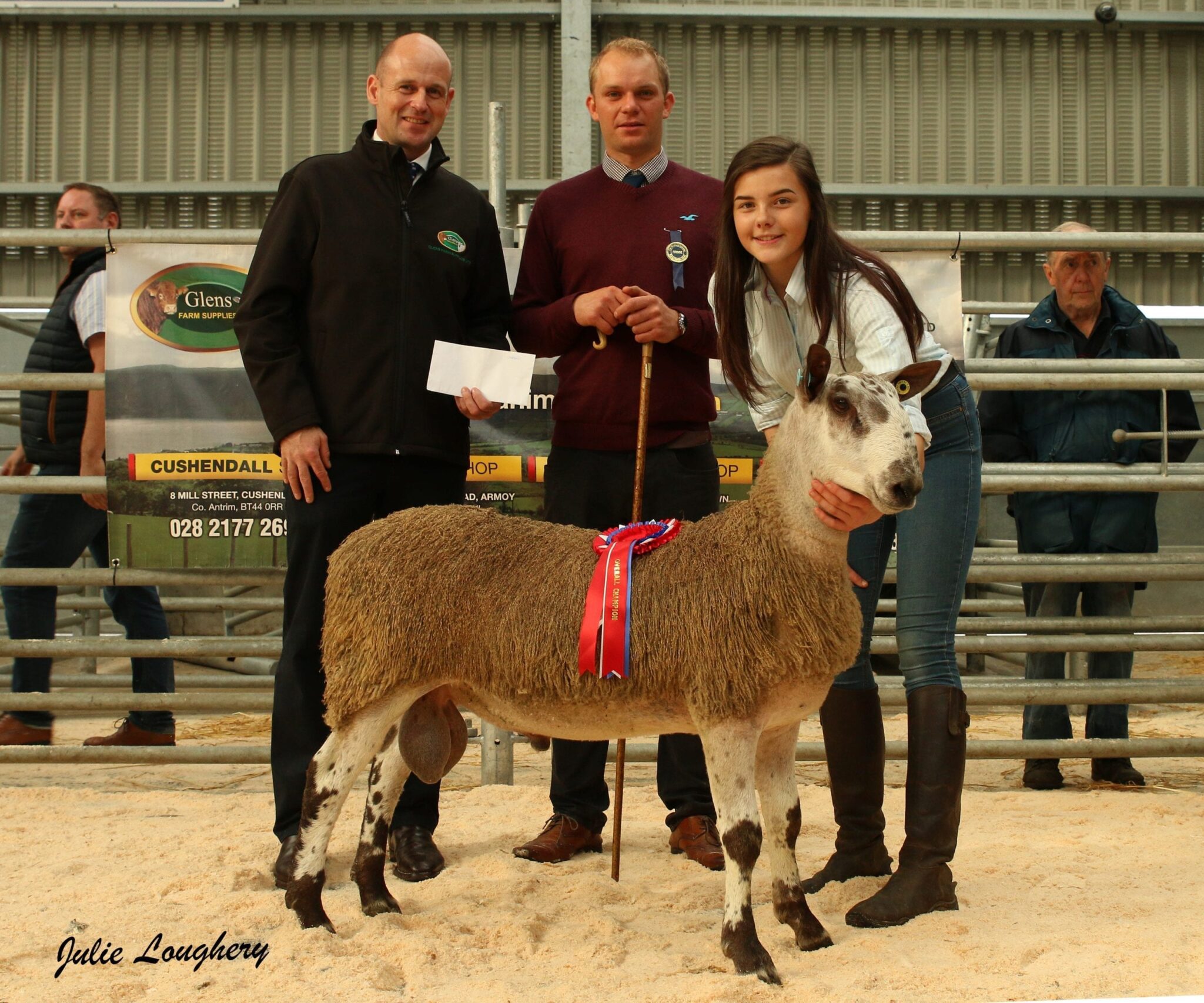 Ballymena Ram & Female Sale
23rd September 2017
Ballymena
Mr A Shennan, Farden
All roads lead to Ballymena Market on Saturday 23rd September for the annual Bluefaced Leicester sale. A full export sale was held and resulted in a massive crowd from both sides of the border. Mule sales had been up on the year and with a favourable exchange rate between the pound and the euro, the Southern Irish Breeders really made their presence felt.
It was a tremendous trade all day with records smashed, and the highlight of the day was the first ram lamb from Dominic and Gerry McCrystal's Drummuck flock K17 sired by the H1 34,000 Kirkby Redgate, selling at 15,000 gns to the Mullaghwee flock of Michelle Wright. The dam out of E1 Hewgill was purchased from the Midlock flock in January at Carlisle. This couldn't have come at a better time for Dominic getting married later in the year. Next top of the day was from Blaney's Tievebuaile Farm flock for their K1 sired by H1 Tievebuaile Farm, selling at 7500 gns to the Giants Causeway flock of Declan McKillop. Brendan Blaney also received 2800 gns for K2 by the same sire selling to Colin and Joan Coulter, Carrick Rock. He also had the top lamb average of 2214 gns for 7. Michelle Wright, Mullaghwee had a day to remember as well. Alan Shennan, Farden Farms found his presale Champion in the Mullaghwee pen with the 1st prize ram lamb K18 sired by J2 Dawyck later selling at 2800 gns to Paul Sammon, Tipperary. Michelle's first lamb in the pen K1 sired by G4 Parkgatestone was another highlight of the day previously being champion at Ballymena Show and 1st at Antrim Show selling at 5500 gns to Mr Staunton, Mayo. Lee Beacom, Lakeview Blues receiving 2800 gns for his K3 lamb sired by G4 Parkgatestone, finding a new home with Eamon and Phil McCormick, Brablagh.
The shearling section was topped by Graham and Julie Loughery, Temain at 4600 gns for J10 sired by G1 Cottage selling to Martin Kelly, Freehall with half share being retained. Graham and Julie also received 3200 gns for J12 another G1 Cottage son, selling to Matt and Robert Workman, Kilwaughter. The Temain flock also had the leading shearling average of 1760 gns for 12. Timothy Wray, Knockstacken was awarded reserve champion at the presale show with his first prize shearling by G4 Newbigging Walls later selling at 2000 gns to Brian Mullan, Limavady. Alan Shennan awarded Timothy with the Kerr Memorial Cup for best pen of tups in the sale, later averaging an impressive 1376 gns for 19.
Brendan Blaney, Tievebuaile Farm topped the female section at 1600 gns for the Champion female by H1 Tievebuaile Farm selling to Paul O'Connor, Drumgooland.
It was a tremendous sale with averages well up. Shearling average 984 gns up 181 gns for 13 more sold. Ram lambs averaged 1071 gns up 355 gns for 24 more sold. Females averaged 494 gns up 100 gns for 17 more sold.
Shearling Rams
| Placing | Class | Exhibitor | Flock Name |
| --- | --- | --- | --- |
| 1st | Shearling Rams | T Wray | Knockstacken |
| 2nd | Shearling Rams | O & F Mckenny | Darragh |
| 3rd | Shearling Rams | T Wray | Knockstacken |
| 4th | Shearling Rams | O & F McKenny | Darragh |
Ram Lambs
| Placing | Class | Exhibitor | Flock Name |
| --- | --- | --- | --- |
| 1st | Ram Lambs | Miss M Wright | Mullaghewee |
| 2nd | Ram Lambs | L Beacom | Lakeview Farm |
| 3rd | Ram Lambs | Miss M Wright | Mullaghewee |
| 4th | Ram Lambs | L Beacom | Lakeview Farm |
Females
| Placing | Class | Exhibitor | Flock Name |
| --- | --- | --- | --- |
| 1st | Females | B Blaney | Tievebuaile Farm |
| 2nd | Females | L Beacom | Lakeview Farm |
| 3rd | Females | E McKeegan | Glenane |
| 4th | Females | E McKeegan | Glenane |
Bluefaced Champions
| Category | Exhibitor | Type |
| --- | --- | --- |
| Overall Champion & Male Champion | Miss M Wright | Ram Lamb |
| Res. Overall Champion & Res. Male Champion | T Wray | Shearling Ram |
| Female Champion | B Blaney | Female |
Gallery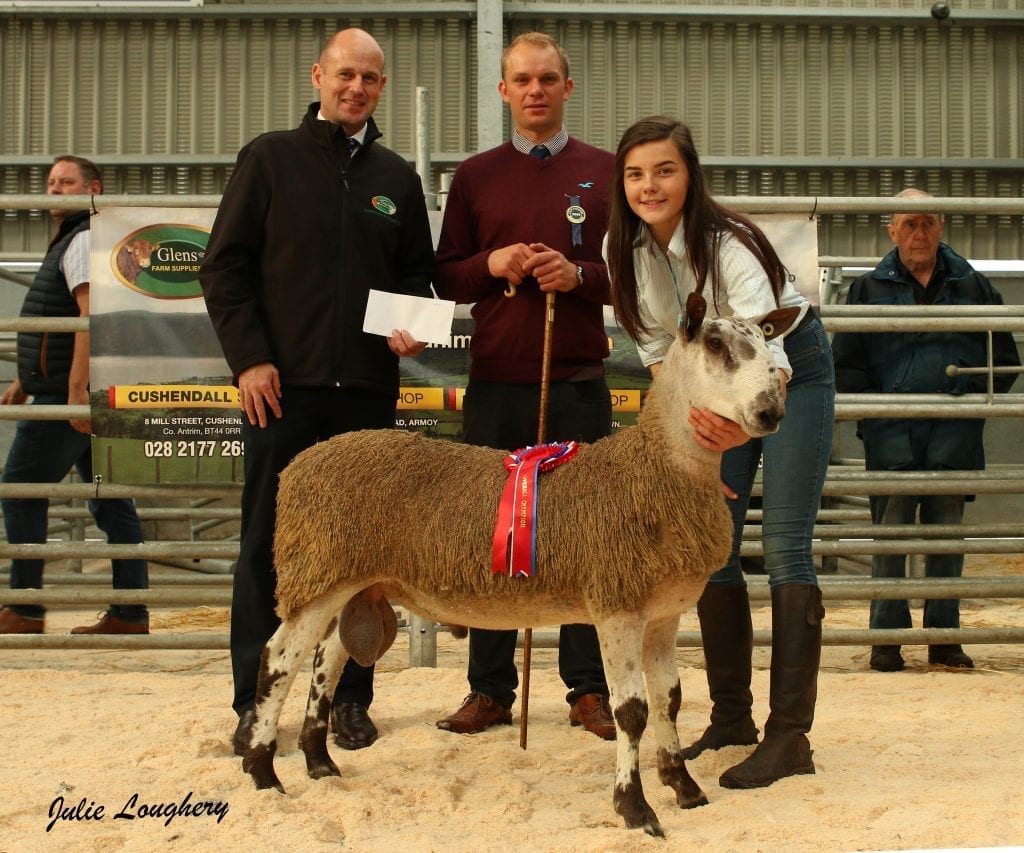 Ballymena Champion 2017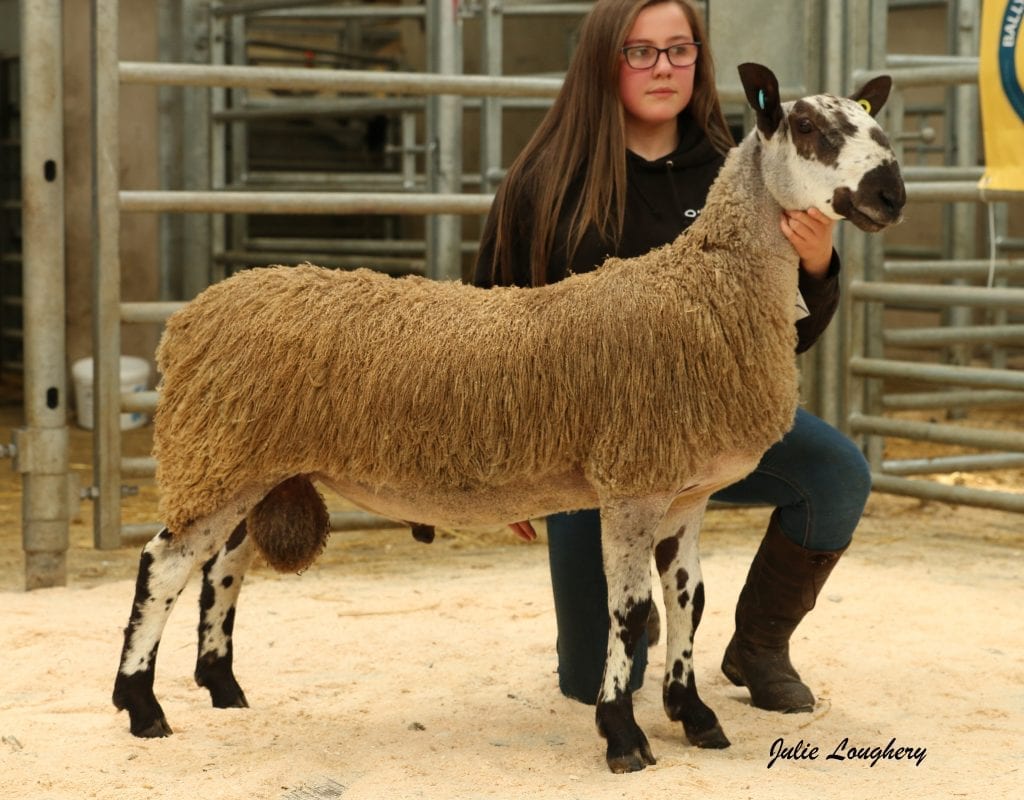 Ballymena 3rd highest price 2017 - 5500gns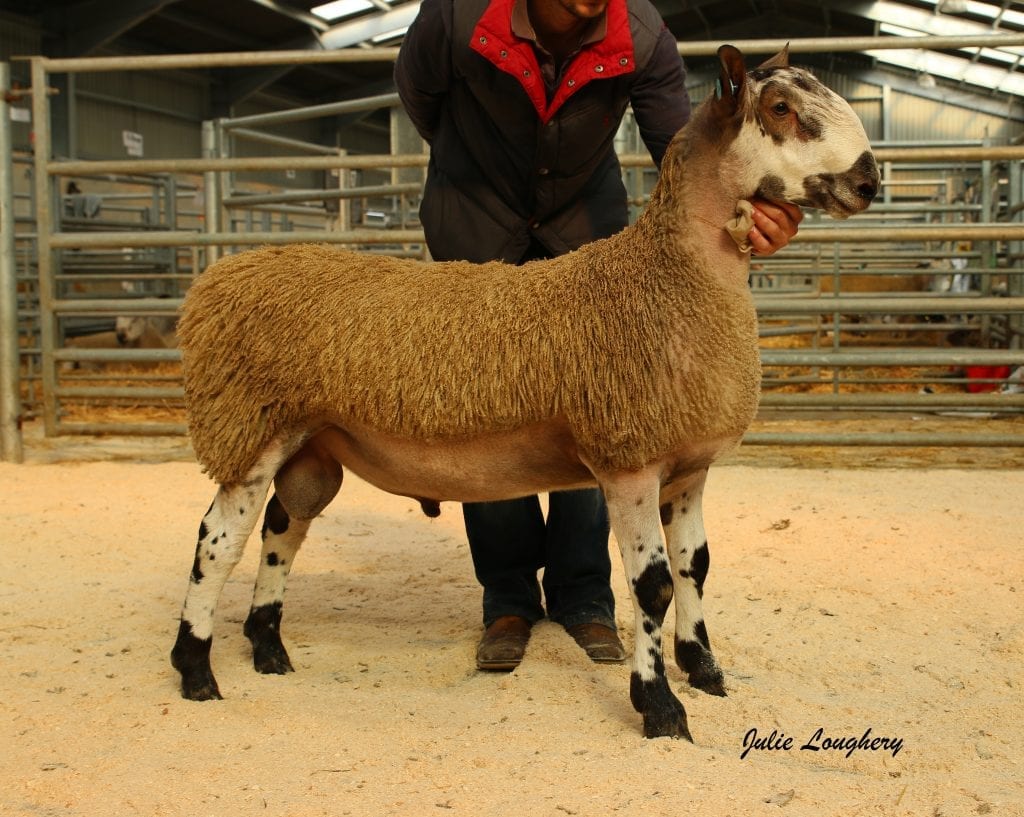 Ballymena 2nd highest price 2017 7500gns
Back to Archive