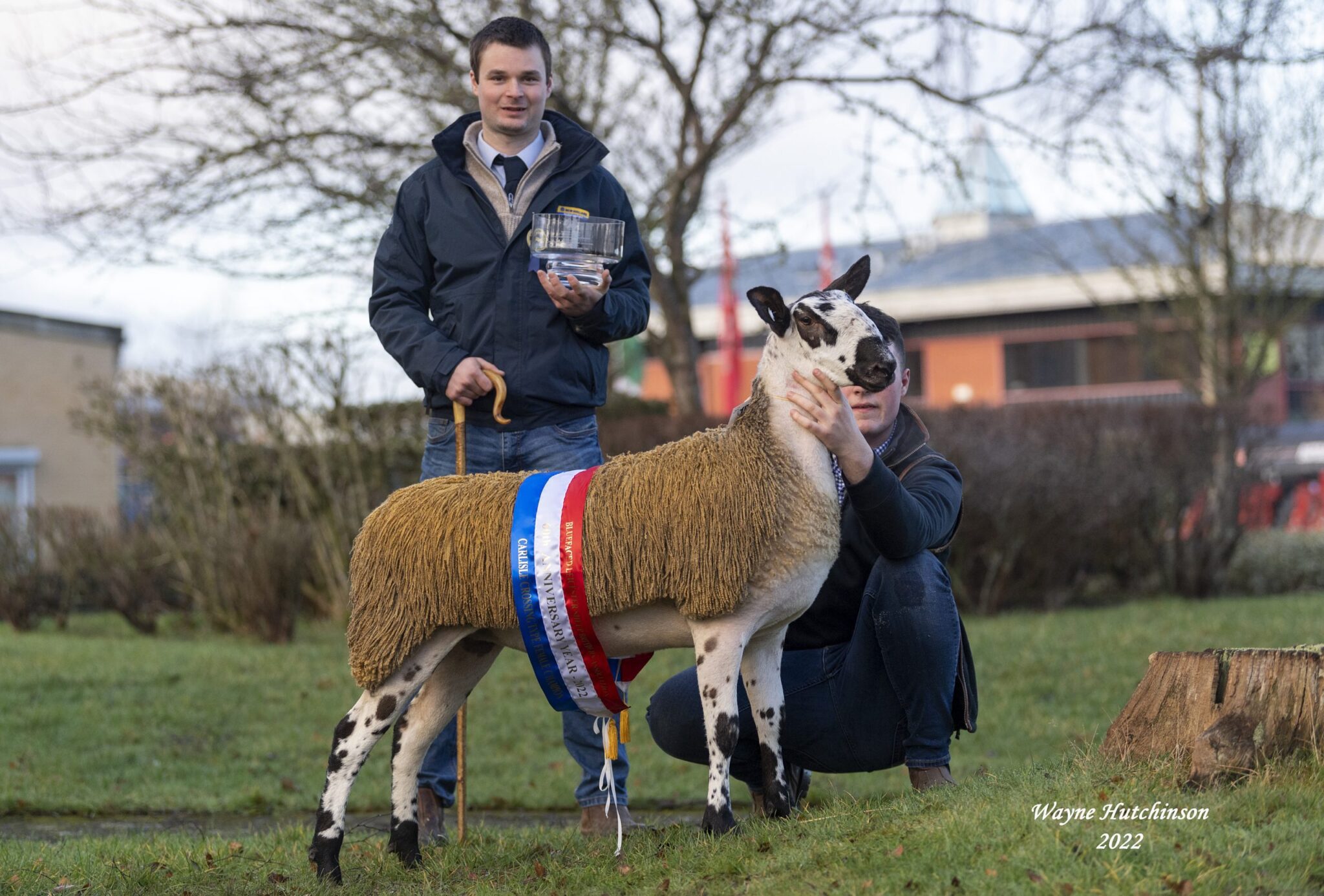 Carlisle – Classy Lassies – 17th January, 2022
17th January 2022
Harrison & Hetherington, Carlisle
Mr Matthew Emmott, Wythop Hall
Classy Lassies 2022
A packed ringside at Carlisle saw a great trade for the "Classy Lassies" sale of the Crossing type of Blue Faced Leicester's, with buyers from all over the country in attendance, and those who couldn't make it were keeping the mart staff busy on the telephones as bids poured in as quick as the auctioneers could take them, especially for those sheep with the best crossing bloodlines in them.
Topping the days trade were two separate bids of 8000gns for gimmer hoggs. The first came early in the sale as the Midlock flock from Alan & Ben Wight set the tempo of the day. Their consignment of gimmers certainly caught the eye, but it was their gimmer hogg which took the plaudits, taking the days reserve championship after coming second in a strong class to the eventual champion. This stylish hogg is by the N24 Marriforth and is from the flocks most influential lines, with the mother by the £37,000 Kirkby Redgate and its grandmother a full sister to some of the more noted sires in the breed such as the £15,000 Knight Rider and Midlock G34 and G35, both selling for 5 figures. She was knocked down after some fierce bidding for 8000gns, selling to Alison Bastian, Rowandale. The rest of the Midlock consignment sold like hot cakes, with their first prize gimmer shearling topping their trade selling to 4500gns. This sweet sheep by the M3 Blarnavaid was carrying twins to M1 Riddings and again sold to Alison Bastian. The whole pen of gimmers averaged out at a shade over £2200, underlining the popularity and reputation of these top-notch breeders.
Later in the sale it was Richard Hutchinson from Kirkby Redgate to get a chance to shine in the spotlight as his much-admired gimmer hogg strode into the ring. A very modern type of sheep it had some good colouring and a great skin along with plenty of attitude. She is by the £8000 M1 Skeughdale and its mother by a Sealhouses, going back to some strong crossing lines including D17 Hewgill and is the full sister to a gimmer Richard sold online a couple of weeks back for an online record price of 7000gns. This one was bought by Burrows & Rutter Armstrong, Langwathby Hall, Penrith, who were on a shopping trip to start a new flock, the Howgate flock, based at Cliburn, Penrith and took a trailer load of top-notch sheep home to start with.
Richards second through the ring made 5000gns this one is a daughter of the K21 Hewgill which has done for the Kirkby Redgate flock, which saw a great run of mule gimmers last autumn, and on its mothers, lines goes back to the ewe which produced the 11,000gns gimmer they sold a number of years back. This one sold to DG Sayers, Northallerton.
It was a day to remember for Alec and Anders Brown, Macqueston, as they took the the pre-sale show championship, ably judged by Matthew Emmott, Wythop Hall, with a cracking gimmer hogg, which oozed pure quality, with eye catching dazzling white on her and a great skin and confirmation. She was a stand-out gimmer and a deserved champion. She is by the Farden M1, which is doing well within the flock, producing some great mules and Leicesters for the rising Macqueston flock and out of a great ewe by the K26 Hewgill and provided them with a first championship ticket at Carlisle and a top price for the flock in the gimmer lines, selling for 7500gns to Robert Loughridge, Orravale.
The Hewgill flock always offer a great pen of hoggs at the January sales and this year was no different. Their first hogg was by the L7 Riddings which they purchased at Kirkby Stephen a few years back, and has gone on to perform well, selling a number of high-priced tup lambs by him, and out of a great breeding ewe by the E1 Hewgill. She was a long, tall well made hogg and sold for 7000gns, selling to Shaun Procter, Villa Farm, Musgrave, who was determined to land this classy lass. A full sister to her was bought by Phil Pye, Emmott's, Lancaster, who dug deep into his pocket and paid 5000gns to take her home.
Topping the gimmer trade was a smart shearling from John and Mandy Smith-Jackson in the final part of their Shafthill major reduction sale, the first part being last year, where the ewes were sold and have gone and done well for their purchasers. His sale topped at 5000gns for a powerful ewe by the L10 Blarnavaid and out of a good ewe by Midlock G6 and carrying 4 to the E1 Smearsett, a son of the D15 Smearsett. Final bidder for this was Martin Allan, Greenhow. The Shafthill flock enjoyed a good trade throughout, averaging out at over £2600, with several of these sheep heading to the new Howgate flock.
Sale Averages:
10 Aged Ewes @ £1218
54 Gimmers @ £1869.58
26 Ewe Hoggs @ £2572.50
Aged Ewes
| Placing | Class | Exhibitor | Flock Name | Lot Number |
| --- | --- | --- | --- | --- |
| 1st | Aged Ewes | N C Marston | Highberries | 109 |
| 2nd | Aged Ewes | Messrs Lawson & Sons | Hundith | 69 |
| 3rd | Aged Ewes | J Stenton | St Ravenscar | 62 |
| 4th | Aged Ewes | J Stenton | St Ravenscar | 63 |
Gimmers
| Placing | Class | Exhibitor | Flock Name | Lot Number |
| --- | --- | --- | --- | --- |
| 1st | Gimmers | J Wight & Sons | Midlock | 17 |
| 2nd | Gimmers | M R Thornborrow | Dawyck | 13 |
| 3rd | Gimmers | J Wight & Sons | Midlock | 19 |
| 4th | Gimmers | A Brown | Macqueston | 100 |
| 5th | Gimmers | J K Hunter | Glen | 72 |
| 6th | Gimmers | J K Hunter | Glen | 73 |
Ewe Hoggs
| Placing | Class | Exhibitor | Flock Name | Lot Number |
| --- | --- | --- | --- | --- |
| 1st | Ewe Hoggs | A Brown | Macqueston | 102 |
| 2nd | Ewe Hoggs | J Wight & Sons | Midlock | 31 |
| 3rd | Ewe Hoggs | Messrs Lord | Hewgill | 117 |
| 4th | Ewe Hoggs | Messrs Lord | Hewgill | 116 |
| 5th | Ewe Hoggs | C T & J E Willoughby | Penhill | 98 |
| 6th | Ewe Hoggs | M W & C M Ridley | Shitlington | 1 |
Bluefaced Champions
| Category | Exhibitor | Type |
| --- | --- | --- |
| Overall Champion | A Brown | Ewe Hogg |
| Reserve Overall Champion | J Wight & Sons | Ewe Hogg |
Gallery
Back to Archive