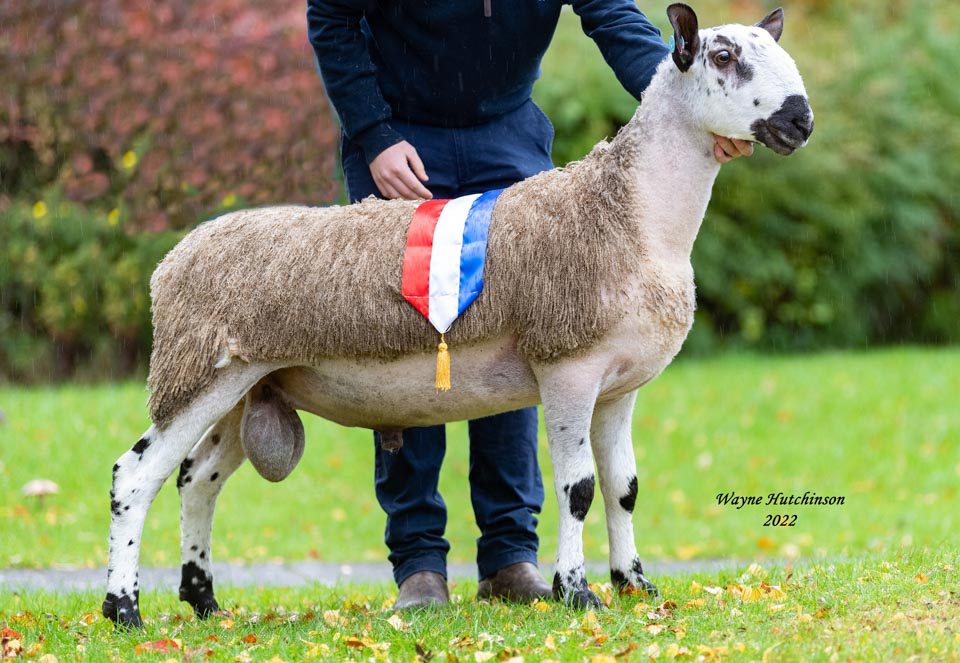 Carlisle – Crossing Type – 7th October, 2022
7th October 2022
Carlisle
Mr John Stott, Laund
Carlisle – Friday 7th October, 2022
Kindly Sponsored by Allflex Livestock Intelligence
The final instalment for the Bluefaced Leicester sale season on the mainland and as a manic season draws to a close, there were still plenty of fireworks still to go off as buyers and sellers from all over the UK flocked to Borderway Mart at Carlisle, which saw the biggest sale of the year for the breed with 972 sheep catalogued to go under the hammer through the three sale rings in operation. A day which set off in torrential rain and finished in glorious sunshine, had plenty of highlights for the sellers there.
In the Crossing type rings, again trade was strong for the best of the sheep, with buyers looking for good big strong sheep with good confirmation and bloodlines. The atmosphere was as red hot as at Hawes the previous week, but still there were plenty of buyers looking to take home a new tup or two.
Top of the tree in this section was the Browell family from Quarry House, Hexham, who had a good pen of tups on offer and following on from a strong showing of mule gimmers at Hexham, where they averaged £155 for their run of 155 lambs. Their sale topper was by a Dawyck tup that they bought out of Carlisle last year for £5500. He had 3 lambs in their top pen and his pen of lambs here at Carlisle certainly caught the eye. His mother was by a Carry House tup, going back to the Highberries Highlander. He sold in a three-way split to Steel, Carry House and Lands Farm landing him for £12,000. Quarry Houses number two lamb went on to make £4000, this one selling north of the Border to Sandy Ainslie, Linkshead.
Dawyck followed up a cracking trade from Hawes, selling early in the dale to a top of £10,000 for a smart lamb by the M2 Smearsett, a son of Ted, one of the top mule breeders in the North of England, out of a ewe by Hewgill M1. This one was bought by Finlay Robertson, Beeches, reinvesting some of his proceeds made at Hawes the previous week. They also had a full brother to the £17,000 lamb from Hawes last week, by the £65,000 Riddings and out of L45 Dawyck, the flocks top breeding ewe. This one sold for £7000 to Messrs Lockhart, Lagganpark and H Rorison, Tynron.
The Steel pen from Andrew and Caroline Hunter certainly drew in the punters, with a pen of smart stylish lambs, full of great breeding and proven crossing bloodlines. Their topper stood third in the pre-sale show and was by the £8500 Spurrigg bought out of Hawes last year, and has done well for Steel, selling one to £10,000 at Hawes last week and another in a private deal at home for £30,000. This one at Carlisle was out of a ewe by Carry House Flash and sold for 8000gns in a three-way split with Dawyck, Shittlington and Spurrigg clubbing together to land this cocky lamb. His twin brother went on to make 4000gnsand two other Spurrigg sired lambs hit £4000 and £2000 whilst the last from the Steel, by a Nunscleugh, weighed in at £5500, completing a great day for the family.
Hewgill landed the red, white, and blue ticket in the show, early in the morning and their Champion, picked out by judge John Stott, was by the Marriforth and out of a ewe by Hewgill M39 went on to make £6000, selling to Martyn Archer, Carry House and the Hunters from Steel. However, it was the second lamb in the pen with topped their trade, when another Marriforth son, this one out of a Riddings L7 sired ewe, took a step further, with the gavel landing at £7500 for him and James Mills, Ballytober forking out the readies for him.
Topping the shearling and aged ram ring was a massive tup from Midlock, by their homebred tup Zeus out of a ewe by the G19 Highberries which has being doing well for the flock. This monster heads down into Anglesey to the Myfrian X flock from Gareth Roberts, who paid £4500 for his services.
Averages
Crossing Type
4 Aged Rams                                      £  912.50
127 Shearling Rams                           £  745.43
254 Ram Lambs                                  £1175.20
2 Shearling Gimmers                         £  250.00
5 Ewe Lambs                                      £  200.00
Aged Rams
| Placing | Class | Exhibitor | Flock Name | Lot Number |
| --- | --- | --- | --- | --- |
| 1st | Aged Rams | J Stenton | St Ravenscar | 1033 |
Shearling Rams
| Placing | Class | Exhibitor | Flock Name | Lot Number |
| --- | --- | --- | --- | --- |
| 1st | Shearling Rams | J Herdman | Edlingham | 934 |
| 2nd | Shearling Rams | J R F Pattinson | Hott Bank | 1021 |
| 3rd | Shearling Rams | J Herdman | Edlingham | 936 |
| 4th | Shearling Rams | J R F Pattinson | Hott Bank | 1022 |
Ram Lambs
| Placing | Class | Exhibitor | Flock Name | Lot Number |
| --- | --- | --- | --- | --- |
| 1st | Ram Lambs | Messrs Lord | Hewgill | 716 |
| 2nd | Ram Lambs | J W Smith-Jackson | Shafthill | 557 |
| 3rd | Ram Lambs | J Hunter & Sons | Steel | 640 |
| 4th | Ram Lambs | W C Porter & Son | Riddings | 594 |
| 5th | Ram Lambs | J Warnock & Sons | Coultermuir | 709 |
| 6th | Ram Lambs | W D Barrowman | Mid Knockglass | 873 |
Gimmers
| Placing | Class | Exhibitor | Flock Name | Lot Number |
| --- | --- | --- | --- | --- |
| 1st | Gimmers | J G German | Old Thorne | 1047 |
| 2nd | Gimmers | J G German | Old Thorne | 1046 |
Ewe Lambs
| Placing | Class | Exhibitor | Flock Name | Lot Number |
| --- | --- | --- | --- | --- |
| 1st | Ewe Lambs | J G German | Old Thorne | 1050 |
| 2nd | Ewe Lambs | J G German | Old Thorne | 1049 |
Bluefaced Champions
| Category | Exhibitor | Type |
| --- | --- | --- |
| Male Champion | Messrs Lord | Ram Lamb |
| Reserve Male Champion | J Stenton | Aged Ram |
| Female Champion | J G German | Gimmer |
| Reserve Female Champion | J G German | Second Prize Gimmer |
| Overall Champion | Messrs Lord | Ram Lamb |
| Reserve Overall Champion | J Stenton | Aged Ram |
Gallery
Back to Archive