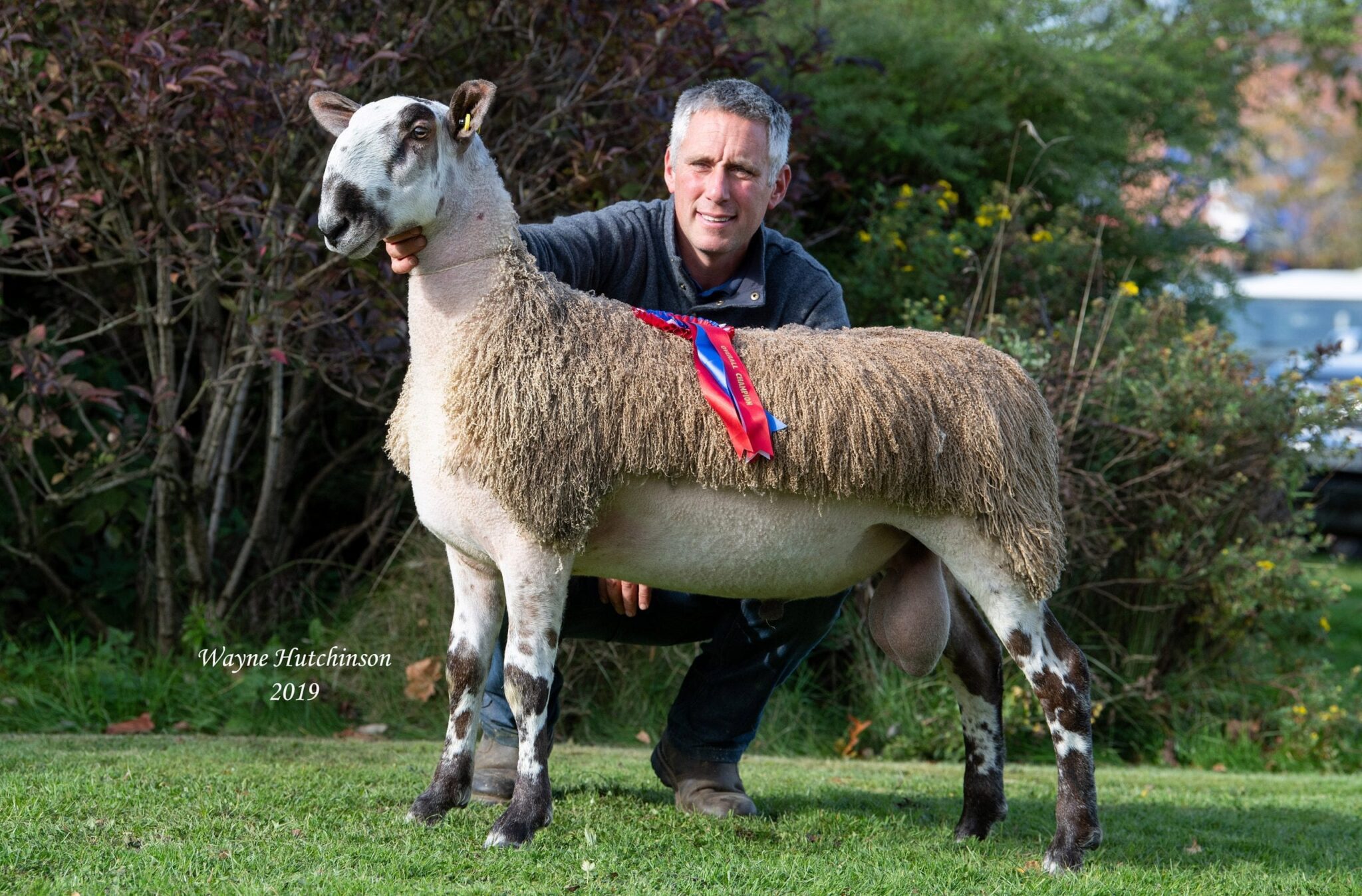 Carlisle Crossing Type Rams & Females
11th October 2019
Carlisle
P Heard, Yelland (Rams), Mrs R Caton, Otterburn Lodge (Females)
Kindly Sponsored by Allflex (UK) Group Ltd & Natural Stockcare
The Blue Faced Leicester juggernaut rolled into Carlisle for the last major sale of the season, with just under 1200 sheep entered into the sale, there was always going to be plenty of choice for punters, with all types available to suit all budgets. The averages were down across the board with buyers selecting only the best sheep on offer to chase in the ring and early trading was hard work for the auctioneers, with all 3 rings seeing the number of sheep sold down on the year, but the trade seemed to slowly firm up all day as many buyers realised this would be the last big chance to make purchases this season.
Topping the days trade was a powerful lamb from Jamie Pirie, who has enjoyed a great seasons trading, averaging over £2200 at the three sales he has sold at, namely Kelso, Hawes and Carlisle. His first lamb, by the record breaking £37,000 Midlock, which has been a good investment for Jamie, certainly attracted the attention all day and it entered the ring with a sense of expectation. The bidding set of briskly enough and topped out at 7500gns for this lamb out of a homebred ewe by the £11,000 Firth tup bought out of Hawes a few years back.  As with many of the top lots this season, his services were acquired by a syndicate, with four Scottish buyers clubbing together to take him back over the border, with Midlock, Clayland, Cretlevane and the Saltaire flocks all getting a leg in him.
Another Scottish breeder on the up enjoyed a good day at the sale as the Dawyck flock from the Thornborrow family showed one of the picks of the sale, with an April born tup lamb by their homebred "Krackpot" tup a full brother to the £7000 tup they sold to Nunscleugh last year, by the £23,000 Carry House and out of a ewe by K1 Shafthill, which they showed as a lamb at the Highland Show, and now is one of the flocks best breeding ewes. He sold for 5800gns to James Forbes, Clunebeg Farm, Pitlochry.
Making a personal best on a difficult years trading was Jim Thomson from J&D Blues, who runs only 12 ewes, with a flashy tup lamb by the Old Hemley J22. This corker of a lamb is out of the flock's best ewes, which was champion at Dumfries a few years back. It sold for 5000gns to A&W Barrow, Mid Knockglass, Stranraer, eclipsing his previous best which he sold a few years back at Castle Douglas. Its twin went on to make 2000gns to Robert McTurk, completing a great day for the flock.
Another small flock of only a dozen ewes enjoyed a good day out too as Amy Campbell matched last years offering as she again hit 4500gns with her tup lamb Glenrath M1. This Monster of a lamb was by the H2 Carry House out of a Firth bred ewe bought for £6500 by the Midlock Big Ben. It was the first time out for the lamb and makes his new home with Obie Sharp, Newbigging Wells.
Champion at the pre-sale show, again generously sponsored by Allflex, was an eye-catching lamb from the Kirkby Redgate flock, by the £18,000 Shafthill which has done so well in the flock and out of a ewe by Hewgill Stork. It sold for 2200gns to Seal Houses, Arkengarthdale. The reserve champion was a strong lamb from Michael James, Duhonw. This lamb was early in and was by the homebred H45 Duhonw, a son of the aforementioned Hewgill Stork, and sold for 1400gns to K&C Ward, Whitby. Michael also sold a young Mid-April born lamb, entered initially for Hawes, but brought in as a substitute when they couldn't make it to Hawes due to a back injury. This sharp lamb by J7 Old Hemley made 3500gns, joining the trip home with the Glenrath lamb to Newbigging Wells.
249 Lamb Rams                                £783.41
139 Aged/Shearling Rams             £484.89
21 Females                                         £225.71
Shearling Rams
| Placing | Class | Exhibitor | Flock Name | Lot Number |
| --- | --- | --- | --- | --- |
| 1st | Shearling Rams | A Murray | Sewingshields | 515 |
| 2nd | Shearling Rams | J Browell & Sons | Quarry House | 703 |
| 3rd | Shearling Rams | I R Craig | Hanging Wells | 563 |
| 4th | Shearling Rams | J R F Pattinson | Hottbank | 578 |
Ram Lambs
| Placing | Class | Exhibitor | Flock Name | Lot Number |
| --- | --- | --- | --- | --- |
| 1st | Ram Lambs | W M Hutchinson & Sons | Kirkby Redgate | 265 |
| 2nd | Ram Lambs | M James | Duhonw | 49 |
| 3rd | Ram Lambs | A Ainslie | Linkshead | 402 |
| 4th | Ram Lambs | C R & E S Millican | Hassiewells | 238 |
Shearling Gimmers
| Placing | Class | Exhibitor | Flock Name | Lot Number |
| --- | --- | --- | --- | --- |
| 1st | Shearling Gimmers | I Borthwick | Broomie Bank | 504 |
| 2nd | Shearling Gimmers | D I L & E Jones | Llanilltyd | 490 |
| 3rd | Shearling Gimmers | K & C Ward | Kimrina | 481 |
| 4th | Shearling Gimmers | D I L & E Jones | Llanilltyd | 489 |
Ewe Lambs
| Placing | Class | Exhibitor | Flock Name | Lot Number |
| --- | --- | --- | --- | --- |
| 1st | Ewe Lambs | D I L & E Jones | Llanilltyd | 492 |
| 2nd | Ewe Lambs | G T Davies & Son | Ty-Gwyn | 498 |
| 3rd | Ewe Lambs | J H Critchlow | Paddhen | 502 |
| 4th | Ewe Lambs | I Borthwick | Broomie Bank | 506 |
Bluefaced Champions
| Category | Exhibitor | Type |
| --- | --- | --- |
| Overall & Male Champion | W M Hutchinson & Sons | Ram Lamb |
| Reserve Overall & Reserve Male Champion | M James | Ram Lamb |
| Female Champion | D I L & E Jones | Ewe Lamb |
| Reserve Champion | I Borthwick | Shearling Gimmer |
Gallery
Back to Archive