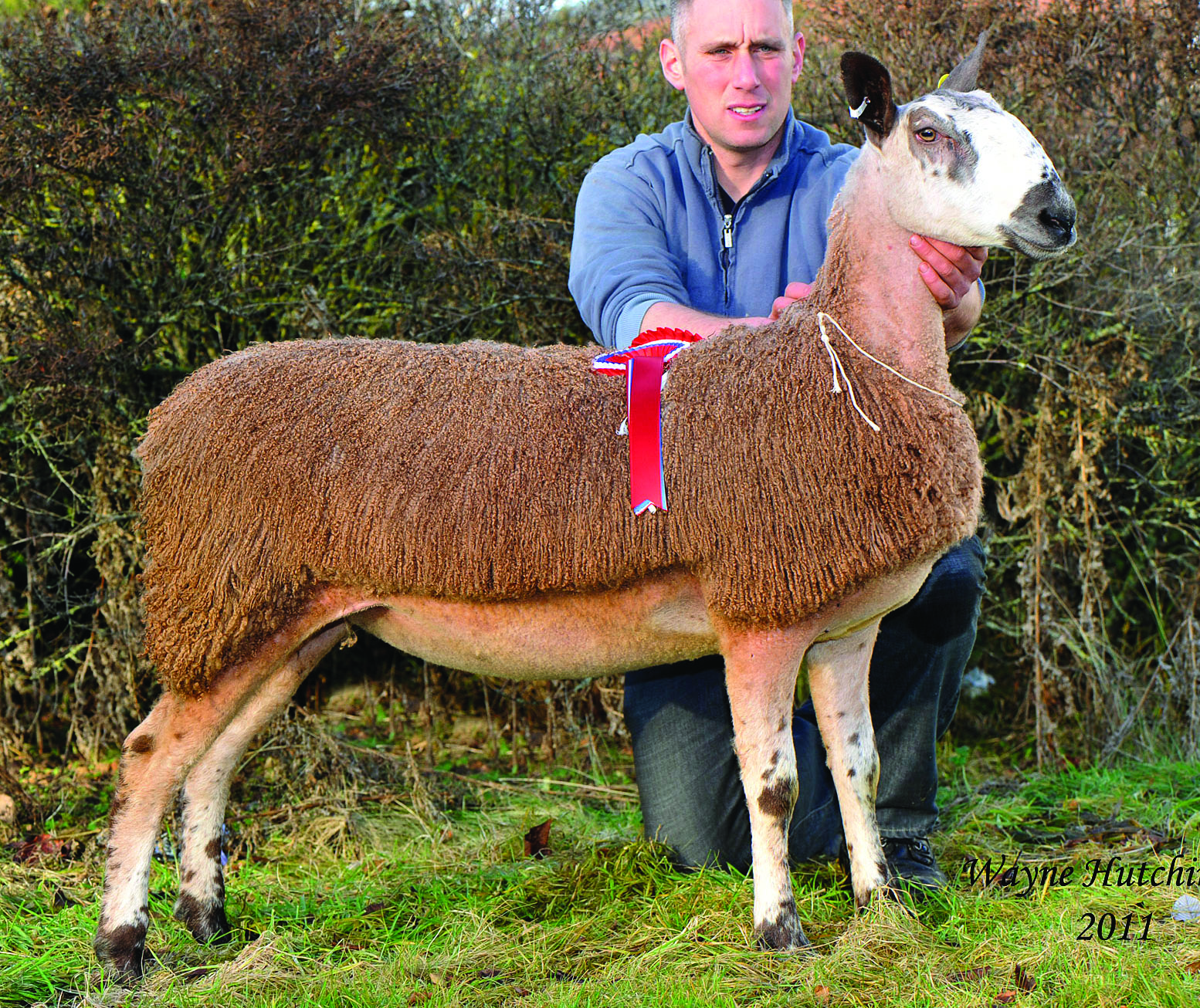 Carlisle Female Sale 2011
17th January 2011
Carlisle
Mr G Taylor, Swathburn
If 2011 continues the way it set off, the Bluefaced Leicester breeders will have a bumper year indeed. After the flying trade of last year there was no let up in the bidding at the Association's first sale of the year for in-lamb ewes at Carlisle. Buyers from all over the country converged on the mart, eager to buy into some great bloodlines, of both crossing and traditional stocks.
The day's champion, picked by respected Mule breeder, Geoff Taylor from Swathburn, came from Richard Hutchinson's Kirkby Redgate flock with a cracking gimmer hogg. She was picked out for her style and power and had plenty of followers when she came into a packed ring. The bidding was fast and furious with the hammer eventually dropping at 6900 gns, a breed record for a female at an official Association sale. The lamb, by the £11,000 A1 Hewgill and out of a ewe by the noted W1 Keer was bought by Hugh Henry, Starbog, and Graham & Julie Loughery, Temain from Northern Ireland. The Northern Irish made their presence felt with several other high profile buys later in the sale too.
The reserve championship ticket went the Hewgill flock from Messrs Lord who had a great trade with their three sheep forward. The Lords are noted Mule breeders and demand for their bloodlines is seemingly insatiable as breeders try to tap into the seam. Their reserve sold for 2000 gns to Tom Willoughby from the Penhill flock, whilst the other Z14 Hewgill sired lamb which had stood 3rd in the show caught the eye of James Porter, Riddings, and he took her all the way to 4800 gns. Scottish breeder Jimmy Bell, Cottage, bought a gimmer shearling from the Hewgill flock for 2600 gns, which was the joint top price for in-lamb sheep. She is the full sister to the Z14 Hewgill which has been doing very well in the Hewgill flock, and was carrying twins to B41 Hewgill.
Local breeder Harry Gass had a cracking turn in the ring, selling a gimmer hogg by his homebred A8 Nunscleugh, a son of the £17,000 V3 Bull & Cave, to K J McGrath, Co Donegal, Caoramor flockfor 3800 gns, a top price for a female from their flock.
Scottish breeder, Alan Wight, Midlock has established a firm fan base over the last few years, selling a strong consignment of gimmers, and this year was no different, selling 12 lots for four figures, topping at 2600 gns for a sheep by the £6000 A2 Craigskean, carrying twin lambs by the noted Midlock Controversy, selling again into Northern Ireland to R Loughery. Another gimmer from Midlock carrying lambs by the Controversy tup saw a bid of 2400 gns selling to the Firm of G Gray, Selkirk. Another, again carrying triplets to Controversy, and by the Craigskean sold to B Blaney, Espley for 1900 gns.
Michael James, freshly back from the ski slopes the previous night, made a run from Builth Wells worth his while, selling his top priced hogg for 2900 gns to Welsh breeder M Roberts. It is by the B1 Duhonw which was 1st prize tup lamb at the 2009 RWAS, and out of a ewe by Y4 Tan House. Mike also sold another B1 Duhonw daughter to W P Sutcliffe for 2000 gns, just about covering his ski holiday in the process!!
Other leading prices saw a 2000 gns bid for a gimmer shearling from Martyn Archer, Carry House, who was dispersing his flock of traditional types. The gimmer by X4 Heddon Valley , which has done well for Carry House over the years, and carrying twins to B4 Broomhills, sold to R McClymont. The Carry House flock saw 10 of their sheep hit the magical four figure mark.
Demand on the whole was extremely strong, with a packed ringside throughout the sale, and a real buzz amongst both vendors and purchasers alike. Hopefully this enthusiasm and demand will continue throughout 2011 and beyond.
Averages: 57 Ewes – £498.11, 57 Shearling Gimmers – £817.53,
33 Ewe Lambs – £1385.05,
Midlock flock  (annual consignment) – £1315.13
Carry House flock (entire sale of traditional flock) – £1032.50
Lenmore flock (reduction sale) – £432.07
Gallery
Back to Archive