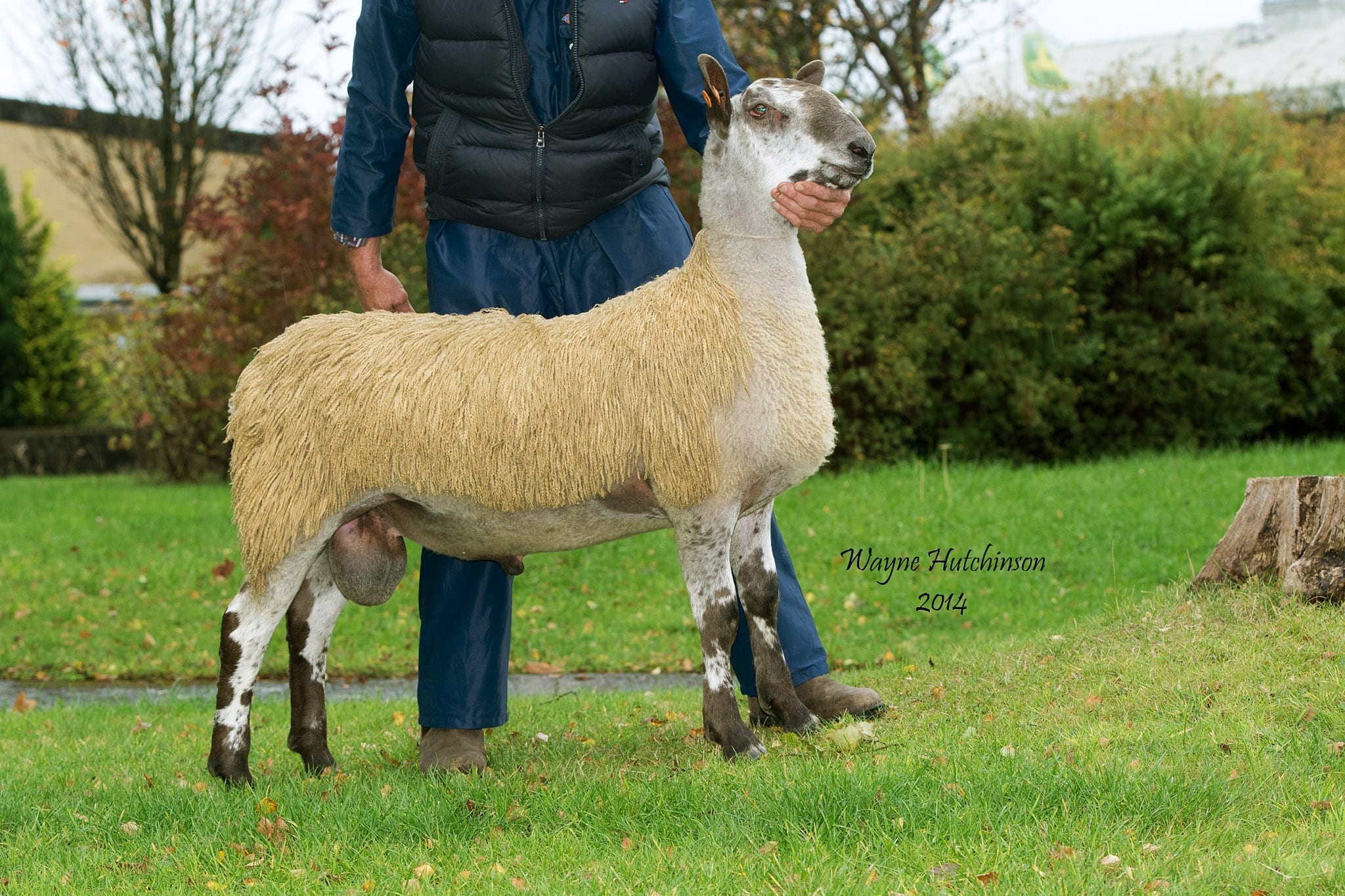 Carlisle Ram & Female Sale
10th October 2014
Carlisle
Mr C Coulter, Carrick Rock, Mr A Brown,
The Bluefaced Leicester sale season finished with another full day, and with a catalogue of nearly 1100 sheep for the day, it was always going to be a long day for everybody, and whilst it didn't quite match the duration of Hawes, it was a marathon sale none the less! In total 759 sheep found new homes, on a decidedly steady trade, which buyers spoilt for choice and being very selective with their purchases.
It will come as no surprise that the top priced tup at the sale once again came from the Midlock pen. They signed off their Leicester season in style once again with another cracking pen of tups, which were much admired and sought after. The topper was not a son of Mustang this time, but a son of the £10,000 E1 Bull & Cave out of a ewe by E1 Hewgill. He is a long, tall modern type of sheep and heads to the slopes of Pendle Hill to R Hargreaves & Son, Barley who shelled out £8000 for his services. Midlock saw another lamb by the E1 Hewgill hit £6000 to D McCrystal, Maghera, and their final average was a very healthy average of £3800 for seven lambs sold. The Midlock flock has had an exceptional season with their tups, and the whole team, Brian, Iain and Dougie, as well as Allan and Ben deserve a big pat on the back for their achievements.
There were a brace of lambs making £7000. The first was from Harry Gass with G21 Nunscleugh a son of the £12,000 D4 Tanhouse and out of a ewe by the £17,000 V3 Bull & Cave, which has had so much influence on shaping the modern breed. His full sister sold as a ewe lamb for 1800 gns, and on the back of a great run of Mule gimmers, topping at £180 and averaging £102 for 620 lambs, the Nunscleugh pen was very much in vogue with Mule breeders, and it was consortium of Scottish breeders who landed him, selling to Messrs Minto, Thornborrow, Dick & Raeburn.
The next at £7000 came from John Smith-Jackson as his G1 Shafthill lamb caught the eye of some of the top breeders. The Shafthill tups have a great reputation for doing well for flocks, and this lamb by the C2 Shafthill and out of a ewe by a Scarrowmanwick tup John bought privately a few years back certainly looks like doing the business. He was bought by Julie Lee and Neil Marston, who was buying back in a touch of his own breeding as the C2 Shafthill was by the Z4 Hundith.
The day's Reserve Champion came from J E G Shand and A R Carter from the Street flock based near Wigton, when their smart, cocky lamb caught the eye of the day's judges, C Coulter & A Brown. He is by the Z1 Rossiebank tup which has done well for them over the years, and out of a ewe by D4 Ashes. He was bought in a joint sale to Mosser Mains and M Roberts, Myfrian for £6500.
Ian Craig, Hanging Wells had a great day, with a cracking pen of lambs with some great skins. His pen topper sold to Gordon Rawsthorne, Lunesdale. This Embryo lamb was by F5 Penhill bought at Hawes last year and out of one of the flocks best ewes by B20 Shafthill. He sold for £4500.
Crow Hall Farms enjoyed a good first sale, selling for the first time at an Association sale, after putting some good money into breeders pockets over the last few years, breeders were looking to buy into some of the best bloodlines filling his pen. His sale topper was by the £6500 C13 Firth bought out of Kelso and out of a ewe bought privately at the Highland Show from Jimmy Bell by the Z1 Todhills, again going back to the Z4 Hundith. He sold for £4000 to J Pattinson, Hot Hills and R S MacKay, West Hills.
The day's Champion came from J Browell & Sons, Quarry House who lamb 40 BFL ewes and sell around 700 Mule gimmers every year. He was by the D5 Ty-Gwyn bought at the Welsh Crossing Club sale at Builth Wells for £8500 and out of a ewe by Y22 Firth, a son of Controversy. He sold for £2000 to W L Paterson, Broomhope Farm.
Gallery
Back to Archive