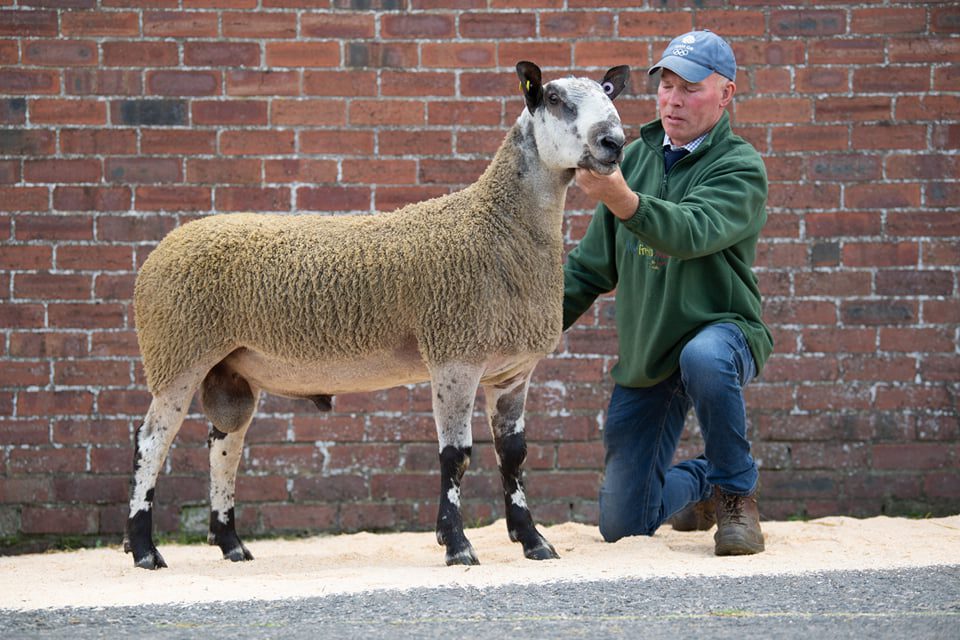 Castle Douglas Ram Sale
22nd September 2021
Castle Douglas
Jack Kay, Hartside Lammermuir
Castle Douglas – Wednesday 22nd September, 2021
Show and Sale Kindly Sponsored by TARFF, Agricultural Merchants
Once again Wallets Mart at Castle Douglas held an early evening sale following on from the Blackface draft ewe sale after last years event proved a success and again there was a ring full of people throughout the sale to witness the event, with good strong shearlings selling well with buyers being far pickier in the lamb section. The average was up again in the shearling section, up around £52 on the year for 6 more sold, reflecting the growing strength of the revamped sale.
Topping the trade and deservedly taking the days champion was a colossus of a shearling from Robert McTurks Barlaes flock, an easy champion on the day, as placed by Jack Kay, Hartside Lammermuir, and arguably one of the best Leicester's sold in the centre for a good few year. There certainly can't have been many stronger. He strode into the sale ring with sheer presence and let everyone know they were in the company of something special. He is by J&D Blues M4, which Robert bought out of Carlisle for 2000gns, with its twin fetching 5000gns on the same day, and out of a Parkgatestone sire ewe. He was used successfully as a lamb, as a luck penny for one of last years buyers, who was keen to try and get him back. Bidding was strong with many suiters having a flutter, but the Judge was having his Champion home with him as he knocked out one bidder after another, with the underbidder trying his best but just not keeping up with the pace as the hammer fell for 9200gns, making it the Barlaes best sale in 20 years, since he sold one for 7000gns.
The Forebrae flock are renowned for producing some good stock and well respected for the quality of their mules, with some great crossing lines thrown into the mix, they always attract attention. Their pen leader was another giant of a sheep. This boy was by the 3500gns Drimsynie purchased out of Carlisle several years back and goes back to an SP Dalpeddar on its mother's side. He was sold in a 3800gns deal to another noted mule breeder, Alec and Anders Brown, Macqueston.
Earlier in the sale the Culdoach flock set a flying trade with a pen of strong shearlings, with their number one selling for 3000gns. This was by a Midlock sire bought out of Kelso. He was tried as a lamb and left 3 in his top pen of mule gimmers at Castle Douglas, which hit £182. He was purchased by Messrs Dunlop, Pinvalley Farm, Barr. The Culdoach flock had another three from their consignment over the £1000 mark, giving them a good day's trading.
It was third time luck for Steven & Trevor Fallows from the Burnton flock as they won the tup lamb class and took the reserve champion with their smart lamb, on their third outing at the sale. This lovely lamb was out of a Cottage ewe by Highberries C8 which they bought as a ewe lamb 5 years ago and is still going strong, and by a Carry House sire by Jackpot that they brought back from Hawes. Whilst overall the tup lamb trade disappointed, there was no disappointment here as the lamb was bid up to 3000gns, and sold to W Murdoch & Co, Fleminghill, Kilmarnock.
Averages; Shearling Rams – 116 sold average £869.83
Tup Lambs       – 26 sold average £692.31
Shearling Rams
| Placing | Class | Exhibitor | Flock Name | Lot Number |
| --- | --- | --- | --- | --- |
| 1st | Shearling Rams | Mr R J McTurk | Barlaes | 588 |
| 2nd | Shearling Rams | W Lockhart | Culdoach | 577 |
| 3rd | Shearling Rams | W Lockhart & Son | Laggan Park | 568 |
| 4th | Shearling Rams | W Lockhart | Culdoach | 578 |
Ram Lambs
| Placing | Class | Exhibitor | Flock Name | Lot Number |
| --- | --- | --- | --- | --- |
| 1st | Ram Lambs | S & T Fallows | Burnton | 646 |
| 2nd | Ram Lambs | A S McQuiston | Barnshangan | 667 |
| 3rd | Ram Lambs | R J Shennan & Son | Farden | 657 |
| 4th | Ram Lambs | A Brown | MacQueston | 663 |
Bluefaced Champions
| Category | Exhibitor | Type |
| --- | --- | --- |
| Overall Champion & Male Champion | Mr R J McTurk | Shearling Ram |
| Reserve Overall Champion & Reserve Male Champion | S & T Fallows | Ram Lamb |
Gallery
Back to Archive