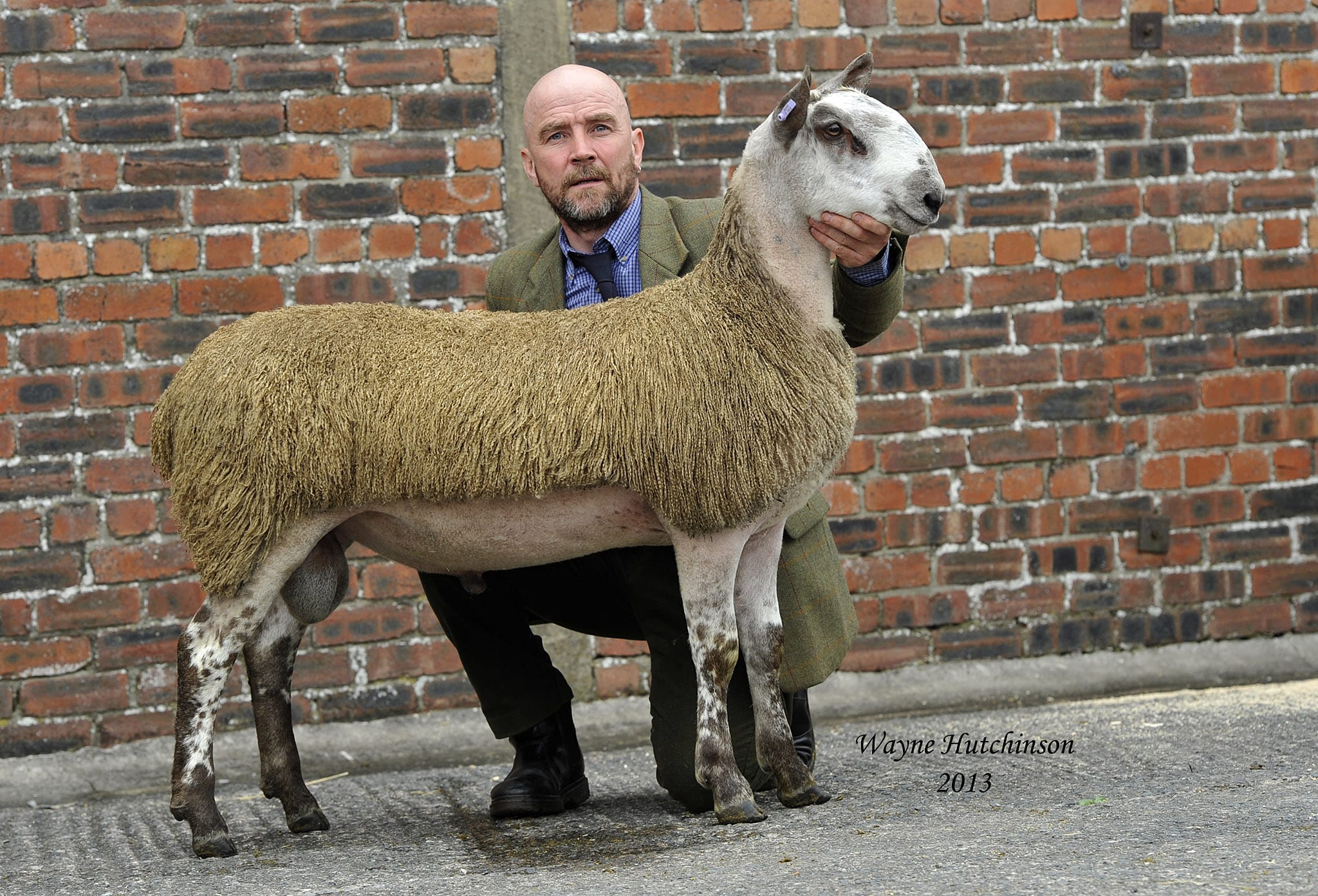 Castle Douglas Ram Sale
27th September 2013
Castle Douglas
Mr J Kerr, Craigskean
An increased entry saw the 25th Bluefaced Leicester Association sale at Castle Douglas attract a good crowd and plenty of buyers. Castle Douglas is the Scottish heartland of the Scotch Mule, and as such enjoys a great reputation for the crossing type of sheep, and this year was no different as Mule breeders flocked to try and buy into some of the best bloodlines available to improve their lambs. It was a near total clearance in the shearling section, with only two tups not finding new homes out of the 190 forward, with the tup lambs showing a great clearance rate too.
Topping the days trade was a cracking tup lamb from the Macqueston flock from Alec Brown, who enjoyed a great trade throughout, with his tups gaining a good reputation for going away and breeding well. This very correct lamb, which took second prize and Reserve Overall Champion in the pre sale show, judged by John Kerr, is by the £2200 E4 Blarnavaid bought in Castle Douglas last year, and out of a ewe by B2 Agglethorpe, which has done very well in the flock. As it was, the Browns from Agglethorpe tried their hardest to buy some of this breeding back in, but were undone by some strong bidding from Hector MacAskill, who landed his pick of the day for £9500, making it the dearest from the Macqueston flock to date. Alec also saw his tup shearlings do well, topping the trade in the shearling section too, with a son of D5 Midlock and out of another ewe by the ever consistent B2 Agglethorpe. This massive tup had been used as a lamb by Alec, and had several lambs in his top pen of Mules which took the championship ticket at Castle Douglas. He travelled over the water to the Orravale flock in a £4200 deal. His twin brother also sold, making £2200. Son Anders also got in the action when he sold his first tup lamb. By the C13 Firth and out of a ewe by B3 Agglethorpe, this one netted £3000 for nine year old Anders, selling to Crow Hall Farms.
It was a good day at the office for John Park, Forebrae too as he sold his number three lamb for £4600. This sharp lamb was by the £5000 D1 Parkgatestone tup which they bought out of Kelso last year, where he had stood Champion, and out of a ewe by Z31 Old Hemley. He sold in a two way split to A Hamilton, Marr, and Jimmy Thompson, JD Blues. Jimmy was putting back in some of the cash he had earned earlier in the sale when he sold the first prize shearling, a son of D1 Mid Knockglass, for £1500, his top price yet at the sale. The Forebrae pen levelled out at very healthy £1700 for their six lambs.
Stewart Park from the SP Dalpeddar flock was in the thick of the tickets again, as he claimed his forth championship inside five years at the sale. His pen leader is a son of the £18,000 home bred tup, D5 SP Dalpeddar "Buz", Stewart sold a couple of years ago and out of a ewe by A11 Midlock. The bidding set off steady for this one, but soon warmed up, with the hammer eventually dropping at £3500, selling to Robert Wallace and Lowes Farming Co.
Young James Pirie had a long trip south from Stirling, but following on from last years exploits, could fully justify it when he topped at £3200 for a tup lamb out of a Midlock ewe he bought at Carlisle in January. He was a triplet out of the ewe, which was by the C2 Hewgill and sired by the B4 Tanhouse Farm, which has been proving to be such an able breeder. He headed down south over the border to Crow Hall Farms, who are busy amassing some great tups and bloodlines in Northumberland. James enjoyed a great trade and his pen averaged a very healthy £1750.
Trade remained strong all day, with buyers looking for powerful tups with great skins and good crossing bloodlines. The lambs averaged out at £1005.89 across the sale and the shearlings £728.67 for 188 sold.
Gallery
Back to Archive