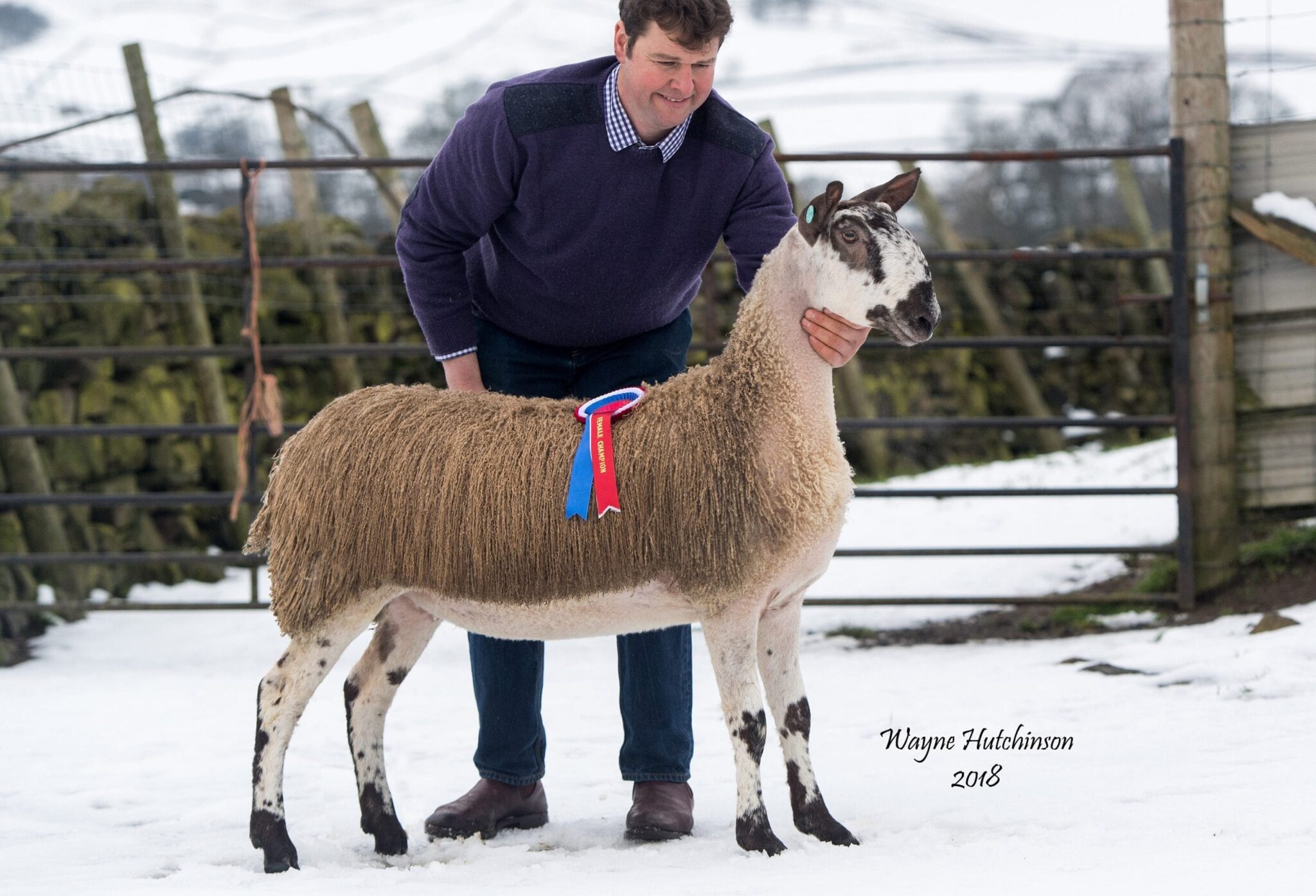 Hawes Female Sale
20th January 2018
Hawes
Kevin Ridley, Shitlington
It was a chilly day at the Hawes in lamb sale, as the wintery conditions curtailed some of the usual Scottish visitors, but that didn't dampen the trade as there was a cracking trade, with averages up nearly £300 in the gimmer shearling section to £1630 and just a slight dip of £8 in the lambs to £1188. Still a very healthy return.
Topping the day's trade was a gimmer shearling from Robin Booth from the noted Smearsett flock, with J50 Smearsett. She stood 3rd in the pre-sale show. She is by the homebred G11 Smearsett "Ted" and full sister to the £24,000 lamb they sold last autumn, and out of a ewe by the old S1 Lunesdale. She was carrying twins to the H14 Highberries and was bought after some fast bid taking by Raymond Lund, who dropped his hammer at £7000 to M/s Pye, Abbeystead. The Smearsett pen attracted a lot of attention and the quality of the combination of bloodlines and the reputation of the flock ensured the bids kept coming in. They had the first prize gimmer hogg which went on to take the champion ticket. This smart lamb was by the F3 Hundith they share with Gordon Rawesthorn, and out of a ewe by D17 Smearsett, Yellow Tag, just the same way as their successful stock ram, Ted. He was purchased by M/s E Harkin and J McGrenaghan, Co. Tyrone for £5000. Not content with just the champion ticket they also landed the reserve champion with their first prize gimmer shearling. This one had a bit of different bloodlines in, sired by H1 Garscube and bought out of Hawes for £1100, which was out of a ewe they had sold for £10,000 a few years previous, and out of a ewe by the legend which is Z4 Hundith. She was carrying three to the H3 Riddings, and sold for £3000 to G Richmond, Preston. They completed the day's sale with a pair of embyos, both selling to Ashley Caton. The first was carrying twins by Black Tag and the second a pair to Ted, both out of full sisters to D15 Smearsett. They sold for £3800 and £2800 respectivly, completing a good day at the office for the flock.
The Hewgill flock are always noted for bringing some quality sheep to this sale and once again they didn't disappoint. Their pen leader, a gimmer hogg by H45 Hewgill and out of a ewe by the E47 Hewgill which is the full sister to G1 Hewgill being used at Redgate, was full of style and power. It caught the eye of several breeders and the eventual purchaser was M McKenna, Co. Derry, who forked out £4400 to secure her. They also sold another hogg the M W Skidmore for £2000, again by the H45 Hewgill.
It was a debut to remember for the Red Howe flock from Jack Cartmel and Rachel Scrimgeour when they sold their gimmer hogg for £2200. This smart lamb was by G2 Highberries and out of a ewe by good old Z4 Hundith went back to her bloodline source as Neil Marston dug deep into his pocket.
Leading Prices:
Ewes
W A & A Booth, £2500. R & PE Hargreaves, £1500, £600. P Ayrton, £700.
Gimmer Shearling
W A & A Booth, £7000, £3000, £2200, £1600, £1000. J Wight & Sons, £1800, £1600, £1400, £1200, £1000. J Cartmel, £1000.
Gimmer Hoggs
W A & A Booth, £5000, £900, £800. M/s Lord, £4400, £2000, £1000. J Cartmel, £2200. W C Porter & Son, £1100. W & C W Dent, £1000.
G & H R Shields, £1000. R & P E Hargreaves, £900. C T & J E Willoughby, £900.
Averages
Ewes (Av. £893)
Gimmer Shearlings Av £1630 (up £297 on 2017)
Gimmer Hoggs Av £1188 (down £8 on 2017)
Aged Ewe
| Placing | Class | Exhibitor | Flock Name |
| --- | --- | --- | --- |
| 1st | Aged Ewes | P Ayrton | Hayshaw |
Gimmer Shearlings
| Placing | Class | Exhibitor | Flock Name |
| --- | --- | --- | --- |
| 1st | Gimmer Shearlings | W, A & A Booth | Smearsett |
| 2nd | Gimmer Shearlings | R & PE Hargreaves | Barley |
| 3rd | Gimmer Shearlings | W, A & A Booth | Smearsett |
| 4th | Gimmer Shearlings | J E Thorpe | Blackburn |
Gimmer Hoggs
| Placing | Class | Exhibitor | Flock Name |
| --- | --- | --- | --- |
| 1st | Gimmer Hoggs | W, A & A Booth | Smearsett |
| 2nd | Gimmer Hoggs | G & H R Shields | Skeughdale |
| 3rd | Gimmer Hoggs | Messrs Lord | Hewgill |
| 4th | Gimmer Hoggs | W A & A Booth | Smearsett |
Bluefaced Champions
| Category | Exhibitor | Type |
| --- | --- | --- |
| Overall Champion | W, A & A Booth | Gimmer Hogg |
| Reserve Overall Champion | W, A & A Booth | Gimmer Shearling |
Gallery
Back to Archive