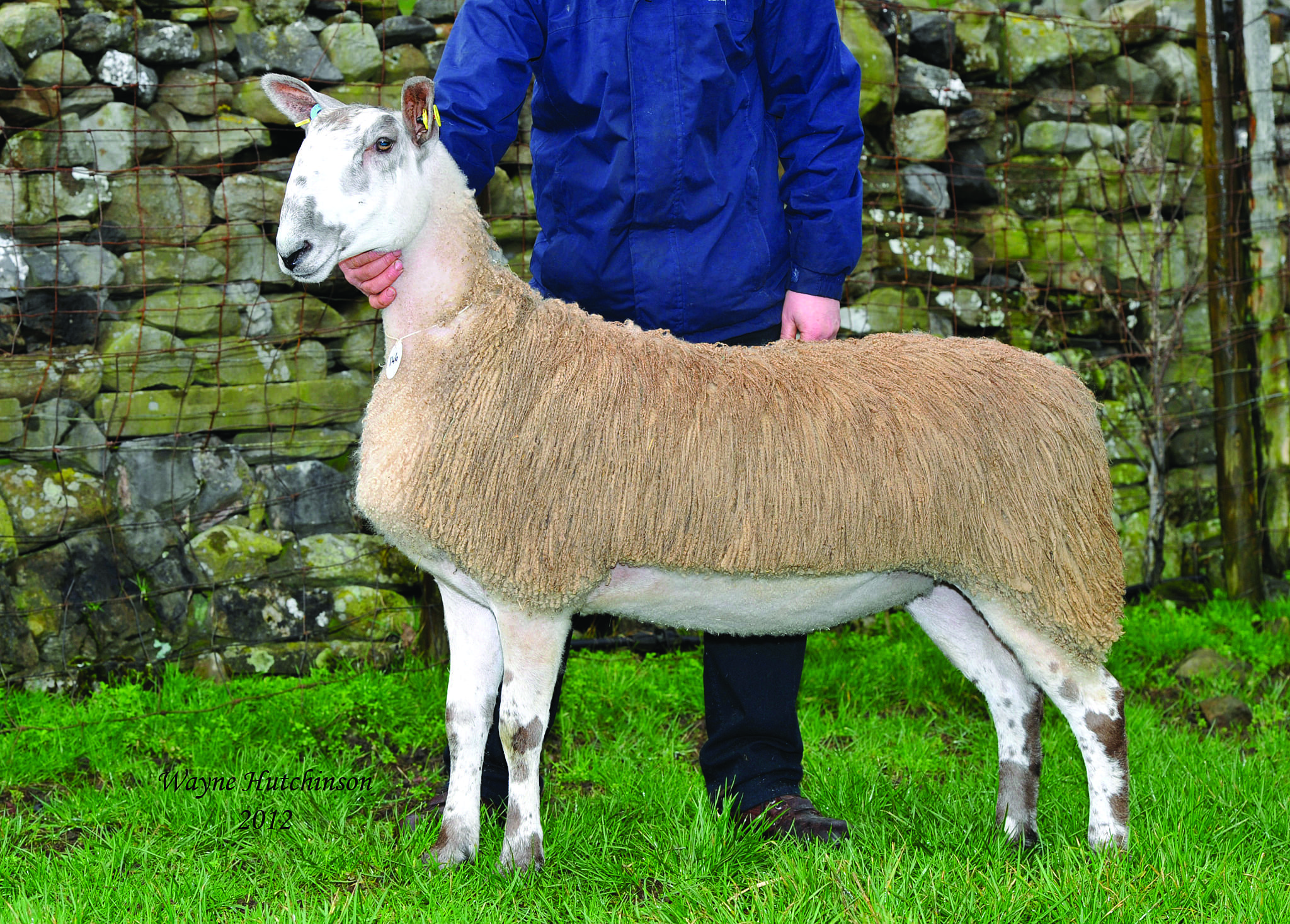 Hawes Female Sale
21st January 2012
Hawes
Mr R Thomas, Tanhouse Farm
It was another barnstorming sale at the annual Bluefaced Leicester sale held at Hawes Auction Mart. Once again the Hawes crowd witnessed a flying trade and once again records tumbled with a record price set again and a massive jump in the average for an extra 30 forward on the year.
Topping the days trade, and taking a keenly fought championship, was an exceptional gimmer hogg from the noted Hewgill flock run by the Lord Family on North Stainmore, near Kirkby Stephen. Their Mule lambs have a reputation for sweeping the board at the backend sales and their pedigree Bluefaced Leicesters have a keen following as a result. This daughter of B41 Hewgill and out of a ewe by the noted Z14 Hewgill sold after some strong bidding, which saw auctioneer Raymond Lund jumping the bids a thousand at a time, for a new breed record price of £11,000, with the Northern Irish pairng of Robert Loughridge, Orravale and Seamus Laverty, Orraview landing the gimmer lamb. They were taken by its "sheer size, power and correctness all round complete with such good back breeding meant it was a sheep we couldn't afford to miss" according to the pair.
Daughters of the B41 Hewgill took the next couple of top prices, the first with a bid of £7500 for another powerful gimmer hogg, selling to Andrew Campbell, Drimsynie, who is building up a flock with some excellent bloodlines for the future, and the next, out of another Z14 ewe sold for £5400 to S Hallam from the Grange Head flock. Chasing all these three sheep was George Shields, Skeughdale who has used the Hewgill bloodlines successfully over the past few years. He eventually got some more of these genetics when he landed a gimmer shearling by the Z14 Hewgill carrying twins to the B41 Hewgill for £2200.
Judge Richard Thomas saw his first prize gimmer shearling from W A & A Booth, Smearsett do well when she was bid to £5000. This powerful shearling, by V33 Lunesdsale, was carrying triplets to the homebred D15 Smearsett, a son of Z4 Hundith, which took the interbreed championship at Kilnsey Show taking maximum points off all the judges. The gimmer heads to pastures new at the Emmetts flock run by Alan Pye near Lancaster.
Paul Fairburn, Marriforth, made a successful debut at the sale when his pen leader, an embryo lamb by Z8 Thirlwall and out of the farms best ewe by W6 Lunesdale, sold for £3400. Full brothers to this cracking lamb have sold to £4200.
The reserve Champion of the day went to a classy gimmer lamb from noted breeder James Porter, Riddings. A daughter of the £14,000 C3 Midlock and out of one of the best bloodlines on the farm, with its full brother selling for £2500 last autumn and its retained sister is the pick of this years hoggs, sold for £3200 to Scottish breeder Craig Thornborrow, Dawyck.
Buyers from all corners of the UK flocked to Hawes, and a packed ring bore testimony to the popularity of the breed, but throughout, buyers were selective in purchasing the best stock available, with strong, powerful sheep providing the premium prices, as breeders sought to improve their bloodlines.
SHOW RESULTS:
Forward 74 Sheep Overall average £1425 (up £192 on 2011), Gimmer Hoggs to £11000 Av £1528, Gimmer Shearlings to £5000 Av £1780, Ewes to £800 Av £507.
Gimmer Hoggs 1st & Champion M/s Lord (Lot 146) £11000 to S Laverty & R Loughridge, Co. Antrim, 2nd & Reserve Champion W C Porter & Son (Lot 112) £3200 to M R Thornborrow, Peebles, 3rd W M Hutchinson & Sons (Lot 117) £1100 to P L Heard, Devon.
Ewes and Gimmer Shearlings: 1st W A & A Booth (Lot 126) £5000 to A C & K Pye, Lancaster, 2nd F A Caton (Lot 137) £500 to I R Cousin, Kirkby Stephen, 3rd J C Throup (Lot 179) £800 to R F & J P Critchlow, Buxton.
Leading Prices:
Gimmer Hoggs: M/s Lord £11000, (new Centre record price for a Bluefaced Leicester Female), £7500, £5400, £4600. E Fairburn & Sons £3400, £2000, £1800. W C Porter & Son £3200. W A & A Booth £2700, £1600, £1250. N C Marston £2200 x 2. G P Taylor & Sons £2000. J J & E Lawsonm £2000. C Wood £1500. G Rawsthorne £1200. W M Hutchinson & Son £1100. A J Lawson £1000.
Gimmer Shearlings: W A & A Booth £5000. M/s Lord £2200. W M Hutchinson & Son £1000.
Ewes: J C & N Throup £800, £500. W M Hutchinson & Son £700. Ellis Bros £600.
Gimmer Hoggs
| Placing | Class | Exhibitor | Flock Name | Lot Number |
| --- | --- | --- | --- | --- |
| 1st | Gimmer Hoggs | Messrs Lord | Hewgill | 146 |
| 2nd | Gimmer Hoggs | W C Porter & Son | Riddings | 112 |
| 3rd | Gimmer Hoggs | W M Hutchinson & Sons | Kirkby Stephen | 117 |
Ewes & Gimmer Shearlings
| Placing | Class | Exhibitor | Flock Name | Lot Number |
| --- | --- | --- | --- | --- |
| 1st | Ewes & Gimmer Shearlings | W A & A Booth | Smearsett | 126 |
| 2nd | Ewes & Gimmer Shearlings | F A Caton | Weston | 137 |
| 3rd | Ewes & Gimmer Shearlings | T C Throup | Chelker | 179 |
Bluefaced Champions
| Category | Exhibitor | Type |
| --- | --- | --- |
| Overall Champion | Messrs Lord | Gimmer Hogg |
| Reserve Overall Champion | W C Porter & Son | Gimmer Hogg |
Gallery
Back to Archive