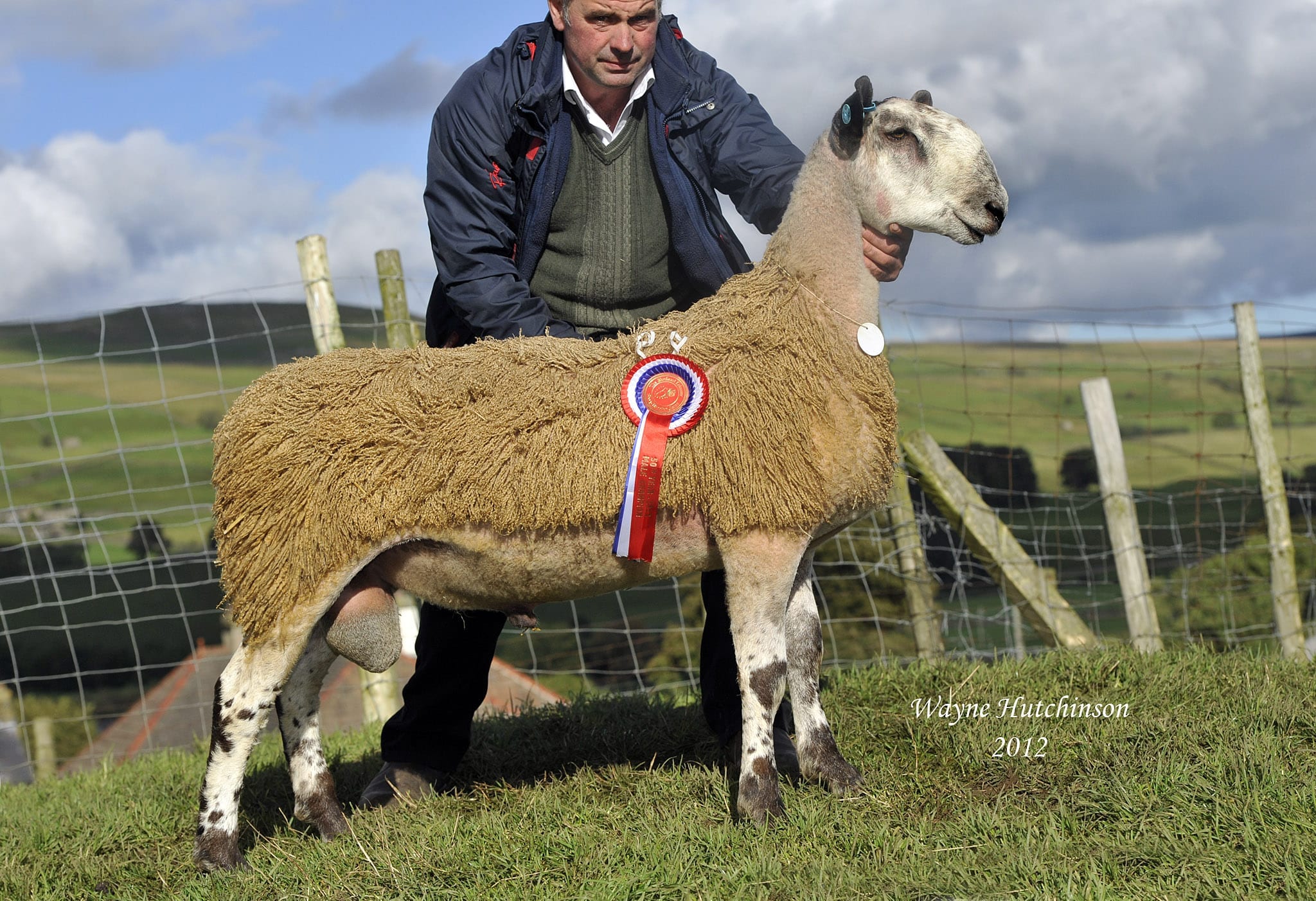 Hawes Ram & Female Sale
4th October 2012
Hawes
Mr J Snaith, Clennell, Mr P Heard, Yelland
The sun broke through rain sodden skies for the 38th annual jaunt of Bluefaced Leicester breeders at Hawes. As usual it was a marathon sale, with nearly 840 sheep catalogued to go through two rings, with the females selling in a separate ring late in the afternoon. The ringside was still crowded though as the last sheep went through the ring at 12.15 the following morning and Raymond Lund dropped the gavel for the last tup after his team of auctioneers entertained and cojouled bids for over 15 hours.
Topping the day's trade, which saw some extraordinary bidding and ten tups hitting the magical five figure mark, were a pair of lambs selling for £14,000. The first was for a powerful lamb from the Old Hemley flock all the way from Brecon, which has a growing reputation within the breed. This much admired lamb from the Abberleys was by C2 Tanhouse, which was Reserve Champion when bought for £10,000 two years ago and out of a ewe bought off Jack Lawson by the Y1 Midlock, which is a bloodline behind many of the high flying prices in the breed. It was Richard Hutchinson from the Kirkby Redgate flock who landed this lamb.
It was a case of déjà vu when the Kirkby Redgate consignment came into the ring and their number two lamb, by A6 Smearsett set off some frantic bidding. This classy lamb with a great skin was out of a ewe which was a full sister to a tup sold to the Gragareth flock and is doing really well. When the hammer fell, the buyer was Messrs Abberley from the Old Hemley flock, passing back the £14,000 they received from Kirkby Redgate earlier in the day.
Geoff Taylor and son Craig enjoyed a good trade with their Mule lambs, topping at £380 for their top pen at Hawes, and the sire to several of these lambs was up for grabs as C8 Swathburn was put up for sale. This powerful two shear tup, with great body and conformation was in big demand and enjoyed plenty of presale attention. He is by the £3000 A1 Harland and out of a ewe by T6 Keer. He sold for £13,000, a new high price for the Swathburn flock, in a two way deal, selling to Julie Lee, Agars Hill and Neil Marston, Highberries. The Taylors, based at Great Asby, near Appleby in Westmorland, were back in the money with their tup lambs later in the day, when they sold a son of T6 Keer out of a Z4 Hundith ewe for £11,000 in a three way split to Michael James, Duhonw, James Porter, Riddings and Pete Webster, Mereoak.
One of the talking points of the backend Mule sales has been the gimmer lambs from the Hewgill flock from the Lord family near Kirkby Stephen, which saw some tremendous prices as well as some tickets along the way, taking a championship at Penrith and second at Hawes where they also topped the trade. Their pen of lambs was always going to be one of the highlights of the sale, and they didn't disappoint. They had a cracking selection of lambs on offer and enjoyed a great trade throughout. They set off with a bang when E1 Hewgill, by B41 Hewgill out of a ewe by the prolific Z14 Hewgill sold for £11,000 to Alan Wight, Midlock. It was a tup lamb with the same bloodlines a little farther down the line which was their pen topper however. A strong, modern lamb with a great skin and presence, this cracker sold for £12,500 after some frantic bidding, which saw his price race up in £1000 bids right from the start. It was a Scottish pairing of Jimmy Bell, Cottage and Andrew Campbell, Drimsynie who held their nerve the longest and captured their number one target. The Lords enjoyed a great trade with the rest of their pen, including a Z14 son selling for £8000 to James Herdman, Obie Sharp and Bill Headly, and two others at £7000, seeing them with an average of £5610 for the pen of ten.
Robin Booth from the Smearsett flock, Austwick, had a good backend with his Mules, taking 3rd and 4th at Hawes with the gimmers and having as good a run of lambs as anyone this backend, and with a good reputation for going away and doing well, they were always going to be a pen to look out for. Their number one lamb was by a homebred tup, D15 Smearsett, which had five lambs in their top pen, and as a lamb was interbreed champion at Kilnsey Show. His mother, by V33 Lunesdale, is mother to B13 Smearsett "Black Tag", their stock tup which has done so well for them over the years. With such good breeding behind this smart lamb it was no surprise to see the bidding set off at £1000, and whizzed away up in £1000 bids as the auctioneers stepped up a gear, with Paul Fairburn, Marriforth last man standing at £12,000.
Messrs Busby, Harland, enjoyed a cracking trade selling to a top of £11,000 with their second lamb into the ring. He was a son of the homebred W2 Harland and out of a ewe by R2 Snab Green. Full of great crossing bloodlines this one sold for £11,000 to W A Dinsdale, Harkerside.
It's always entertaining with Jack Lawson in the ring and with Raymond Lund selling it becomes something of a comedy duo, and quick bidding and plenty of gags saw this son of the £9000 B1 Asby Hall out of a V3 Kentmere ewe sold for £11,000.
There were a brace of lambs at £10,000, the first was the champion of the day, placed at the top by judges Peter Heard and John Snaith. It was a first for the Ellis Brothers, Ilkley Moor, who have been steadily gaining a good reputation over the last few years. Their lamb, a son of D1 Bull & Cave and out of a ewe by Z4 Hundith sold in a three way deal to Hundith, Riddings and Sealhouses. The very next consignment into the ring from Neil White, Barf House, also included a £10,000 lamb when Alan Wight, Midlock and Harry Gass, Nunscleugh joined forces and bought a son of C1 Lunesdale out of a ewe by T16 Bull & Cave.
Trade was buoyant throughout, and a further five lambs at £8000 saw the average for the lambs level out at £1622, up a whopping £221 on the year, showing once again, even in its 50th year, that the demand for the Bluefaced Leicester is still growing, as the Mule cements further its reputation as the mainstay of the UK sheep industry.
Aged Rams
| Placing | Class | Exhibitor | Flock Name | Lot Number |
| --- | --- | --- | --- | --- |
| 1st | Aged Rams | W A & A Booth | Smearsett | 146 |
| 2nd | Aged Rams | P Webster | Mereoak | 69 |
| 3rd | Aged Rams | Breck House Enterprises | Breck House | 100 |
| 4th | Aged Rams | J & D Stenton | St Ravenscar | 88 |
Shearling Rams
| Placing | Class | Exhibitor | Flock Name | Lot Number |
| --- | --- | --- | --- | --- |
| 1st | Shearling Rams | D I L & E Jones | Llanilltyd | 84 |
| 2nd | Shearling Rams | W C Porter & Son | Riddings | 46 |
| 3rd | Shearling Rams | D I L & E Jones | Llanilltyd | 83 |
| 4th | Shearling Rams | M Barker Farms | Ellerton | 112 |
Ram Lambs
| Placing | Class | Exhibitor | Flock Name | Lot Number |
| --- | --- | --- | --- | --- |
| 1st | Ram Lambs | Ellis Bros | Ilkley Moor | 596 |
| 2nd | Ram Lambs | M James | Duhonw | 436 |
| 3rd | Ram Lambs | R D Archer & Son | Carry House | 690 |
| 4th | Ram Lambs | J Thomas & Son | Tanhouse Farm | 173 |
Ewes & Gimmer Shearlings
| Placing | Class | Exhibitor | Flock Name | Lot Number |
| --- | --- | --- | --- | --- |
| 1st | Ewes & Gimmer Shearlings | Breck House Enterprises | Breck House | 852 |
| 2nd | Ewes & Gimmer Shearlings | J & D Stenton | St Ravenscar | 831 |
| 3rd | Ewes & Gimmer Shearlings | J & D Stenton | St Ravenscar | 830 |
| 4th | Ewes & Gimmer Shearlings | J & D Stenton | St Ravenscar | 829 |
Gimmer Lambs
| Placing | Class | Exhibitor | Flock Name | Lot Number |
| --- | --- | --- | --- | --- |
| 1st | Gimmer Lambs | F A Caton | Weston | 849 |
| 2nd | Gimmer Lambs | J & D Stenton | St Ravenscar | 837 |
| 3rd | Gimmer Lambs | Breck House Enterprises | Breck House | 853 |
| 4th | Gimmer Lambs | J & D Stenton | St Ravenscar | 835 |
Bluefaced Champions
| Category | Exhibitor | Type |
| --- | --- | --- |
| Overall Champion | Ellis Bros | Ram Lamb |
| Res. Overall Champion | Breck House Enterprises | Gimmer Shearling |
Gallery
Back to Archive