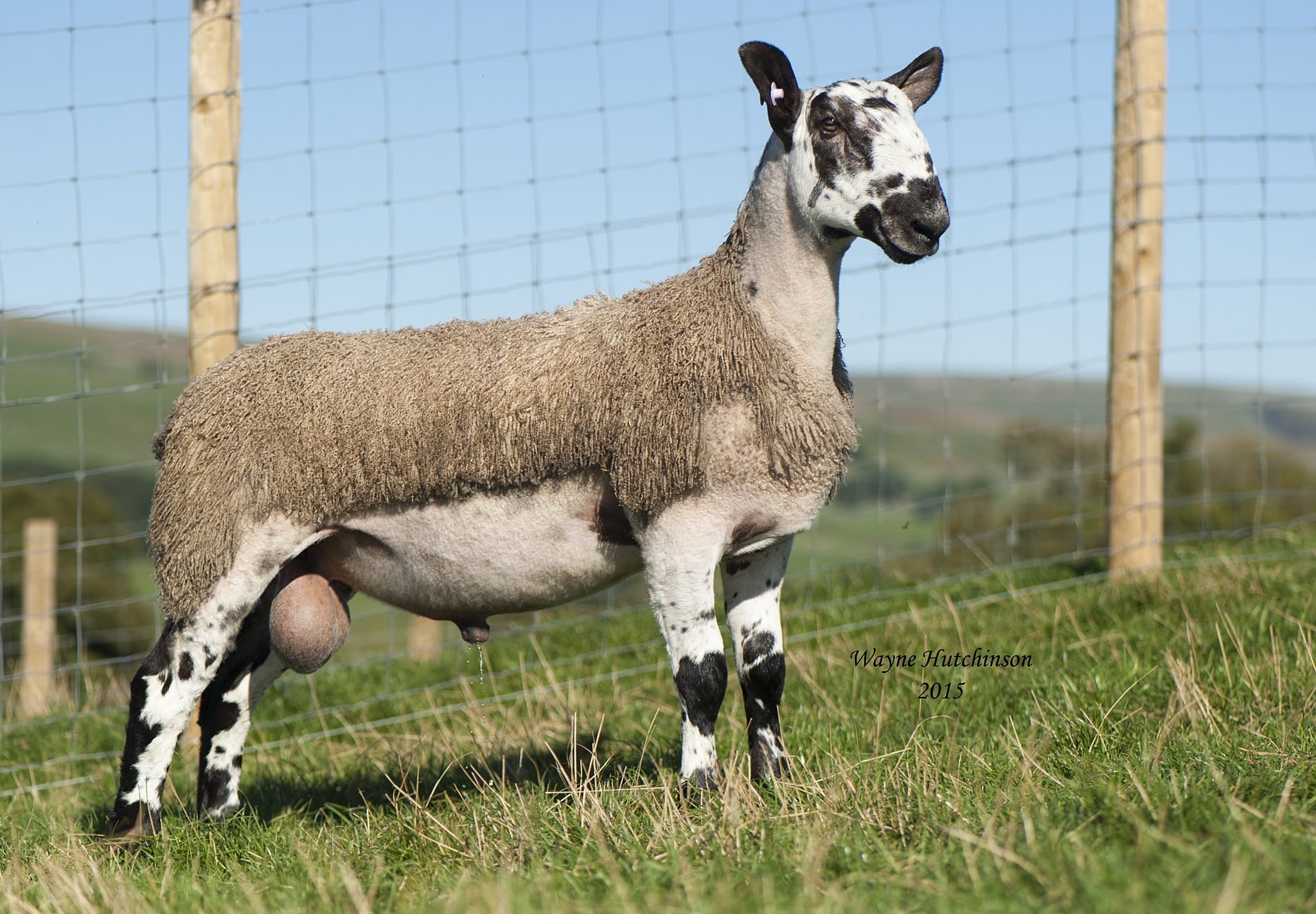 Hawes Ram & Female Sale
1st October 2015
I Craig, Hanging Wells (Agd, Shlgs & Females, J Herdman, Edlingham (Ram Lambs)
Once again Hawes lived up to the expectations as being the place to sell your Leicester tups. With a massive crowd in attendance and some superb sheep on display it was all set to be a humdinger of a sale. The weather was brilliant and the views breath-taking. Farming doesn't come a lot better than this and I can imagine Raymond Lund and the team at Hawes Auction don't think sales can come a lot better than this either. What has been a traditionally long event, with the last hammer falling well after midnight, generally into the early hours of the following day, and once, famously, the sale started in September and finished in October, the sale has been split into two rings now and the last sheep went through the ring at only 10.30 pm, a mere 12 ½ hours after starting.
The star of the pre-sale show was a tup lamb from the Kirkby Redgate. He was given the red ticket, by judge James Herdman, out of a strong class of around 60 tup lambs, and went on to take the overall championship and then when he went through the ring only an hour or so after the sale got underway he shattered the record price for a Bluefaced Leicester sheep by some £11,000. Trade started briskly and it was soon obvious that there were some serious business going on as bids soon reached £1000 per bid, then jumped to £2000 per bid without pause. When the hammer landed for this powerful, modern lamb, the final bid was £34,000 with the packed ringside of hardy sheep farmers breaking out in spontaneous applause, and even Richard Hutchinson, the seller, was nearly lost for words for a change! The record breaker is by G17 Marriforth which Redgate bought last year out of Carlisle and is out of a ewe that Richard bought off the Oak House flock, run by Paul and Ivan Brown, Ravenstonedale, which was by D17 Hewgill. She is the full sister to the Oak House tup which sold a couple of years back for £10,200 to Highberries, Carry House and Low Tipalt and has proved to be a good breeder. He headed back north of the border in a three way deal, selling to the Midlock, Firth and Hamildean flocks, where no doubt he will be given his own pen deep filled with plenty of straw and attention! Kirkby Redgate also saw another bid of £9000 for a son of G1 Hewgill, again out of a D17 Hewgill daughter and again heading over the border to join the Garscube flock of Neil Laing.
Another flock enjoying a fantastic day out was the Carry House flock, run by Martyn Archer. He has enjoyed a great summer on the show scene and his pen of gimmer lambs at the North Sheep event attracted a lot of attention. After winning first prize at both Hexham sales and also winning the Stuart Ridley Trophy for the best run of 100 lambs his tup lambs were always going to be on many a shortlist. His pen was buzzing all day with admiring viewers hoping to make an addition to their flock, and the interest was carried into the ring as his first lamb, by the £10,000 G34 Midlock who won the Scottish Progeny Show, fired away to fetch £23,000. This April born lamb out of a ewe by F1 Oak House, the same way bred as the dam to the Redgate lamb. Once again it was Midlock reaching into their pockets, this time with M/s Thornborrow, Dawyck sharing. The spending in the Carry House pen wasn't finished there as the second lamb H2 Carry House, again by G34 Midlock and out of a good breeding ewe by the old Z1 Breck House which has done well for the flock over the years, went on to make £15,000 selling in a four way split to the Edlingham, Newbigging Walls, Riccalton and Happrew flocks, all based in the Northumberland / Borders area. This lamb stood champion at Gilsland and Bellingham Shows. Martyn had also won the progeny championship at Penrith with his G1 Highberries "Highlander", who he had bought a half share in a private deal off Neil Marston after seeing him take the male championship at the Highland last year. His first son into the ring, out of a C29 Carry House Cracker, went to fetch £10,000, selling to Quarry House and West Nubbock, both based around Hexham. Martyn, who runs around 35 pure ewes, went on to average a whopping £7108 for 12 lambs sold. Quite a day at the office really.
It was quite a day for George and Josh Shields from the Skeughdale flock, based near Ravenstonedale, as they recorded a personal best for their flock that they run with father Gerry. They had won on Monday at Hawes with their Mule gimmers and a great run of lambs had certainly attracted buyers before they even saw the tup lambs on offer. Their number one lamb was a cracker, combining power and style, with a great, clean white, which is what was in demand this year. He is by a homebred tup, G18 Skeughdale, full of Hewgill breeding and out of a ewe by A3 Hewgill. The hammer fell at £14,000, selling to the Kirkby Redgate and Old Hemley flocks who dipped into their pockets to acquire his services.
There were a couple of tups hitting £12,000. The first was a four shear tup from Robin Booth of the Smearsett, when he sold the old D17 "Yellow Tag" Smearsett to David Abberley, Old Hemley and Jack Lawson, Hundith. This sun of B19 Lunesdale has been used extensively at Smearsett, siring lambs up to £8500 and gimmers to £3200, so has nothing to prove. He was only sold as he can't be used on the pure flock anymore.
The other tup making £12,000 was from the noted Midlock pen, who were early through the ring. H1 Midlock was the pick of a quality pen. By the E1 Hewgill which is certainly leaving his mark at Midlock, and out of a good breeding ewe by another Hewgill, this time C2 Hewgill. With all this Hewgill blood in him, his final destination was no great surprise as he headed back to Stainmore with John Lord from Hewgill. The Midlock flock enjoyed a good trade averaging £3911 for nine lambs presented.
The Wythop Hall, Cockermouth, flock enjoyed a great day's trade too as they took a personal best. They sold H1 Wythop Hall lamb for £10,000 on the back of a great sale of Mule lambs at Cockermouth, where they took the first prize tickets. Their tall, long clean tup was by F29 Smearsett they bought for £6200. He had sired three lambs in their top pen and another eight in their second pen at Cockermouth. The lamb was out of a ewe they bought off Midlock, sired by C63 Midlock. He caught the eye of Neil Marston, Highberries, and Ron and Fran Wilson who shelled out the readies for this one.
The reserve champion of the day, from Michael and Ella James, Duhonw, shared some similar breeding to the champion. He was by the D17 Hewgill, used by the Duhonw flock after they swapped some semen and used it on one of their best ewes by A5 Hawkswell, going back to the full sister of a tup they sold to Yore House a few years back. He sold for £9000 in a four way split to the Edlingham, Newbigging Walls, Riccalton and Happrew again. They have retained his full brother for their own use too.
Another hitting £9000 was H1 Kentmere Hall from Phillip Dawson. It was a top price for the flock and came after his lamb had taken first prize at Westmorland Show and the Breed Championship at Cockermouth earlier this summer. He is by G1 Low Tipalt, again going back to the D17 Hewgill, which seems to me the flavour of the year, and out of a ewe by D4 Low Tipalt.
After the frantic days trading and when the dust settled, the average for the 551 tup lambs was £1380, up some £136 on the year. Buyers were looking for the best sheep they could and along with strong powerful sheep, buyers were looking for tups with a good clean white.
RAM LAMBS to £34000, Averaged £1380 (up £136 on 2014)
AGED RAMS to £12000, Averaged £1577
SHEARLING RAMS to £4600, Averaged £830
EWES to £2800, Averaged £796
GIMMER SHEARLINGS to £2000, Averaged £616
GIMMER LAMBS to £1600, Averaged £477
Aged Rams
| Placing | Class | Exhibitor | Flock Name | Lot Number |
| --- | --- | --- | --- | --- |
| 1st | Aged Rams | W A & A Booth | Smearsett | 75 |
| 2nd | Aged Rams | N Peacock | Maunby | 109 |
| 3rd | Aged Rams | A & H Watson | Middleton Hall | 86 |
| 4th | Aged Rams | Breck House Enterprises | Breck House | 12 |
Shearling Rams
| Placing | Class | Exhibitor | Flock Name | Lot Number |
| --- | --- | --- | --- | --- |
| 1st | Shearling Rams | W A & A Booth | Smearsett | 79 |
| 2nd | Shearling Rams | J & D Stenton | St Ravenscar | 124 |
| 3rd | Shearling Rams | E Fairburn & Sons | Marriforth | 19 |
| 4th | Shearling Rams | M Barker Farms | Ellerton | 90 |
Ram Lambs
| Placing | Class | Exhibitor | Flock Name | Lot Number |
| --- | --- | --- | --- | --- |
| 1st | Ram Lambs | W M Hutchinson & Son | Kirkby Redgate | 171 |
| 2nd | Ram Lambs | M James | Duhonw | 193 |
| 3rd | Ram Lambs | J C & E Pedley & Sons | Yore House | 235 |
| 4th | Ram Lambs | J & W Bell | Cottage | 697 |
Ewes
| Placing | Class | Exhibitor | Flock Name | Lot Number |
| --- | --- | --- | --- | --- |
| 1st | Ewes | E Fairburn & Sons | Marriforth | 852 |
| 2nd | Ewes | E Fairburn & Sons | Marriforth | 851 |
| 3rd | Ewes | J H Critchlow | Paddhen | 856 |
| 4th | Ewes | A Caton | Otterburn Lodge | 821 |
Gimmer Shearlings
| Placing | Class | Exhibitor | Flock Name | Lot Number |
| --- | --- | --- | --- | --- |
| 1st | Gimmer Shearlings | W A & G R Sedgley | Langstroth | 801 |
| 2nd | Gimmer Shearlings | N J & L Allan | Lakethwaite | 814 |
| 3rd | Gimmer Shearlings | A Caton | Otterburn Lodge | 829 |
| 4th | Gimmer Shearlings | W A & G R Sedgley | Langstroth | 802 |
Ewe Lambs
| Placing | Class | Exhibitor | Flock Name | Lot Number |
| --- | --- | --- | --- | --- |
| 1st | Ewe Lambs | A Caton | Otterburn Lodge | 831 |
| 2nd | Ewe Lambs | A J Mason | Oddacres | 860 |
| 3rd | Ewe Lambs | A Caton | Otterburn Lodge | 832 |
| 4th | Ewe Lambs | W A & G R Sedgley | Langstroth | 803 |
Bluefaced Champions
| Category | Exhibitor | Type |
| --- | --- | --- |
| Overall Champion | W M Hutchinson & Son | Ram Lamb |
| Reserve Overall Champion | M James | Prize Ram Lamb |
Gallery
Back to Archive