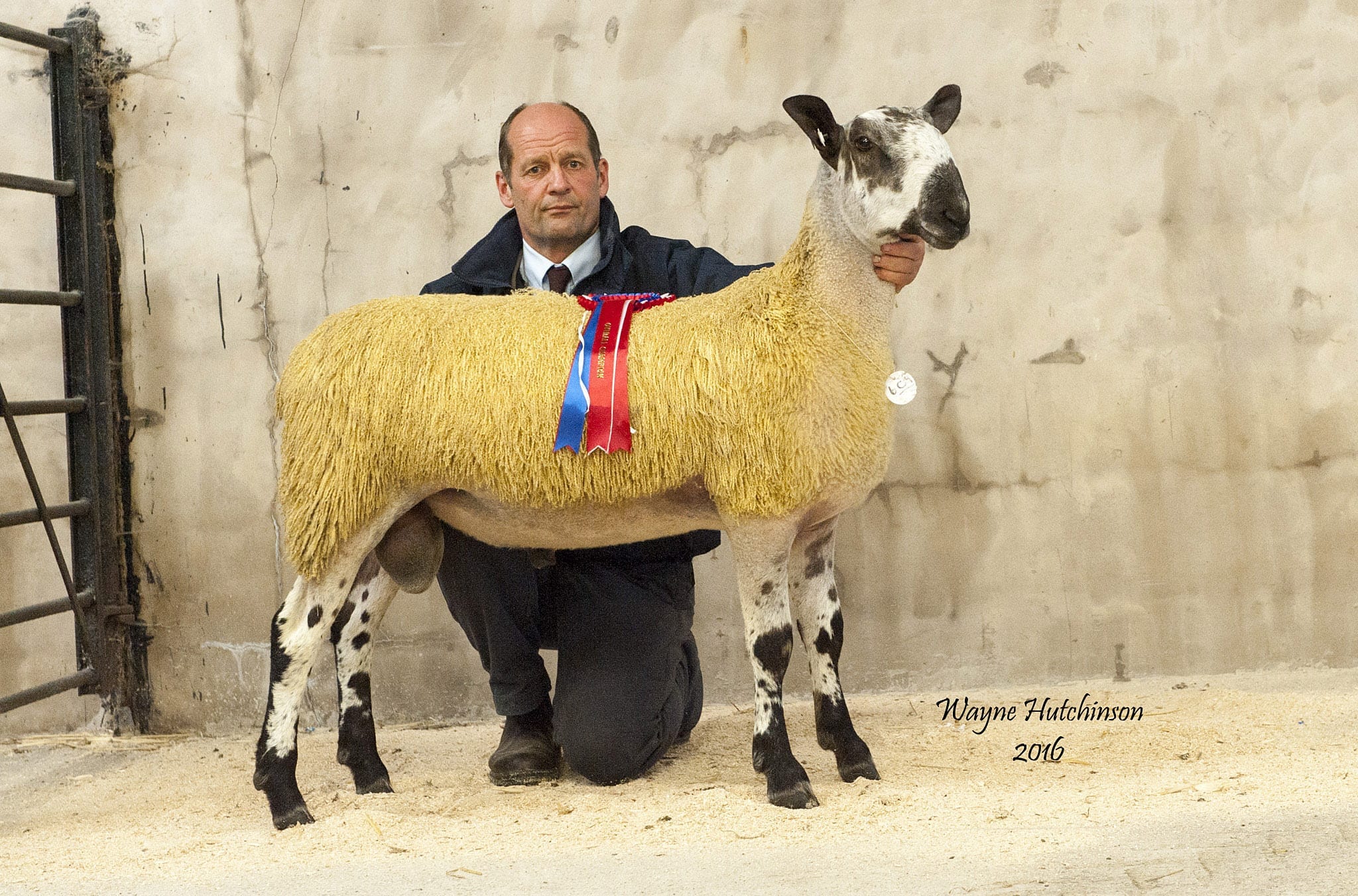 Hawes Ram & Female Sale
29th September 2016
S Fawcett, Hirds Hill (Agd & Shlg Rams & Females, A Warnock, Dreva (Ram Lambs)
Another long day at the office for the Hawes Auction mart staff, with the show starting at 7.15 and the hammer falling for the final tup at 12.50 am, and some of the auction staff not leaving the mart till 5 am, making sure everything was organised and properly done shows what a dedicated team they have there. Demand was strong from first to last and saw averages rise by £44 on the year for the tup lambs, with 700 sold, 38 more than last year. The ring was packed all day, maybe something to do with the awful weather as well as the enthusiasm for the breed, with standing room only until around midnight, when the crowd dwindled and only the die-hard fanatics remained until full time was called on the sale.
The maximum bid of the day was £15,000 which saw the hammer fall twice at this price. The first was from the Midlock flock, which once again enjoyed a great trade. Again, as has been so often over the last couple of years it was a powerful Mustang son, J1 Midlock, which was the eye catching offering out of the pen. He was out of a ewe by the B4 Tanhouse Farm which has done so well for the flock. He sold back into Scotland in a two way split to the Hamildean and Dawyck flocks. Midlock also saw a bid of £11,000 for another Mustang son, J2 Midlock, with some great clean colour and a rangy outlook, selling to the Smearsett flock of M/s Booth. He is out of a good breeding line, his mother by the £10,000 D2 Harland, with similar breeding to the £12,000 tup from Kelso. Another Mustang son fetched a further £8000 in for the Wight family, this one out of a C2 Hewgill ewe.
The second £15,000 bid was eagerly anticipated, coming from the Silver Hill flock from Clive Metcalfe, Barningham, late in the day, going through the ring at midnight Their run of Mules caught the eye at the gimmer lamb sales, where they won Middleton, Barnard Castle and Lazonby in successive days as well as taking a well-deserved 5th place at the Hawes first sale and winning the second sale show at Hawes too, selling over 500 gimmer lambs in the process. The highlight of the pen was their forth lamb in, J4 Silver Hill "Midnight" by the homebred H1 Silver Hill, which sired seven lambs in their top pen at Hawes, with the rest by F6 Smearsett, the sire of H1. He sold in a three way split to the Highberries, Carry House and Low Tipalt flocks, pushed all the way by another high powered three way split of Mule breeders. The Silver Hill flock enjoyed a great trade throughout, ending with an average of £3163 for 11.
Last year's headline flock, Kirkby Redgate, from Richard Hutchinson, had to settle for less this year, but a bid of £14,000 for their pen leader, J1 Kirkby Redgate, wasn't bad at all. He was by the £14,000 Skeughdale bought off George and Josh Shields last year out of Hawes, and out of a ewe by A5 Gragareth, which is the full sister to C2 Kirkby Redgate, which has been doing a great job for the Wythop Hall flock. Taking him home were a whole clan of Scotsmen, selling in a six way split to the Burnbank, Glen, Allanfauld, Speymouth, Saltaire and Duncryne flocks. Looks like he is going to be having a busy Autumn!
Martin Archer enjoyed a bumper sale last year, and once again he was producing the goods. He took the pre-sale Champion, judged by Andy Warnock, Dreva, with J1 Carry House, sired by the G34 Midlock, a Mustang son, which won the Peebles Progeny Show for his progeny, and the sire of the year in 2015. He sold for £5500, but it was his second lamb which was a full brother to the Champion, which caught the buyers eye, selling in a £14,000 deal to M/s Porter, Riddings and Martyn later bought back a share in him, to retain the bloodlines. They were out of a gimmer shearling bought off Neil Marston at Cockermouth, by the noted Z4 Hundith which has done so well within the breed, and go back to some Smearsett breeding further back. Carry House sold three full brothers for a combined fee of £24,500, covering the initial outlay on the ewe by some margin!
David Lawson from the Gragareth flock based near Ingleton in North Yorkshire, where he runs around 25 pure ewes, enjoyed a great day at the sale, selling to a personal best of £13,000. His pen topper came on the back of a good run of Mule gimmers this Autumn, where he took third prize at Hawes and averaged £112 for 160 lambs. His lamb, J1 Gragareth was by his homebred tup, H5 Gragareth which he kept back last year. He is a son of W1 Keer which was used successfully at Kirkby Redgate many moons ago, and out of a ewe by E40 Marriforth, a son of the £14,000 Midlock D41. This classy lamb was taken home by Richard Hargreaves from the Barley flock. David had a good do in the shearling section too, taking the top price of £4400 with a homebred aged ram, G17 Gragareth, by the F11 Riddings and out of a ewe by C14 Highberries.
Michael and Ella James from Builth Wells in deepest, darkest Wales have been keen breeders for many years and have fetched many a tup to Hawes over the years, but this year was their best yet, taking second in the show with a powerful lamb by the £8000 G1 Midlock, and out of a ewe by D8 Hundith, a son of X-Factor. He sold in a two way split to M Roberts, Myfyrian and David Abberley, Old Hemley. But better was yet to come as their second lamb, J2 Duhonw, another G1 Midlock strode into the ring. His power and style combined with a great skin and good breeding, with several good breeding tups all coming from this line, all added up to a good trade, and with auctioneer Raymond Lund in great form there was no way this tup was going to go cheap. The speed of the bids going up surprised even the bidders if the eyebrows of the final under bidder were to be believed. After a breath taking bit of auctioneering the hammer fell at £12,000, a personal best for Mike and Ella, selling to the Parkgatestone flock of M/s Cunningham.
Other leading bids saw Jack Lawson from the Hundith flock sell a son of the C17 Smearsett for £9000 to Geoff Taylor, Swathburn. Gordon Rawsthorne, a stalwart of the crossing Leicesters was in fine form, seeing two tups hit the £8000 mark, and saw his pen of 15 average out at £2460. The Smearsett flock followed a cracking trade with their Mules with a great average for their lambs, selling to £8000 again, to Ashley Caton, and seeing their pen level at £3669 for 13 lambs.
Aged Rams
| Placing | Class | Exhibitor | Flock Name | Lot Number |
| --- | --- | --- | --- | --- |
| 1st | Aged Rams | A Caton | Otterburn Lodge | 74 |
| 2nd | Aged Rams | E Fairburn & Sons | Marriforth | 7 |
| 3rd | Aged Rams | J C Walker & Son | Brennand | 14 |
| 4th | Aged Rams | J H Critchlow | Paddhen | 63 |
Shearling Rams
| Placing | Class | Exhibitor | Flock Name | Lot Number |
| --- | --- | --- | --- | --- |
| 1st | Shearling Rams | D I L & E Jones | Llanilltyd | 34 |
| 2nd | Shearling Rams | M Barker Farms | Ellerton | 1 |
| 3rd | Shearling Rams | A Caton | Otterburn Lodge | 76 |
| 4th | Shearling Rams | N Peacock | Maunby | 68 |
Ram Lambs
| Placing | Class | Exhibitor | Flock Name | Lot Number |
| --- | --- | --- | --- | --- |
| 1st | Ram Lambs | R D Archer & Son | Carry House | 609 |
| 2nd | Ram Lambs | M James | Duhonw | 205 |
| 3rd | Ram Lambs | E Fairburn & Sons | Marriforth | 485 |
| 4th | Ram Lambs | W C Porter & Sons | Riddings | 699 |
Ewes
| Placing | Class | Exhibitor | Flock Name | Lot Number |
| --- | --- | --- | --- | --- |
| 1st | Ewes | A Caton | Otterburn Lodge | 948 |
| 2nd | Ewes | A Caton | Otterburn Lodge | 949 |
| 3rd | Ewes | E Fairburn & Sons | Marriforth | 912 |
Gimmer Shearlings
| Placing | Class | Exhibitor | Flock Name | Lot Number |
| --- | --- | --- | --- | --- |
| 1st | Gimmer Shearlings | A & H Watson | Middleton Hall | 932 |
| 2nd | Gimmer Shearlings | A Caton | Otterburn Lodge | 946 |
| 3rd | Gimmer Shearlings | A & H Watson | Middleton Hall | 929 |
| 4th | Gimmer Shearlings | J & D Stenton | St Ravenscar | 938 |
Ewe Lambs
| Placing | Class | Exhibitor | Flock Name | Lot Number |
| --- | --- | --- | --- | --- |
| 1st | Ewe Lambs | E Fairburn & Sons | Marriforth | 916 |
| 2nd | Ewe Lambs | J C & E Pedley & Sons | Yore House | 953 |
| 3rd | Ewe Lambs | A Caton | Otterburn Lodge | 950 |
Bluefaced Champions
| Category | Exhibitor | Type |
| --- | --- | --- |
| Overall Champion | R D Archer & Son | Ram Lamb |
| Reserve Overall Champion | A Caton | Aged Ram |
Gallery
Back to Archive