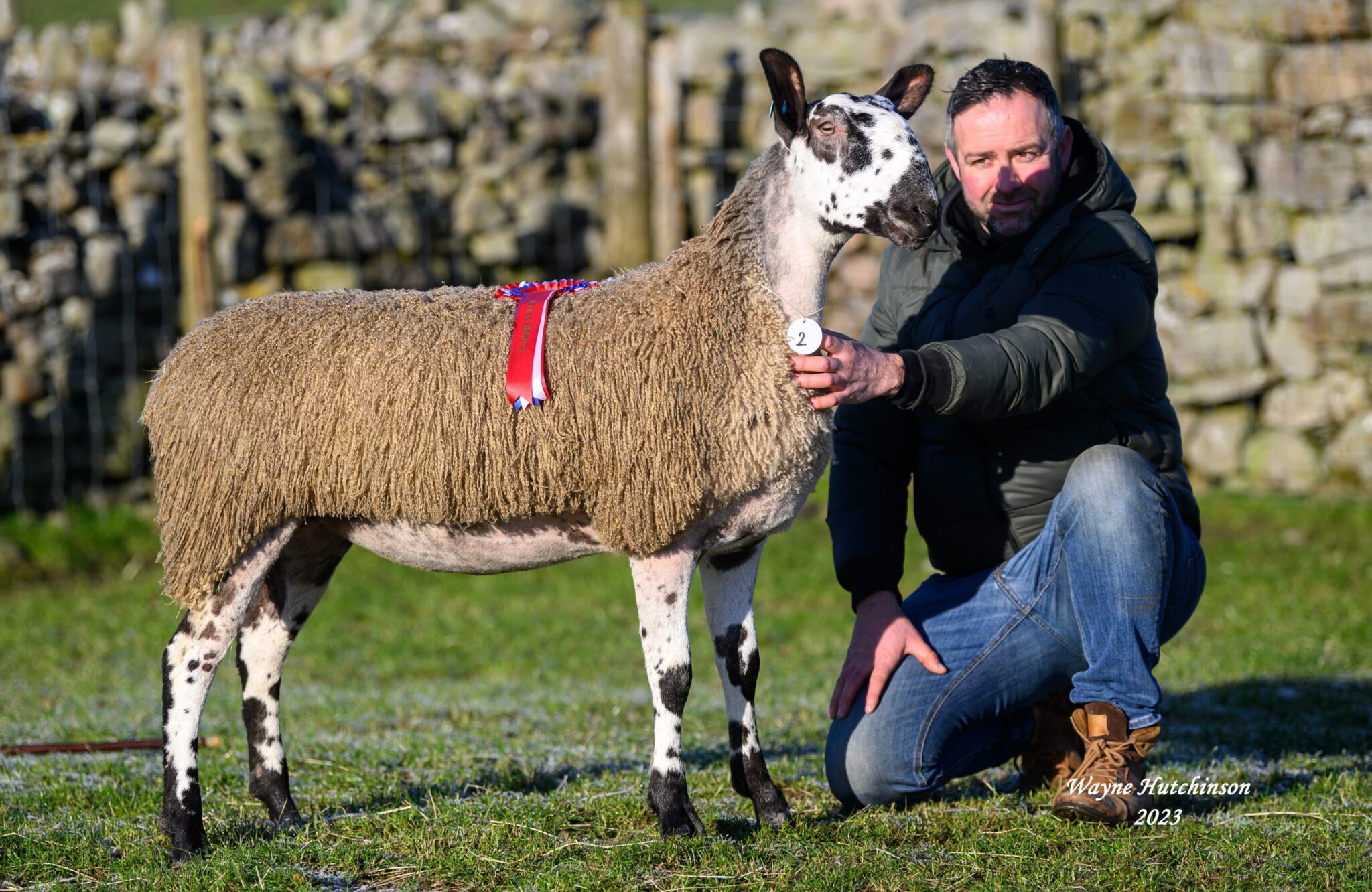 Hawes – Saturday 21st January 2023
21st January 2023
Hawes
Miss Marian Porter, Skelgate
Hawes Bluefaced Leicester sale – Saturday 21st January 2023
On a bitterly cold morning at the Hawes Auction mart, it was the second sheep into the ring which set the sale sizzling. The champion came from the Penhill flock, run by Tom Willoughby. Following on from a good trade at Carlisle earlier in the week his gimmer hogg for Hawes, fairly stood out, full of quality, with a sharp head and great skin, doubling up with some great bloodlines behind her. She is by the M3 Smearsett and out of a Low Tipalt bred ewe which goes back to D15 Smearsett. The same ewe bred the reserve Champion at the sale last year too, so the breeding throughout is consistent. The hammer fell at £6000 to the judge, Marian Porter, for her Skelgate flock and shared with the Dawyck flock. Tom also had another gimmer hogg make £1400, selling to T Metcalfe & Son, Usha Gap.
Midlock had a long drive down rewarded with a first prize ticket for their gimmer shearling. She was a great sharp sheep, much admired and sold well. She is by the £30,000 out of a ewe by the K4 Marriforth N24 Marriforth. Both her mother and grandmother were shown at the Highland show last year, with her grandmother taking first prize in the ewe class. She is carrying twins to the homebred L27 Midlock, selling to TW Atkinson & Son, Gammersgill. The Midlock flock saw their other two sheep sell well, both hitting 4 figures.
Another flock enjoying a great week selling saw the Hewgill pen as busy as ever, with their 2 hoggs on offer collecting plenty of interest. It was their second one into the ring which drew their highest bid, £2200, with James Middleton, Arncliffe, land this smart hog by P1 Marriforth out of a homebred ewe by the G39 Hewgill. Their first hogg, again by the P1 Marriforth, a substitute, and the full sister to the 6000gns hogg at Carlisle, sold for £2000 to Andrew Nicholson, Swineside End.
The first prize in the ewe class went to Robin Booth from the Smearsett flock with a 6 year old ewe by the Highberries Highlander and out of a ewe by the old V33 Lunesdale tup which has done so well within the flock. She was carrying twins to the R5 Hewgill which they bought out of Hawes last autumn. Taking this good old girl home were the Walker clan from Brennand Farm, who shelled out £2000 for her.
Another Scottish breeder, Neil Laing, enjoyed a canny trade selling an empty four year old Asby Hall bred ewe by the K1 Smearsett. This one sold back up over the border, with Dawyck taking her home with a bid of £1500.
The Reserve Overall Champion came from Abbey White, Ewebell Flock, R14 Ewebell was sired by P4 Dawyck and it went on to sell for £900 to Ellie & Graeme Jackson.
Aged Ewes
| Placing | Class | Exhibitor | Flock Name | Lot Number |
| --- | --- | --- | --- | --- |
| 1st | Aged Ewes | W A & A Booth | Smearsett | 10 |
| 2nd | Aged Ewes | A C Pye | Emmetts | 52 |
| 3rd | Aged Ewes | A Caton | Otterburn Lodge | 28 |
Gimmers
| Placing | Class | Exhibitor | Flock Name | Lot Number |
| --- | --- | --- | --- | --- |
| 1st | Gimmers | J Wight & Sons | Midlock | 18 |
| 2nd | Gimmers | J Wight & Sons | Midlock | 19 |
| 3rd | Gimmers | G White | Ribblesdale | 41 |
Ewe Hoggs
| Placing | Class | Exhibitor | Flock Name | Lot Number |
| --- | --- | --- | --- | --- |
| 1st | Ewe Hoggs | C T & J E Willoughy & Sons | Penhill | 2 |
| 2nd | Ewe Hogg | Miss A White | Ewebell | 43 |
| 3rd | Ewe Hogg | J C Throup | Chelker | 50 |
Bluefaced Champions
| Category | Exhibitor | Type |
| --- | --- | --- |
| Overall Champion | C T & J E Willoughby & Sons | 1st Prize Ewe Hogg |
| Reserve Overall Champion | Miss A White | 2nd Prize Ewe Hogg |
Gallery
Back to Sale Reports