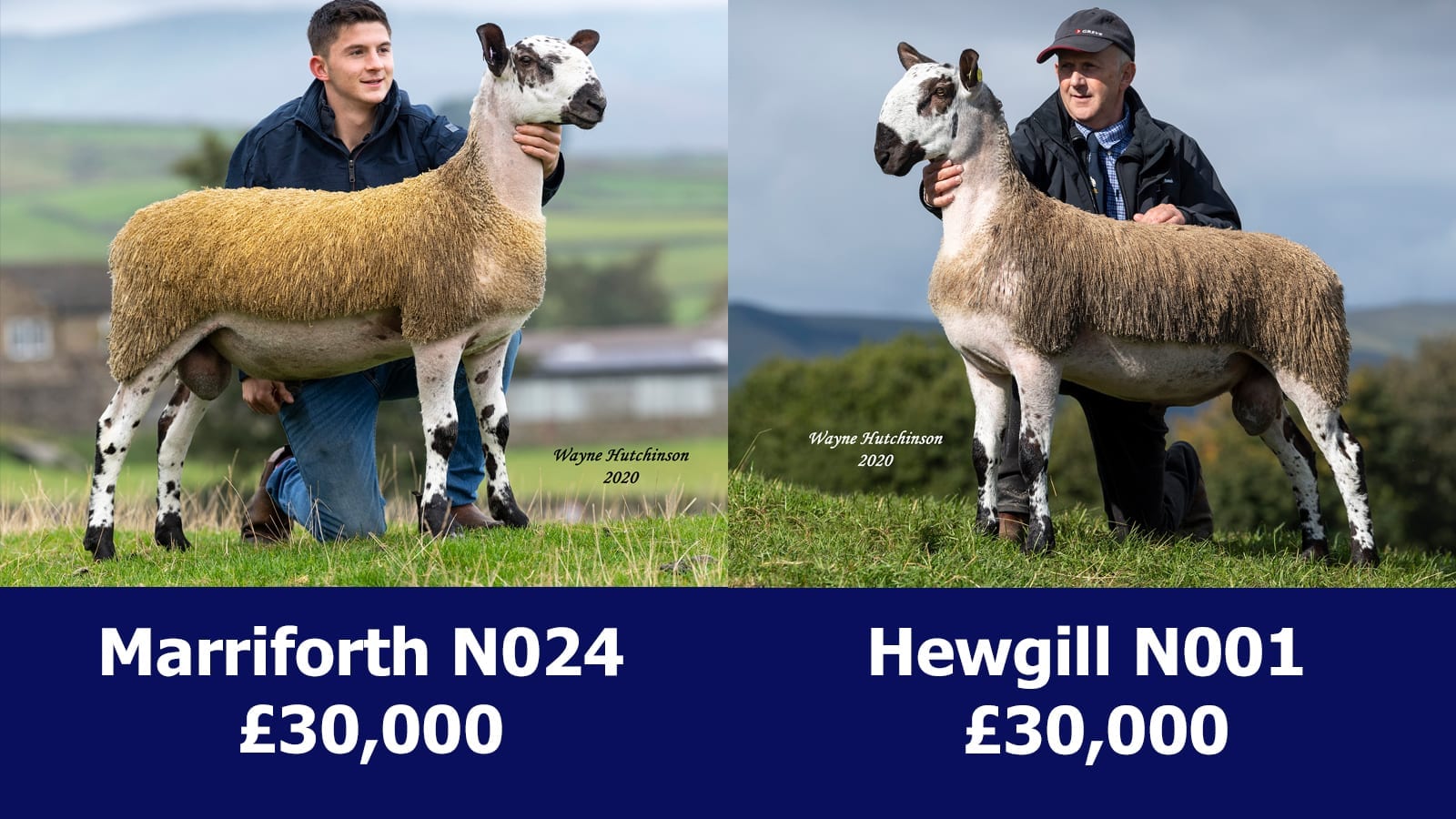 Hawes
Hawes Blue Faced Leicester sale 2020.
The world has gone crazy in 2020, of that there can be no question. The Hawes Blue Faced Leicester sales has always had that reputation….and this year was no exception. The sale took crazy to a new level as it saw a massive jump in the averages across the board, with the tup lambs up a massive £766 on the year to £2206 for the 450 forward, with only 16 sheep not finding new homes and 15 sheep into five figures and a massive 41 tups above £5000! Normally the sale at Hawes goes on into the wee small hours, but this year, with around 200 sheep less entered, they finished by 9.30pm. Another sign the world has gone truly mad!
Topping the days trade were a brace of lambs at either end of the sale which hit £30,000. The first of these was from the noted Hewgill flock who have built a great reputation with their stock over the years, both with their mules, which top the sales year upon year, and their crossing Leicester's. The pen leader was by a lamb they retained last year which did well, siring 6 mules in the top pen at Hawes and 5 in the Penrith pen. His mother is Hewgill H113, which goes back to B41 Hewgill and M8 Hewgill and has produced a few tup lambs they have retained and used. With this combination of bloodlines it was easy to see why the bidding was so intense, only starting off at £2000 as Raymond Lund, auctioneer extraordinaire, missed an initial wave at around £5000….he didn't miss a thing for the rest of the day, and the bids quickly mounted, with Shaun Procter, who made the first bid, stuck on in there without flinching. He was fronting a consortium of four breeders, Paul Brown, Lee Beacom, D McCrystal and themselves, each shelling out £7500 each. The Hewgill pen had a flying trade, selling another for £10,000 a brace at £9000 and another at £8000, all by the massive L7 Riddings that they bought out of Kirkby Stephen a couple of years ago. In all the Lords pen levelled at £9255 for 9 tups.
The other £30,000 bid was from the penultimate pen of lambs, late in the evening, coming from the Marriforth flock from Granville and Paul Fairburn, who are noted for their big strong Leicester's and mules. With no pre-sale show, rumours of what was what abounded all day, but one rumour that was constantly whispered was that there was going to a big price from the Marriforth flock and the ring filled up, as much as socially distancing allowed of course, as the sale of the pen drew near. N24 Marriforth, a late march born twin off a gimmer shearling, strode into the amphitheatre that is the Hawes ring, and took centre stage. Bidding was fast and fairly flew to £26,000 where it looked like the hammer was going to fall until Graham Pears, Flash House Farms weighed in with his starting bid, which rather broke the back of the chasing pack of Scottish bidders, they did return for a single bid to take it to £29,000, but you could tell it was more of a final farewell wave to the tup than with any real sense of purpose, and when their bid was waved away by Graham without a pause they walked and the hammer fell at £30,000 with Graham getting his tup, which he shared with Midlock. This topper from Marriforth was by a Greenriggs tup bought out of Hawes last year off Colin Dent, proving to be a very shrewd investment, siring a couple of lambs in the top pen and 12 in the top 40 which averaged £175. Out of a gimmer by the £9000 Carry House, his grandmother is the flocks best breeding ewe, by the E1 Smearsett which has done exceptionally well for them over the years.
Once again Midlock were never far away from the top of the action at Hawes and interest in their pen, as always, was high. The first two entries from Allan and Ben were by the £13,000 son of Carryhouse Jackpot they bought last year out of Hawes from Riddings, again another shrewd investment from the flock, with the first one clocking up a bid of £26,000, selling to Marriforth. This Smart tup comes from the same family lines as the breed record holder. The other by the Riddings, again a strong powerful lamb, was out of a ewe by the H1 Kirkby Redgate, which has already bred tups to £4000 and sold for £25,000, selling over the water in a four way split to Graham & Julie Loughery, Seamus Laverty, Ian Montgomery and Jonathan Loughery. In all the Midlock pen enjoyed a rip-roaring trade and averaged £8788 for their 9 tup lambs.
Ron and Fran Wilson of the Low Tipalt flock enjoyed their best sale to date with a monster of a lamb they brought forward. He is by the J1 Carry House which they obtained by buying a straw of semen at the charity night held by Julie Loughery last year at Temain. The Carry House tup was a combination of two of the most potent modern influences in the breed, with Midlock Mustang on the father's side and Z4 Hundith on the other. He is a cracking tup with a leg at every corner carries himself like a champion. He caught the eye of Michael James, Duhonw, who saw him as he was unloaded off the trailer first thing in the morning and was instantly smitten and from there on there was only destination for him, a one way ticket into deepest Wales, which cost Mike and Ella £17,000, but they were as pleased as punch to have landed him.
Making another personal best were Will and Gillian Sedgley from the Langstroth flock with the full brother to the reserve champion they sold last year at Hawes. This boy, by J46 Midlock, really carried some carcase with him and had a massive presence. They have had a great year with their mule gimmers, selling 550 to average £116 over the course of the autumn and have been there or there abouts with them for the past few years, building up a good reputation. This as well as the bloodlines persuaded three breeders to get together and shell out £16,000 with Richard Wood, Kingledores, James Herdman, Eldingham and Allan Wight, Midlock joining forces, the latter, buying back in more of their bloodlines, proving that you can maybe never get enough of a good thing!
Another flock enjoying success with their mules this autumn were brothers Paul and Raymond Ayrton, with their run at Hawes being talked about as one of the best runs seen this time. Many of these lambs were got by the Barley J35, bred by the Hargreave brothers, including 7 in the top pen at Hawes. The Barley tup is one of the G series from Midlock which went on to do exceptionally well. They sold their pen leader Hayshaw N3 for £15,000, which was a personal best for the unassuming pair, and even left Raymond so speechless that Paul had to step into the ring to help out with the others through the ring, not a very common sight at these sales! Jack Lawson, Hundith and Richard Harker, Grayrigg Hall were the buyers of this lamb.
Close on the heels of these top prices and equalling his best trade yet was young George Shields from the Skeughdale flock near Ravenstonedale when he saw his first lamb into the ring make £14,000. This stonking lamb was by L33 Hewgill that George bought at Penrith as a shearling last year where it had stood Champion. George had the added insight of its breeding prowess as he had used it as a lamb and saw its potential. Half his top pen this time were by the Hewgill tup and its mother bred M14 Skeughdale which George retained and used himself. The hammer was knocked down with Sealhouses and Riddings paying for this boy. The second Skeughdale tup, which belonged to Georges' 3-year-old son Robert, was also by the Hewgill and full of Hewgill bloodlines on either side sold for £10,000, to see the flock average £7200 for the five forward.
Other top prices saw bids of £12,000 for Kirkby Redgate with a son of the £14,000 Skeughdale and out of the full sister to the Carlisle female Champion sold for £6500. Another bid of £12,000 went to the Farden flock, their top yet. This was by the £16,000 Hewgill bought out of Kirkby Stephen last year and out of the full sister to the notorious Popeye. Another £12,000 saw Jack Lawson enjoy a good trade with a son of J4 Smearsett and yet another bid of £12,000 came for Andy Hunter, Steel, for a son of the Carry House Flash which they bought a half share privately. This one sold in a 3-way spilt to Gavin White, Alec Brown and Alan Pye.
When the curtain fell on the sale and all could take breath, it was certain that this was a sale which would go down long in the memory and was one of the highlights of a sale which has had so many highlights and is why Hawes remains such a legendry venue, where dreams are made and realised. Despite the problems of this year and the doubt which hungover the event happening at all this year because of restrictions, the atmosphere from start to finish was something special, such as only Hawes can serve up, and is the reason we are already looking forwards to next year's instalment….whatever may happen!
Averages
Aged Rams – 16 Sold – Average – £1248.00 (+ £71 on last year)
Shearling Rams – 38 Sold – Average – £829.00 (+ £8 on last year)
Ram Lambs – 393 Sold – Average – £2206.00 (+ £766 on last year)
Gimmer Shearlings – 30 Sold – Average £687.00 (+£272 on last year)
Gimmer Lambs – 13 Sold – Average – £309.00 (- £107 on last year)
Gallery
Back to Archive