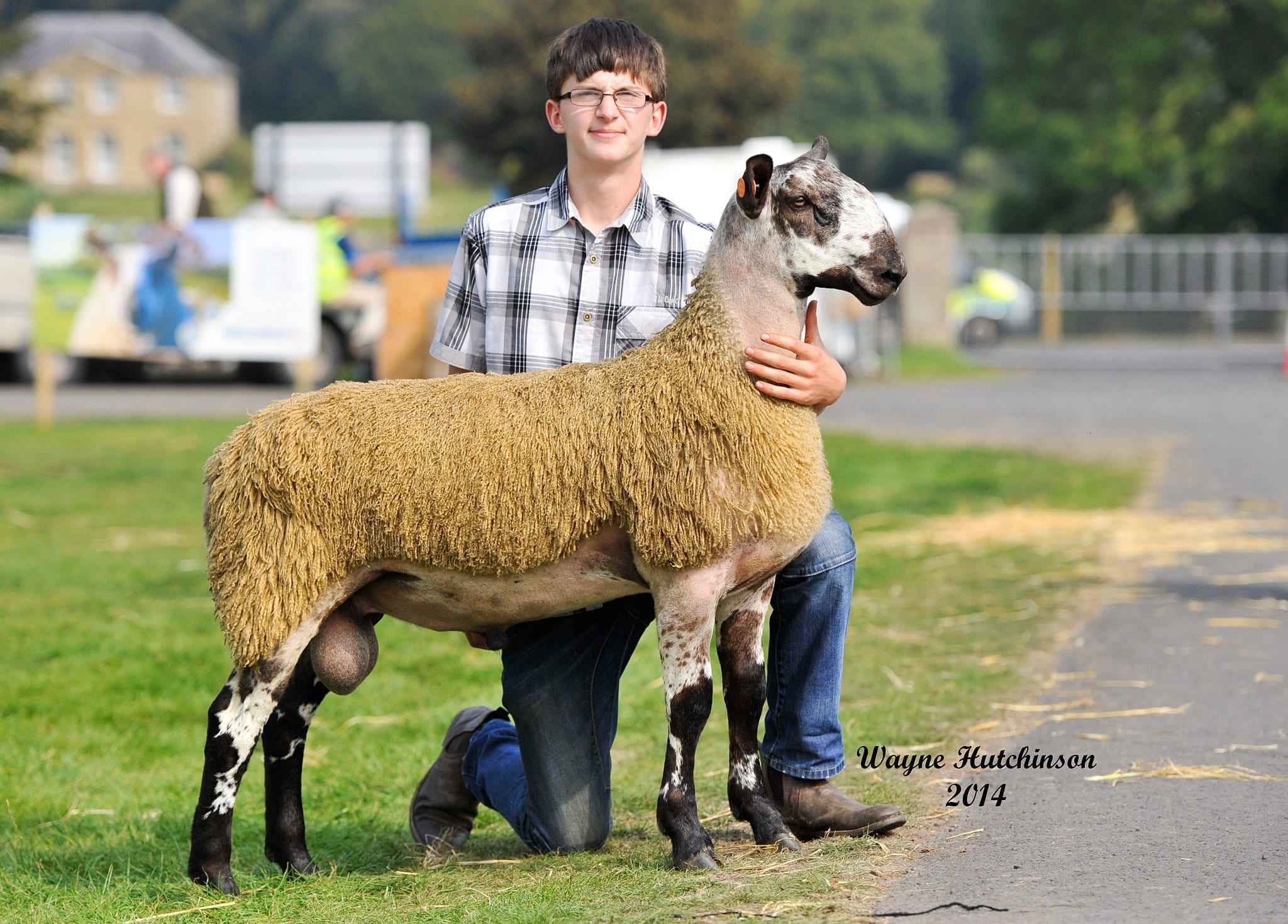 Kelso Ram Sale
12th September 2014
Kelso
Mr P Teasdale, Crow Hall
A cracking trade again at Kelso saw a good clearance of tups, with more buyers attending from further afield, with plenty of Northern English buyers being quite amazed at the sheer power of tups on offer at this sale.
All eyes were on the champion tup from Midlock as he entered the ring. Placed first in the tup lamb class by the judge, Phillip Teasdale, he went on to take the overall title, despite a cracking show of powerful shearlings. He is by the new homebred stock sire at Midlock, Mustang, a son of another homebred tup sold at Hawes for £8500 a couple of years ago. All but one of the Midlock show team of Mules this year were by him, and if this lamb is anything to go by, he could be one to watch in the future. Big, powerful and full of style and out of a ewe by E1 Hewgill, he certainly silenced the ring when he strode into the ring, and the bidding raced to £8500, with the judge being suitably impressed enough to take him back to Crow Hall. Midlock had a fine run of shearlings, topping at £3600 with a son of another homebred tup, Midlock D40, and a string of others well over the four figure mark, making it a good days work for the Midlock team.
Similar breeding was behind the next top price of the day, as the Firth flock enjoyed a good trade, seeing their pen level out at £1380 for 27 shearlings sold, topping at £6000 for a powerful son of the £11,000 E1 Hewgill out of a Midlock Controversy ewe, which sold after some strong bidding to join the Hartside flock.
Midlock bloodlines were also behind the Burnhead flock from S M Napier, as they enjoyed their best ever trade at Kelso, selling their F3 Burnhead shearling for £4200. This tall, rangy shearling was by D52 Midlock, a son of Controversy, out of a ewe by B15 Sealhouses. He had been used successfully as a lamb, siring five lambs in their top pen at Stirling, which sold for £108. He sold to another noted crossing flock, Auld Tinnis.
One of the most eagerly awaited tups on the day was from Jimmy & Wendy Bell from the Cottage flock, as they had a full brother to last year's £14,000 Hawes tup. Cottage F21 is a son of the E4 Hewgill, bought out of Hawes for £12,500 a couple of years back, and gaining a good reputation for siring some strong offspring, and out of a ewe by Z1 Todhills, going back to the Z4 Hundith ewe which Jimmy bought off Neil Marston for £6000. The buyer of this tup was Paul Fairburn from the Marriforrth flock, who paid out £4000 for him, after trying him as a lamb last year.
Another breeder having a good day out were the Campbells from the Happrew flock, Peebles, selling for their top price ever, with a strong shearling which had been used successfully as a lamb last year, and caught the eye of many, and sold for £3800. He was a son of their D11 Firth, bought for £1700 and out of a ewe by A20 Craigskean.
Perhaps a proper illustration of the demand for sheer size and power came with Stewart Park's SP Dalpeddar flock, when they sold a colossal shearling to M/s Abberley, Old Hemley. This monster of a tup stood 3rd at Castle Douglas last year, but Stewart retained him in the end and used him himself, with good results, with several sons heading to Hawes later this autumn. He is by the £18,000 SP Dalpeddar D5 and out of a ewe they bought of Kirkby Redgate for 2600 gns a couple of years back. The SP Dalpeddar flock also sold another for £2600.
The whole sale showed a strong demand for powerful correct animals, and many sellers would go away happy with their days trading, with the breed grossing nearly £447,000 and 508 shearlings averaging £867.44 and 26 ram lambs averaging out at £1081.54.
Gallery
Back to Archive